USI Honors Military Veterans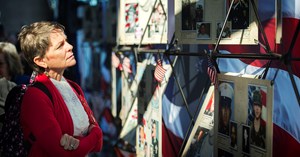 USI's Veteran, Military and Family Resource Center will be honoring veterans with a series of events from Jan. 22 to the 29th. The university is hosting "Remembering Our Fallen", a war memorial that is a nationally touring photo-display honoring those who died from wounds suffered in a war zone since the 9/11 attacks on September 11, 2001. 
The memorial is going to be open from 9 a.m.-10 p.m. from Jan. 22 and 8 a.m.- 10 a.m. on Jan. 29. There will also be a public ceremony on Jan. 24th at the Screaming Eagles Arena to dedicate the POW/MIA Chair of Honor Memorial which will remain here permanently and be available to view year-round.
USI will also be hosting the seventh annual Hoops for Troops Military Appreciation game on Jan. 25. The Screaming Eagles will host Quincy University for a Great Lakes Valley Conference in men and women's basketball. The women's game will start at 1 p.m. and the men's at 3:15 p.m.