Presentation to show potential of video games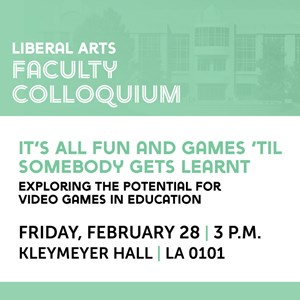 The College of Liberal Arts will host "It's All Fun and Games 'til Somebody Gets Learnt: Exploring the Potential for Video Games in Education," by Crystal Steltenpohl, assistant professor of psychology at 3 p.m. Feb. 28, in the Kleymeyer Hall.
This is the second presentation of the Liberal Arts Colloquium. The presenter's diverse team is developing an open-access game to educate secondary and college-level students on a myriad of core educational subjects.
The presentation is part of the bi-annual Liberal Arts Colloquium. The USI faculty presents a free series of lectures about their continual research in the fall and spring semesters.