Visiting artist comes to USI for demonstration and lecture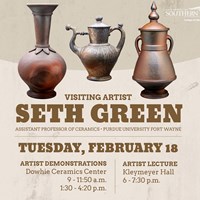 The Art and Design Department will welcome Seth Green, an assistant professor of ceramics at Purdue University. Green is coming to campus on Feb. 18 and will be giving two demonstrations in the Dowhie Ceramic Center at 9 a.m. and 1:30 p.m. The demonstrations will be followed by a lecture which will be given at 6 p.m. in Kleymeyer Hall. The demonstrations and lectures are free and open to the public.
Green has taught at Purdue since fall of 2016. He earned his bachelor's degree in art from Southern Utah University and got his master's in fine arts from University of Nebraska-Lincoln. Green specialized in ceramics, sculptor, and 3D foundations. He has traveled across the U.S.as a visiting artist and received multiple awards for his artworks. His artwork is on display throughout the country and internationally in China, Japan, and South Korea.