Historic New Harmony unveils gifts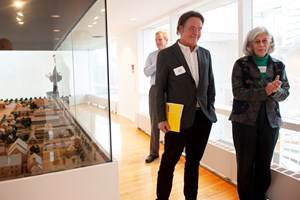 Historic New Harmony unveiled plaques to honor the gifts for the 40th anniversary of the Atheneum at the Historic New Harmony Advisory Board meeting Feb. 24.
The gifts allowed upgrades and facility preservation to ensure the Atheneum remains a vibrant part of New Harmony's landscape for the next few years.
The Atheneum is an internationally celebrated and award-winning example of modern architecture.
The building won several design awards, including the Progressive Architecture Award and the American Institute of Architects Award.
The Atheneum was closed during the winter but will reopen March 1 with repairs and upgrades completed.
Some of the upgrades include maple floors on the first level refinished, the automatic door for the Clowes Theatre has been repaired and will now function and open at the end of each film showing.