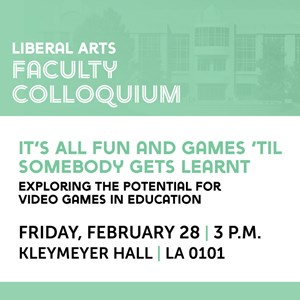 Samuel DeVoy, Chief Copy Editor

February 25, 2020
The College of Liberal Arts will host "It's All Fun and Games 'til Somebody Gets Learnt: Exploring the Potential for Video Games in Education," by Crystal Steltenpohl, assistant professor of psychology at 3 p.m. Feb. 28, in the Kleymeyer Hall. This is the second presentation of the Liberal Art...
Caroline Schultheis, Staff Writer

April 8, 2019
The College of Liberal Arts at the University of Southern Indiana will host the final Liberal Arts Faculty Colloquium for the Spring 2019 semester. This will feature professor and chair of the USI Art Department, Katie Waters, April 12 at 3 p.m. in Kleymeyer Hall in the lower level of the Liberal Arts...