USI enrollment decreases eleventh consecutive year
USI student enrollment has decreased for the eleventh year in a row. 
Fall 2022 total enrollment is 7,361 students compared to 7,938 students in Fall 2021. This represents around a 7% decrease in total enrollment from Fall 2021 to Fall 2022. 
The decrease in enrollment from Fall 2021 to Fall 2022 follows a decade of decreasing enrollment before it.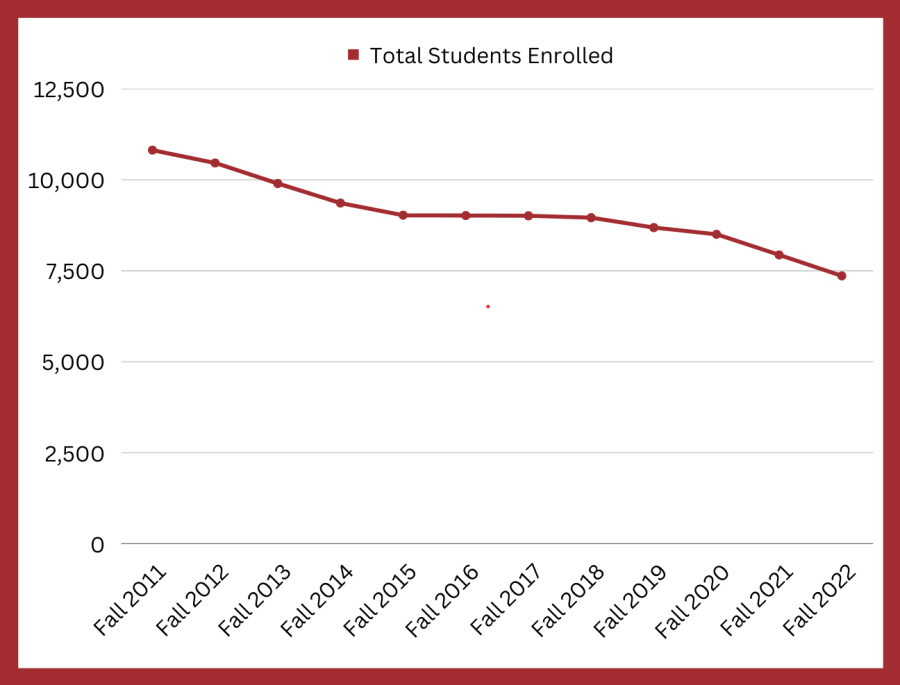 Student enrollment has decreased around 32% since 2011. Previous to 2011, student enrollment increased mostly steadily from 2001 to 2011.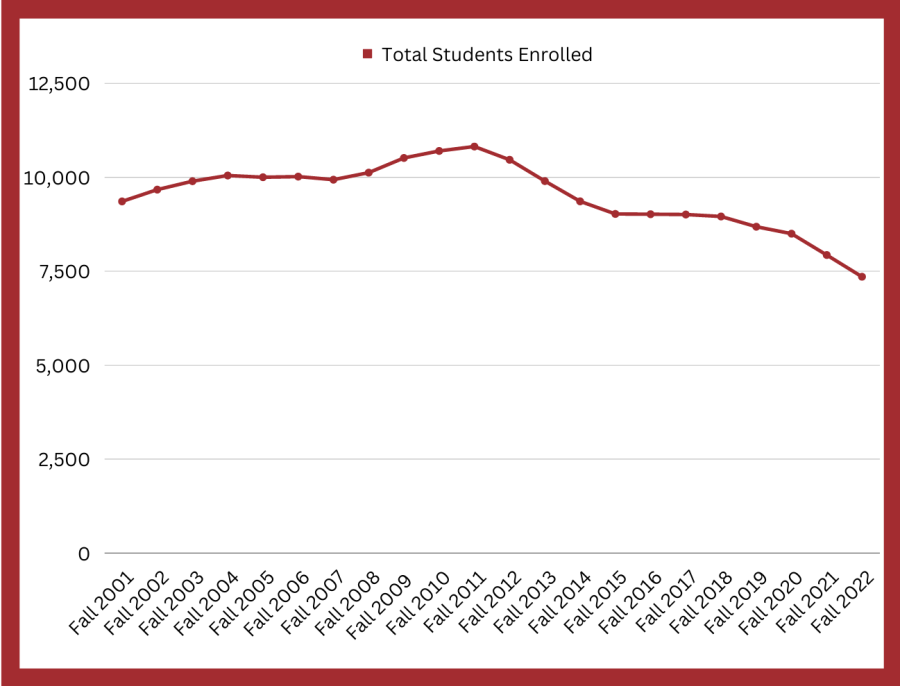 According to University Communications, Provost Muhammad Khayum said, the university's success in increasing graduation rates will require the university to place "more urgency on reversing the decline in the size of our new freshman classes." 
First-time freshmen student enrollment for Fall 2022 is 1,251 students. This represents around a 6% decrease from the 1,327 first-time freshman students enrolled in Fall 2021.
Compared to Fall 2011, the highest total enrollment numbers for USI in the last two decades, the total USI freshmen enrollment population has decreased around 54% from 3,397 freshman to the 1,549 freshman enrolled in 2021.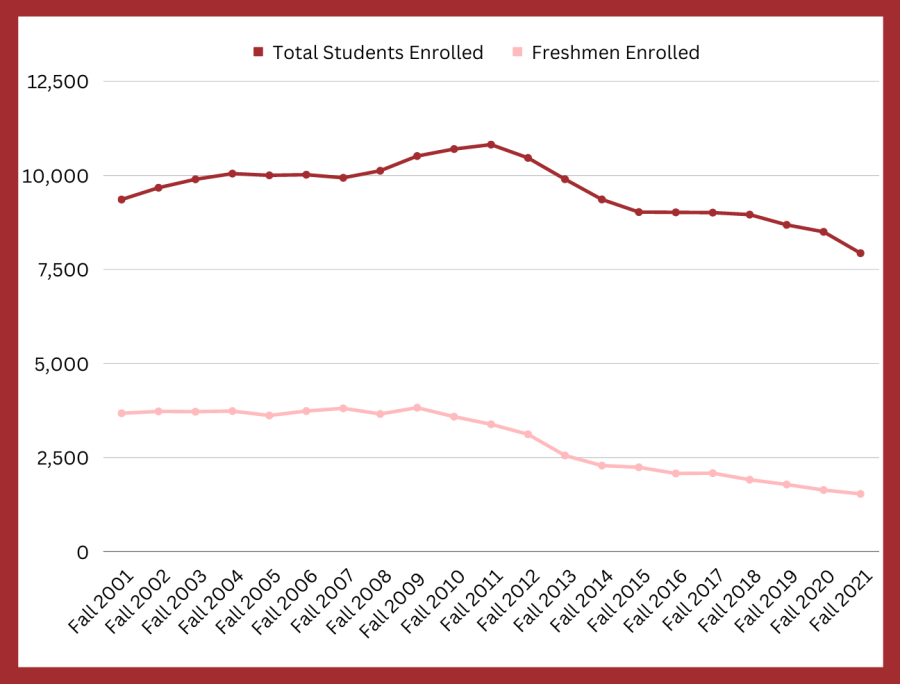 "I think USI is off the radar for a lot of people in Indiana," said Del Doughty, dean of the College of Liberal Arts. "We need to do a better job at getting our name out there."
Khayum said, "While we made some headway last year as a result of adjustments in our enrollment activities, this year's decline in the new freshmen class clearly indicates we need to redouble our efforts and make additional adjustments to our enrollment initiatives and activities." 
Khayum said the enrollment challenges are being felt across the state and around the country as higher education adapts to "changing times." 
In the Fall 2022 enrollment press release, University Communications cited The National Clearinghouse study that shows United States undergraduate enrollment was down 4.7% in the Spring 2022 compared to the Spring 2021. 
According to the National Center for Education Statistics, between Fall 2009 and Fall 2020, national undergraduate enrollment decreased by 9%. As a result of the COVID-19 pandemic, post-secondary enrollment in the United States decreased 5.8% between Fall 2019 and Fall 2021, according to the National Student Clearinghouse Research Center. 
In Indiana, fewer high school graduates are deciding to go to college. The Indiana Commission for Higher Education states 53% of high school seniors enrolled in college during the 2020-2021 academic year. This is about 4,000 fewer high school graduates going to college compared to 2019.
"The majority of Americans surveyed believe that college is the best way to economic prosperity and a good life," Doughty said. "However, if you interview them and ask if they are satisfied with the way colleges are operating, a few of them will agree to that."
"There's definitely a lot more options in the workplace nowadays," said Grant Martin, freshman graphic design major. "It's a lot easier to make money online or even go to school digitally. There's just less jobs that need a degree."
Martin said even with these aspects, he still feels pressured to go to college. 
"In my case, it felt like my family pressured me to go," he said. "Not only that, if you see all of your friends go, you feel more motivated to go."
According to a study by the Gates Foundation, 70% of the participants somewhat agreed or strongly agreed with the statement, "On-the-job training is the best path to career advancement." 68% of the same participants agreed a good job requires a certification as proof of someone's skills and 57% agreed that a good job requires a college degree.
Unlike the decreasing number of freshmen and overall enrollment, the university's graduate program has been increasing. In September 2022, School of Graduate Studies was formed to replace the former Graduate Studies at USI.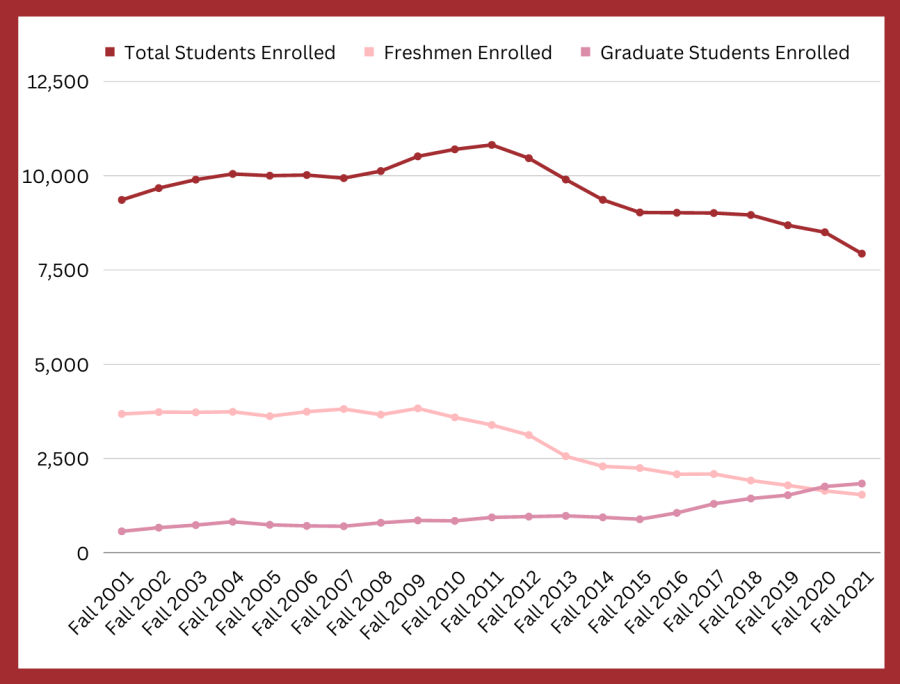 In 2020, the number of students enrolled in the graduate program, 1,766, surpassed the number of enrolled freshmen, 1,652. 
According to University Communications, "This fall, the University is launching a national search for a Vice President for Strategic Enrollment Management who will guide the University's planning process for enhanced recruitment and retention of students." 
Read past articles about USI enrollment here: