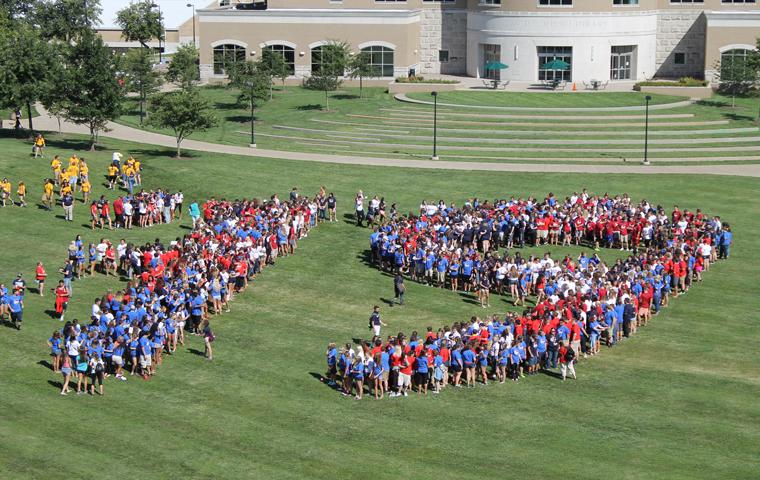 Overall university enrollment dropped for the third year in a row, a decrease of 3.6 percent.
According to the university, 9,029 graduate and undergraduate students enrolled in classes this fall. Last fall, 9,364 graduate and undergraduate students enrolled at the university, which was the lowest enrollment number since fall of 2001 during which 9,362 students enrolled.
Assistant Vice President for Marketing and Communications Kindra Strupp said the university attributes this drop to "an intentional effort to attract and enroll students with stronger academic performance indicators."
Also, she said, the decrease can be attributed to the fact that the university has graduated record-breaking numbers of students over the past several years.
In addition, nearly 1,700 first-time college students enrolled at the university for the 2015-16 academic year, the university's largest freshmen class in two years and an increase of 4.8 percent from last fall.
According to a press release from the university, approximately 54 percent of incoming students earned college credit while in high school.
The majority of students come from Vanderburgh and contiguous counties. Students come from 90 Indiana counties, 36 other states and 69 countries. Minority and international students make up just over 13 percent of the student population.
According to the release, more than 21 percent of students are 25 years of age or older. Full-time students remain the majority of the population at 78 percent and approximately 900 graduate students are enrolled. Student housing is near capacity with 2,577 students living on campus.
"This freshman class marks a turning point for USI," President Bennett said in the press release. "Several years ago we set out to make sure we were attracting some of this state's finest students while keeping our cost at a point that continues our long tradition of affordability."
The size of this incoming class, she said, coupled with student performance indicators, ranking among the highest this university has seen, solidify our place as an institution of excellence and knowledge in Indiana higher education.
The class has the strongest credentials in the university's history, according to the press release. Enrollment for the fall 2015 semester, including undergraduate, College Achievement Program (CAP) and graduate students, is 10,929.
In 2014-2015, CAP partnered with 27 high schools to offer 45 courses at a significantly reduced cost.
The university enrolled an estimated 1,900 top high school students through CAP, which successfully prepares students to graduate college in four years or less, the release stated.
Bennett said in the release that pathways to college education are changing.
"Many matriculating high school seniors are coming to us with a college transcript in hand," she said. "Credits are being earned on and off campus and USI is a significant player in the region in helping students gain accredited undergraduate coursework in area high schools."
The average high school GPAs for the incoming freshmen is 3.27. According to the release, the university was one of the top two college choices for Tri-state area high school valedictorians.
Bennett said in the release that according to student satisfaction survey results, the university continues to be "a first choice for students across the state."