Undergraduate enrollment down; Graduate, CAP students up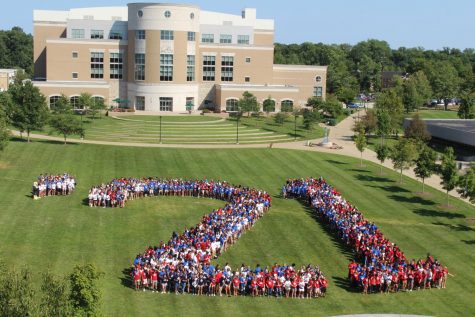 Excluding CAP students, total enrollment actually decreased from 9,024 in Fall of last year to 9,017 this year. Since 2007, enrollment has decreased by 922 students, not counting CAP students, according to information gathered by the Office of Planning, Research and Assessment (OPRA).
The university released the enrollment numbers for Fall 2017 Monday, reporting a 340 student increase in total enrollment that includes undergraduate, graduate and College Achievement Program (CAP) students from 27 Indiana high schools.
The university completes two census at the beginning of the fall semester when determining enrollment. The graduate and undergraduate enrollment numbers are collected at the end of the first week of classes. CAP enrollment is collected on the fifth Friday of classes.
Graduate student enrollment increased 22.5 percent from last year to 1,308, marking the largest number of graduate students recorded in the university's history since it began offering graduate programs in 1984.
"USI has always delivered educational excellence to our student," President Linda Bennett said in a news release. "It's clear there is a greater need for graduate-level education, which is now serving as a growth driver for the institution."
Incoming freshman have recently entered the university with stronger GPA's and standardized test scores. The average GPA of incoming freshman rose from 2.89 in 2007 to 3.36 in 2017 based on a 4.0 scale.
The university reported a 2.2 percent increase in first time college students from 2016 with 1,722 students.
CAP
The CAP program began in 1985 when it started offering English 101 courses to three high schools in Indiana.
Since the induction of the CAP program, enrollment has steadily increased  with this year breaking the 2,000 student mark with 2,016 enrollment.
The program currently offers 35 courses courses to 27 high schools across Indiana.
The state subsidized CAP courses are $25 per credit hour. The alternative Advanced Placement (AP) exams are $94 for 2017 according to collegeboard.org.
Assistant Director of Lifelong Learning Jaclyn Dumond said students find this to be a better alternative to taking AP courses and it is a lot less expensive than taking classes in college.
Dumond said the university offers classes as far away as Gary, Indiana with Radio and Television courses gaining the largest attraction among high school students.
"We really try to focus on quality and connections with faculty," she said. "Just because it is available and cheap doesn't mean it will help you in the long run as far as your degree completion."