Enrollment VP: University needs all hands on deck to compete in 'difficult market'
University officials are looking for answers after enrollment numbers fell for the eighth consecutive year this fall, marking a changing environment in higher education.
Total enrollment at the university, which includes undergraduate and graduate students, dropped to 8,690 students. Enrollment has fallen by nearly 20% since 2011, when there were 10,820 students.
These numbers do not include the over 2,000 high school students taking dual-credit courses through the university. The university includes these students when they tally their total enrollment numbers.
"They are our students and they are taking USI courses," said Andy Wright, vice president for enrollment management. "Because we know that they are a unique group of students, that's why we break them out when we are providing our total numbers. We want to be as transparent and forthcoming as possible."
One of the reasons for the decreasing enrollment, Wright said, comes from when the university made an adjustment to its admission criteria in 2014. 
"We significantly increased the quality of our freshman class coming in and we eliminated the conditional admits, students who fell below our admission criteria," he said.
The conditional admits graduation rate was approximately 1.8% when they decided to drop those students. He said he also noticed a significant increase in the amount of dual credit classes students were taking out of high school at the same time.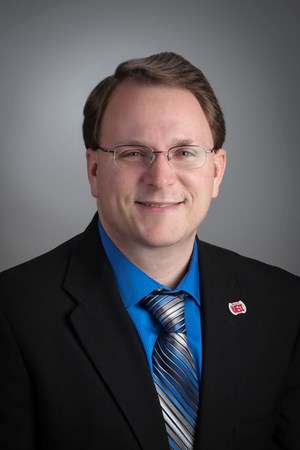 Thirty-one percent of incoming freshmen had earned college credit in 2010, when enrollment was at its peak. Freshmen entered with an average of 10.4 credit hours. This year it was 65%, with freshmen coming in with an average of 18 credit hours.
Wright said another reason for the decline in overall undergraduate enrollment numbers is due to these increases in dual credit hours. He said the university needs to increase the number of freshmen and transfer students coming in to offset the new equilibrium of more students graduating.
"What ends up happening is students, because they are bringing in more hours, don't have to take as many here to graduate," Wright said. "If we still had the exact same graduation rates as we had five years ago, we would have 585 more students returning this semester from last semester to continue taking courses."
The 4-year graduation rate in stands at 33.5%, which is the second-highest rate in USI history. Last year saw the highest rate at 35.9%.
That rate is still below the state average of 45.4% in 2018 according to the Indiana Commission for Higher Education. 
Wright said the declining number of high school graduates has also contributed to lower enrollment.
"That is affecting our ability to bring in students as all schools are increasing their efforts," he said. "This was a tough year and it is going to decline." 
The number of high school graduates is expected to remain steady until 2026, when enrollment managers across the country expect to see a significant drop-off. This drop-off is largely tied to the 2008 recession as birth rates tend to decrease in struggling economies.
The birth rate decreased from 2.07% in 2007 to 1.93% in 2010 according to data from the World Bank.
While USI is the least expensive four-year institution in Indiana in terms of sticker price, the net price a student pays after state, federal and institutional aid is one of the most expensive in the state for students in the income bracket of $0-$75,000 annually.
Wright said one of his focuses this year is identifying opportunities to provide more need-based aid for students coming from low-income families. He wants to tell those students the importance of getting a college degree.
"If you have a college degree, you are much less likely to be unemployed regardless of what the economy is doing compared to anyone without a degree," he said.
The university will begin participating in the Midwest Student Exchange Program, which will help give out-of-state students reduced rates. Wright hopes to bring this before the Board of Trustees later this year, in time for the fall of 2020.
"We feel this will give us a better opportunity not only to recruit those students but retain them as well," he said.
Another reason for decreasing enrollment has been the inability of the university to retain students. President Ron Rochon said in the university-wide meeting in August that USI loses anywhere from 250-300 students each year. The retention rate was 67% as early as fall of 2018.
Wright said he believes financial problems are the largest issue affecting retention rates.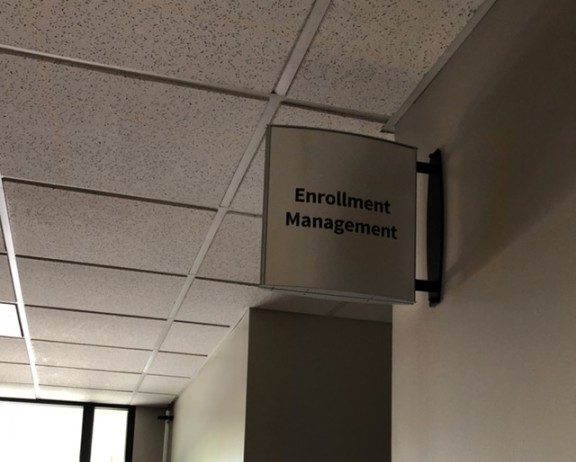 "I have a feeling that as more first-generation students go to college, finances are going to become an increasingly more significant issue that colleges as a whole have to deal with," he said.
Tuition increased by $157 this year, bringing the total to $7,986 for full-time, undergraduate, resident students. Tuition has increased by 225% since 1997.
Student debt, however, remains relatively low at $24,074, which ranks in the top 250 schools with the lowest student debt per borrower in the country.
"There is always going to be a certain amount of pressure to be successful, to bring in a larger percentage of students or to shape the class in a certain way," he said. "I don't think anyone in my role gets into this type of position without understanding there will be some pressure."
The strategy for increasing student enrollment, Wright said, will take many forms. He said he doesn't feel that the burden to increase undergraduate enrollment is his alone and wants to emphasize faculty and staff as recruitment and retention officers more.
The additional faculty recruitment initiatives include doing more open houses and meeting with individual students for tours.
"I think that's always been there," Wright said of the role of faculty and staff in recruitment efforts. "All of us right now understand this is a difficult market. We can no longer rely on 'we built it, they'll come.'"
Another strategy includes working with the university's Marketing and Communication department to relay stories about students, faculty and staff and why they love USI.
"The best way to promote this university is to give our students the opportunity to say why they have chosen this place and why they stay here," he said.
The university has formed a committee to develop strategies to reach out to students. The committee is composed of Director of Undergraduate Admissions Rashaad Smith, Provost Muhammed Khayum, Deans from all four colleges and Kindra Strupp, vice president of Marketing and Communications.
Wright said the committee has been meeting on a regular basis to identify academic programs that have the ability to expand.
SGA President Kelsey McCullough said while her organization has seen a decline in members this year, student governments across the state have also been struggling to fill positions.
The SGA General Assembly voted to establish an Associate Vice President of Recruitment at their meeting Oct. 3 in an effort to recruit more students.
"We are going to work on increasing our efforts to bring more students to USI and showing them all the great things that we have to offer," she said.
McCullogh also said SGA wants to help with retention efforts by finding out what is causing students to leave and working to solve those problems. She said she plans to work more with the administration on recruitment efforts and showing students the beauty of USI and the value of higher education.
"It's one of the most affordable schools in the state of Indiana, so it's working with students to show them the ways that they can afford to go to school at USI," she said.
President of the Student Ambassadors Cynthia Edwards said recruitment is the main goal of the organization as they conduct campus tours and open houses for prospective students.
The Student Ambassadors have over 100 members including inactive members and members in training as well as transfer and bilingual ambassadors, who do tours in Spanish.
Edwards said they stress that ambassadors should tell students what they think of campus when conducting tours.
"People want to know what you think of USI," she said. "They want to know how you like it here and what made you decide to go to USI."
The Student Ambassadors implemented an event last year for people who had been accepted at USI but had not formally enrolled at the university. The goal was to move students one step closer to enrolling.
"They have informational sessions as well as getting to know other students," she said. "I think a big part of that was we were trying to get them to meet other students who could possibly be going here so that they all could make those connections before they came."