Officials mull options as tuition, fees increase
The Board of Trustees approved tuition increases for the 2019-2020 and 2020-2021 academic years at a special meeting of the Board of Trustees June 4 in the Griffin Center.
Following a public forum on the increases in which there was no public comment, the Trustees agreed to raise tuition for full-time, undergraduate, resident students by $157 in 2019-2020, bringing tuition costs to $7,986. The 2020-2021 tuition increased by 4% bringing the total to $8,146.
Full-time, undergraduates, non-residents will see their fees increased to $19,295 in 2019-2020 and $19,682 in 2020-2021. Full-time, graduate, resident students will see their tuition bumped to $11,842 in 2019-2020 and $12,080 in 2020-2021. Full-time, graduate, non-residents' tuition is set at $23,144 in 2019-2020 and $23,608 in 2020-2021.
Vice President of Finance and Administration Steve Bridges said the increase was made in order to meet operational and utility costs.
Funding priorities listed in the minutes include growing graduate programs, the number of full-time faculty in selected disciplines and improvement in student retention and credit hour enrollment.
The recommended increase from the Indiana Commission for Higher Education was anywhere from $0 to $167 and Bridges said the student fees are still one of the lowest for public universities in Indiana.
"We remain the most affordable public institution in Indiana excluding some of the regional campuses and we keep that in mind when looking at tuition increases," he said.
All other public universities in Indiana are also raising their tuition except for Purdue University, which is continuing its tuition freeze for the 8th straight year.
Tuition has increased by 225% since the 1997-1998 academic year when it was $2,456.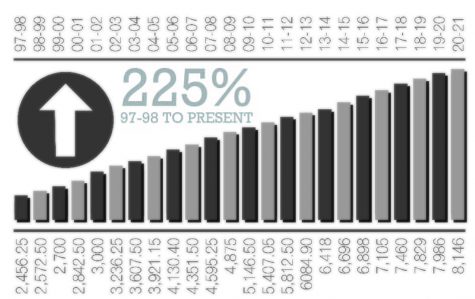 Other non-mandatory student fees also increased this year. The counseling services fee, which helps fund the Counseling Center, increased from $25 to $40. This is the first increase to this fee since 2014. 
The Transportation and Parking Fee increased by $5. Students who are taking less than 3 credit hours will pay $85, $115 for students taking between 3 and 8 credit hours and $140 for students taking more than 8 credit hours. 
The transportation and parking fee funds the upkeep of campus roadways, parking lots, sidewalks, paths and the on-campus shuttle bus service.
"I was really frustrated because I was already kind of budgeting that money," said Dara Turner, senior photography major. 
Turner, who lives off-campus and has two jobs, said she also doesn't understand why it is necessary for her to pay the $100 student activity fee  
"There's no point in me paying $100 a semester for something that has absolutely no benefit to me," she said.
Student fees, which include tuition, made up 44.3% of revenue for the university in 2018-2019 according to minute records from the Board of Trustees meeting on June 4. Appropriations from the state of Indiana made up 49.8% of revenue, while other income, such as donations, made up 5.9% of revenue. 
This is a 10% increase from 2008-2009 when student fees made up only 35.4% of revenue while state appropriations made up 61.7%.
State appropriation monies have increased by 10% in that span while making up a smaller percentage of total revenue.
The university received increases in both years of the biennial budget in 2019-2020 and 2020-2021 from the state, which granted it $900,000 additional funding in 2019-2020 and $700,000 new money in 2020-2021.
Funding for state universities is determined by performance funding formulas, which calculates metrics like degree completion and student persistence. Any new funding is reallocated into a higher education pool. Universities must then earn that money back by performing well under the funding formulas.
The increase in the student fee-to-state appropriation ratio reflects a declining enrollment population. Undergraduate and graduate student enrollment peaked in 2011 with 10,820 students. Since then, enrollment has decreased by 17%. Enrollment last fall dropped below 9,000 students for the first time in 15 years.
Bridges said the impact of decreasing enrollment factored into the Board's decision.
"Certainly decreasing credit hour revenue has an impact on what we need to do at an affordable price," he said.
The university will run a $1.3 million deficit this year, primarily resulting from the decreasing number of credit hours students are taking, President Ron Rochon said in a university-wide meeting Aug. 13. 
"This did not happen overnight and the fact is, it is the culmination of several years of a changing environment," he said.
High school graduation rates in Indiana have only increased slightly by 0.1% since 2011 according to Chalkbeat, a nonprofit organization that covers educational news.
With a pool of students to recruit that is not increasing, the burden has been shifted to enrolled students as the university continues to grow educational opportunities.
"More students at this point as well as parents are questioning the value of higher education given the increasing costs and some are choosing other career paths," Rochon said. "I expect this number will continue to increase before it flattens."
This comes as the university has spent more money on recruitment efforts despite the fact they are attracting fewer students.
Rochon said funding formulas do not support bringing in students just to increase enrollment as they did in the pre-2010 years. One of the funding formulas focuses solely on degree completion.
"We have intentionally chosen not to decrease quality just to increase numbers," he said.
Many students are coming in with college credit earned through dual-credit classes during their high school years. This prevents the university from collecting tuition on those credit hours.
Rochon said the university is also focused on retention efforts as it costs less to retain than to recruit. He said the university loses 250-300 every year.