New Harmony gallery opens popup exhibition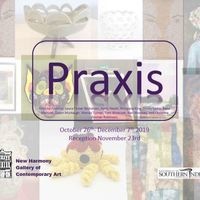 The New Harmony Gallery of Contemporary Art will have a popup exhibition "Praxis" from Oct. 29 through Nov. 9. "Praxis" is the physical manifestation and continuation of dialogue between panelists and audience members of the Marketing Yourself as an Artist even held in September.
The exhibition's reception will be Nov. 23 from 4 to 6 p.m., along with the closing reception of the Land Report East 6 in New Harmony.