Division I Exploratory Committee release DI survey results
Division I Exploratory Committee released Division I survey results at the virtual University Updates session Wednesday morning during Spring 2022 Professional Development Day for faculty, staff and administration. 
Jon Mark Hall, co-chair of the Division I Exploratory Committee, emailed the Division I survey to the campus community Dec. 6, 2021. The survey closed Dec. 19, 2021, at midnight. 
The survey opened with a FAQ with 13 questions and answers about cost, student fees and how transitioning athletics to NCAA Division I would affect the university. Respondents could answer yes, no or don't know to the question, "Based on the information provided in the FAQ, in general, are you in favor of USI competing at Division I level?"
Hall and Nick LaRowe, Division I Exploratory Committee co-chairs, shared the survey results and provided a summary of the committee's findings Wednesday. 
Around 39% of the 2,233 participants were in favor of university athletics competing at NCAA Division I level with 49% not in favor and 12% unsure. 
Around 22% of the 257 participating faculty members were in favor with 60% not in favor and 18% uncertain. Around 44% of the 1,381 participating students were in favor, 48% not in favor and 8% uncertain. 
Around 45% of the participating 200 student athletes were in favor and 45% were not in favor with 10% uncertain.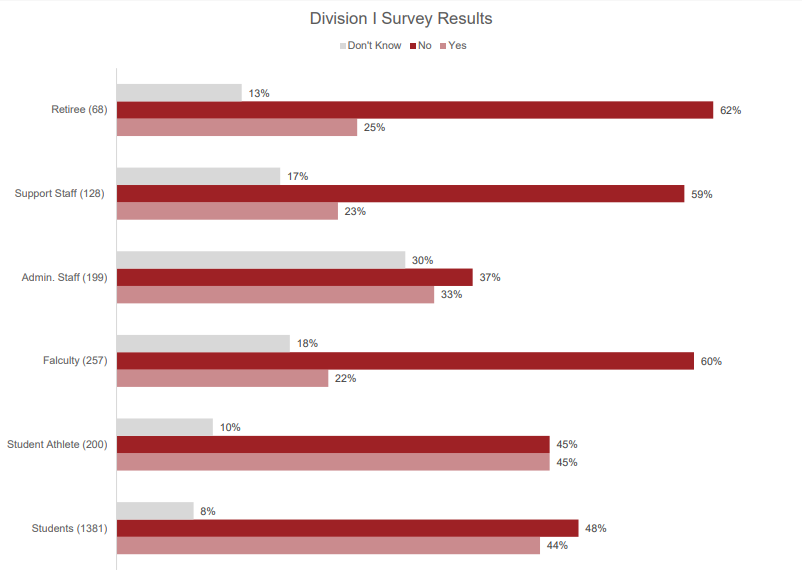 Since President Ronald Rochon announced Sept. 27, 2021, looking into the feasibility of transitioning university athletics from NCAA Division II to Division I, faculty and students have expressed statements of concern and support. 
"The idea behind the survey was to find an efficient way to give people the chance to weigh in," LaRowe said. 
In the survey, there was a place for comments. LaRowe said respondents in favor cited potentially attracting new students, reputation exposure and the university being ready to compete at DI level. 
Respondents not in favor cited additional cost to students and student fee increases, LaRowe said. 
LaRowe also shared a summary of the Division I Exploratory Committee's report that will be presented to the Board of Trustees Jan. 13, 2021. 
The committee ranked 26 items of concern a one, two or three; one being "no adjustments required," two being "minor adjustments required" and three being "more than minor adjustments required." 
The committee ranked six items at one. Four of the items were related to academic standards and two were related to the quality of athletic performance, LaRowe said. He said ten items were ranked at two including two items on recruitment, two items on DI fit and six items on policy changes. 
Ten items were ranked at three including five items on raising prominence and visibility of the program, four items on additional required personnel and one on budget increase for the department, LaRowe said. 
Steven Bridges, vice president for finance and administration, said Division I has the potential to impact visibility and reputation, the third goal of the university's strategic plan. 
Rochon said the Board of Trustees will have a special session early or mid February 2022 to make a decision on Division I. 
Also from the university updates meeting: 
Archie's Food Closet received a $1,000 grant from

The Sodexo Stop Hunger Foundation. 

Robin Sanabria, Director of Counseling and Psychological Services, said in Fall 2021, 267 new students requested services in addition to the existing students in their system. 

Spring 2022 will begin as planned Jan. 13, 2022. Read more here.