Men's basketball to start DI with a mostly new roster
The men's basketball team prepares to enter the Division I era with an overhauled roster.
The team has five returning players from the 2021-2022 18-8 team: Jelani Simmons, senior guard, Jacob Polakovich, senior forward, Tyler Henry, junior guard, Isaiah Swope, sophomore guard and Jack Mielke, sophomore forward.
During the offseason, the team added 11 players total with eight from the transfer portal and three from recruiting. Six of the team's eight transfers arrived from previous stints at the Division I level.
Stan Gouard, men's basketball head coach, said, "It's been great. It's a long process. It's a great process."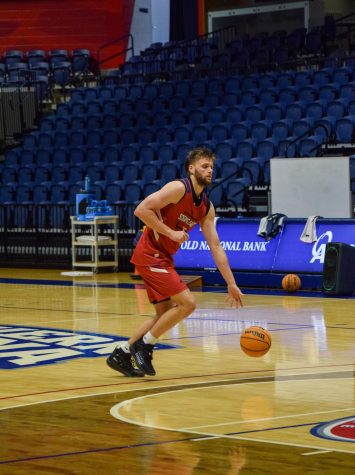 "There's a gap where you kind of gotta get used to each other," said Trevor Lakes, graduate forward. Lakes transferred to USI from the University of Nebraska before the Fall 2022 season. 
Gouard said the team spent eight weeks together over the summer and "formed a brotherhood." While the roster will not look the same as it did last year, coaches and players think they have grown close enough over the summer that team chemistry won't be an issue.
"Everything is coming to fruition pretty slowly," Henry said. "A lot of the new guys are buying in."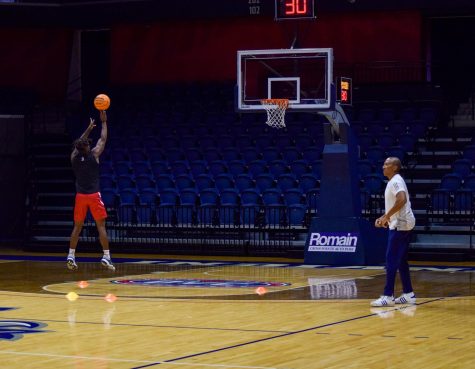 Not only is the team working to build team chemistry, but they're also preparing to enter the first Division I basketball season in USI's history after the Board of Trustees voted to transition from NCAA Division II to Division I Feb. 7. 
"If you want to be great, you've got to learn to take that pressure and stay cool at the same time, and come in here and make a change," said Kiyron Powell, freshman center. Powell starred at Evansville's Bosse High School before beginning his college career at the University of Houston.
Henry said being on USI's first DI men's basketball team is not about the pressure. 
"You don't look at it as pressure. You look at it as opportunity," Henry said. 
In addition to developing a mostly new team for Division I, the Eagles have also dealt with offseason injuries. 
Polakovich is currently out with a recurring lower leg injury and currently does not have a known timetable for his return.
"Injuries are a part of the basketball game," Gouard said. "You know, as the coach, I got to make sure we adjust to put guys in the proper situations."
Gouard said their plan to deal with these injuries is the "next man up mentality" he has been preaching to his team all off-season.
The Screaming Eagles and their new-look roster open play on Nov. 7 against the University of Missouri. USI's first home game is Nov. 13 at Screaming Eagles Arena.
The rest of the upcoming men's basketball schedule can be found here. 
Powell said, "We're gonna make it big."