Analysis: USI athletes not recognized in NCAA DI
USI is in its first athletic year of being Division I, making USI athletics ineligible for postseason tournaments due to NCAA bylaw 20.7.3.5. This bylaw makes it so universities transitioning from DII or DIII have to wait a minimum of four athletic years to participate in postseason tournaments. The bylaw can be found here. 
In addition to postseason tournaments, this bylaw makes athletes on transitioning teams ineligible to be a part of statistical leaderboards kept on the NCAA's website, found here. 
The USI players not recognized by the NCAA due to this rule are Vanessa Shafford, sophomore guard for women's basketball, and Jacob Polakovich, senior forward for men's basketball. Shafford would currently be tied for second in women's three-point percentage, while Polakovich would currently be second in the country for rebounds per game.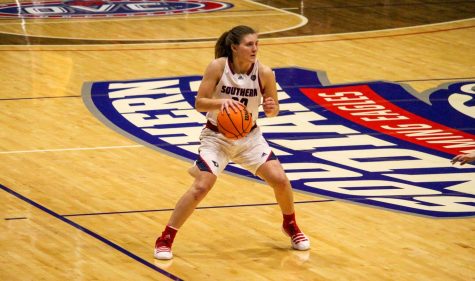 Shafford is shooting 50.5% from three on 4.5 attempts a game this season. Her shooting percentage makes her tied with Indiana University's Yarden Garzon and ahead of Caitlin Clark, 2022 Nancy Lieberman Point Guard of the Year award winner, at the University of Iowa. 
However, Shafford is not acknowledged on the NCAA statistical leaderboard website where she would be if USI had finished the transition period. She is also not recognized by ESPN on their statistical leaderboards, unlike Polakovich.
Emma Dehart, assistant coach of women's basketball, tweeted about Shafford not being recognized by the NCAA. 
Our girl Vanessa is leading the COUNTRY in 3 point percentage at 60%!!! 60% from 3!!!!! There is NO recognition due to our first year transitioning to @NCAA Division 1. A lot of hard work with zero recognition seems a little off to me! https://t.co/FtpiIhkGHt

— Emma DeHart (@emmadehart30) January 11, 2023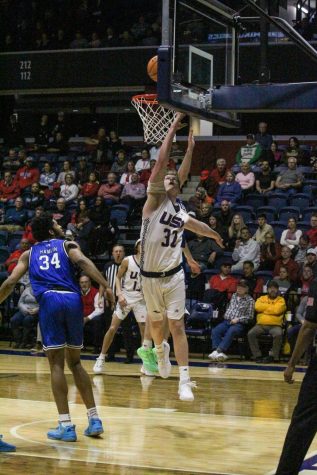 Polakovich is currently second in the country for rebounds per game at 13.1. This puts him between Oscar Tshiebwe, 2022 Naismith Men's College Player of the Year award winner, at the University of Kentucky. Polakovich is also above Purdue University's standout Zach Edey.
Along with personal statistics not appearing on the NCAA website, USI is not eligible for postseason play for four years after their transition. USI will be eligible for postseason play following July 1, 2026. 
USI is not the only school going through this four-year transition. Most notable are USI's former Great Lakes Valley Conference rivals Bellarmine University and Lindenwood University. 
Bellarmine should have qualified for March Madness, the NCAA's men's basketball tournament, by winning the Atlantic Sun Conference end-of-season tournament in March 2022. Their victory would have secured them an automatic bid. However, they were not allowed to participate in the tournament due to their four-year transition period. 
With USI sitting in a tie for fourth place in the conference, only one game behind the first-place teams, the men's team could be in for the same fate as their former rival. The Ohio Valley Conference plays its conference tournament March 1-4 at the Ford Center in Evansville. 
Purchase tickets for the tournament here.