USI officials identify person who distributed racist flyers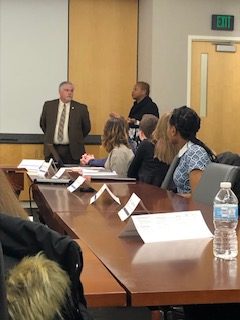 University officials announced they have identified the individual who left White Supremacist flyers on vehicles in the campus parking lot multiple times last semester.
Steve Bridges, Vice President for Finance and Administration, said at tonight's SGA meeting the person has been asked not to return to campus and the university will not release the name of the individual to limit their public exposure.
"We have identified a person of interest regarding the flyers in the most recent incident on campus and that person has been asked not to come to our campus again," Bridges said.
White Supremacist flyers were discovered on parking lot vehicles in November with the words "Proud to be White? Contact like-minded people." The same flyers were found on parking lot vehicles in August.
Public Safety also found racist flyers on campus parking lots in November of 2018. Neo-Nazi posters that used threatening antisemitic derogatory language were also discovered in the Rice Plaza in April of 2018.
"When we have an active investigation, there is only so much we can share," he said. "Sometimes that makes people feel like we're not doing something, but I will tell you that communication is very important."
President Ron Rochon also addressed the SGA General Assembly and said he has received concerns from students, faculty, staff and the outside public about the messaging on the flyers.
"As much as I want and expect and demand safety, I can't promise it," he said. "I don't control the borders of this university the way I wish I could with regard to our safety."
Rochon said he is organizing a university-wide committee to look into ways to make the campus safer.
The committee has not yet met and only has one student: SGA President Kelsey McCullough.
"One key topic that I think we really need to focus on as an organization is communication and that is something the university can work on as well," she said. "They need to let students know that the safety committee is happening, what we're working on, keeping them updated on the things we are doing. Those are all ways that we as a student body can feel more safe."
McCullough said she encourages students to talk to the SGA or the administration about their concerns.