Racist flyers found on campus ahead of midterm elections
Public Safety is investigating racist flyers found in the university's parking lot Monday, Director of Public Safety Steve Bequette said. 
A hate crime was reported on campus at 1:05 p.m. Monday according to the university's incident crime log. Public Safety Staff Sgt. Tami Jaramillo confirmed to The Shield that a flyer was found on the university's campus in Parking Lot A.
Bequette said two separate individuals came forward, and other flyers were found in Parking Lot B. He said from eyewitness accounts, there are likely more cases out there.
A university student took to Facebook on Monday showcasing a derogatory image of people with the message "white people awake, save the white race." That student identified as Tabatha Dossett is currently enrolled at USI according to university records.
"I can't go into a lot of detail because it's under investigation but it's obviously very despicable that someone would leave these type of flyers on vehicles," Bequette said.
He said Public Safety officers and Vanderburgh County sheriff's deputies are on alert.
"We are doing all we can to find out what happened, it's just sad," he said. "Nothing good comes out of this and this is not what USI is about."
The posters originated from Creative Alliance, a far-right white nationalist group according to the Southern Poverty Law Center. It is described as "a self-styled religious organization, the Creativity Movement incessantly promotes what it sees as the inherent superiority and "creativity" of the white race — about the only tenets there are to its supposed "theology."
Monday's incident follows Neo-Nazi posters discovered in late April on campus in which threatening antisemitic derogatory language was discovered in the Rice Plaza area of campus.
President Ronald Rochon released the following statement late Tuesday: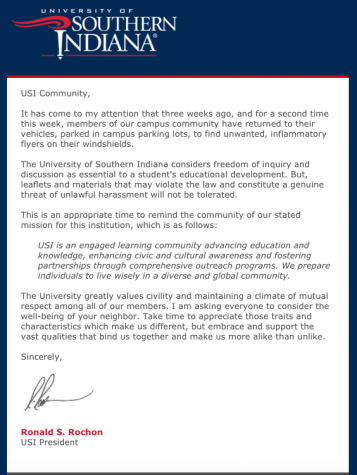 "We are about connectedness and community here, so I think that making those who feel unsafe feel safe is my main goal and my main concern," SGA President Brad Flittner said.
While the student government tabled discussion about how to handle the situation until next week, Flittner said he hopes they do a tabling event to survey students about how they feel about the issue.
"I think that it was handled beautifully," Flittner said about Rochon's statement. "I think that Dr. Rochon really set a good example of the values of our community."