Hairo Rivas: Who is Mr. USI?
Next to President Ronald Rochon, Hairo Rivas is probably the most recognizable name on campus. Students may recognize his name from Greek life, Dance Marathon, Amigos and more than 20 student organizations.
Hairo Rivas, senior international business major, was born in Phoenix, Arizona. His parents are  Mexican immigrants who didn't know English when they came to America. Rivas and his family moved to Indianapolis when he was six, and he spent his entire childhood there. 
College was not a traditional part of Rivas' family. He took a shot at higher education as a first-generation college student and quickly found difficulty maneuvering through this new area of life. 
"It was very hard to get accustomed to because I didn't have the knowledge or guidance beforehand of what to do or how to get where I wanted to be," Rivas said. "I'm very thankful and blessed I was able to find my home and niche and grow here as a person; both professionally and just socially as well."
USI was not Rivas' first choice of school. He wanted to go to other schools, but he thought it was more important to stay close to home in case something happened. However, Rivas was quickly entranced by the welcoming environment on campus and fell in love with USI. He specifically acknowledged the admissions office on campus for being so helpful to him and his family. 
"My parents don't speak any English," he said. "They only speak Spanish. To me, seeing how they treated my parents was absolutely amazing. The way they made them feel at home, answered the questions they had, the student ambassadors who spoke Spanish, the Amigos who spoke Spanish and were helping my family. Just seeing how they really welcome my family, my siblings and myself to this community and gave us the resources we needed. It was so welcoming. That's really what I came for, the people." 
Rivas chose international business administration as a way of giving back to the people who helped him get to where he is today. He appreciates the tutors and translators who have helped him all of his life, and he wants to help people whose first language isn't English achieve the same success he has found. 
"I really want to go into student affairs now," he said. "That's what I want to get my master's in and help students, especially in the student development involvement center, and help them come into the university feeling just as welcomed as I did."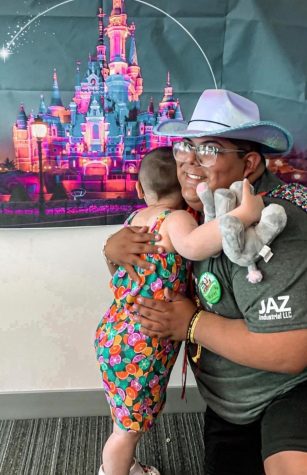 Aside from his major, Rivas is widely known for being one of the most involved students on campus. In his four years at USI, Rivas has been involved in more than 25 student organizations on campus, including being an RA for Housing and Residence Life, Honors program, Amigos, president of the fraternity Sigma Tau Gamma and president of Dance Marathon.
The first and longest organization Rivas has been involved with on campus is Dance Marathon. Dance Marathon is an organization that raises money for the Riley Hospital for Children. As a Riley kid himself, Rivas has been dancing with the organization since he was in the sixth grade. He had already been with the organization for seven years before coming to campus. 
Before he arrived in August of his freshman year, there was a position under the executive board that opened up and Rivas interviewed for it. He got the position, making it the first organization he was ever involved with on campus. 
"It just grew from there," he said. "All these beautiful connections and people I met, it was just amazing. Dance Marathon is really where it all started and helped me connect with all these people."
One of the organizations that have impacted him the most, however, is Greek Life. Rivas entered the rush the second semester of his freshman year. He was extremely nervous to be entering Greek Life because of the way it is normally portrayed in movies; however, he quickly found Greek Life on campus was nothing like the movies. 
"I definitely think Sigma Tau Gamma has helped me so much just becoming a better person on academic and financial aspects as well as social aspects, such as volunteering and stuff like that," he said. "It definitely opened doors."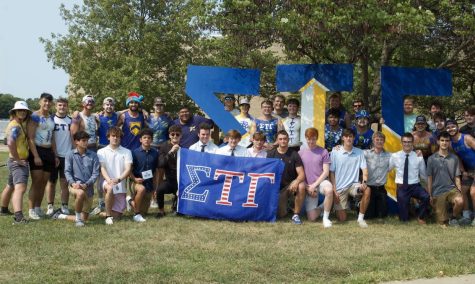 One of his more recognizable achievements in Greek Life was being President of Sigma Tau Gamma during the 2020-2021 school year. In February, Greek Life headquarters asked Rivas to be one of the student trustees for conclave, a large meeting held every two years for voting under rules and bylaws. 
"I'm very grateful that I got the honor and chance to do that," he said. 
Rivas is also thankful for winning the title of homecoming majesty during Homecoming Week this past year; however, he said  everyone is "majesty." He acknowledged the accomplishments and hard work of not only the homecoming court but the many people on campus during the past two years of the pandemic. 
"I feel like everyone deserves to wear a crown at the end of the day because it was insane what we all had to go through for the past two years with everything," Rivas said. 
Along with earning his royal title, Rivas was also the recipient of the 2022 Barry Shonberger Lifetime Achievement Award for his involvement on campus. Rivas recalled one of his fraternity brothers receiving the award his freshman year, and seeing his brother receive the award inspired him to become more involved and committed to USI and the Evansville community.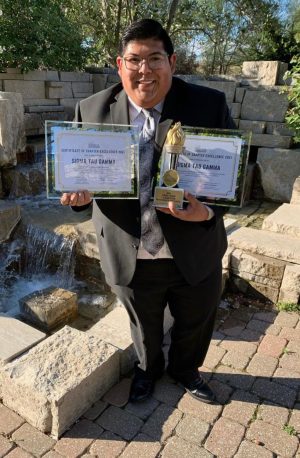 "All the involvement, everything I went through, the late nights, all the crying and tears, honestly, it was just an experience I'll never forget," Rivas said. "I feel really honored to even accept that award because there are so many people that are well deserved for that award, and it was always a dream that I never thought would come true." 
However, the Barry Shamburger award is not the reason why he stays so involved on campus. He does it all for his parents. 
"Everyone's like, 'Oh, you did it for the resume?' No, it's not about the resume," he said. "If you're doing everything for the resume, you should have a why for why you do it. My why is my parents. My cap is going to say, 'My parents came with nothing but gave me the world' because they came with nothing. They came with the clothes on their backs to the United States and that was all. I live by that motto because my parents gave me the world, and I deserve to give them something small, even graduating college is something small. I will repay them for everything they did, but just making sure I make my parents proud in everything I do. Everything they've sacrificed, everything they've done for me to be where I am and say that it was worth it, so I would say they're my why. That's the reason I've always pushed to be better and do better is because of my parents."
After graduation, Rivas plans to attend graduate school and come back to USI to work in higher admin for Student Affairs. He said he loves college and the drive people, students and faculty have on campus to better themselves. He hopes he will be able to give back even a fraction of everything the university has given him. 
Rivas says what he will miss the most about USI is the people and community on campus. He can't even begin to explain how grateful he is for all the fraternity brothers, sorority sisters, friends, coworkers, faculty and staff members who impacted his four years at the university. 
"Everyone has touched my heart and left a special place in my heart, and I don't know how I'm gonna say bye," he said. "Just thinking about it makes me really emotional, but everything has come to an end."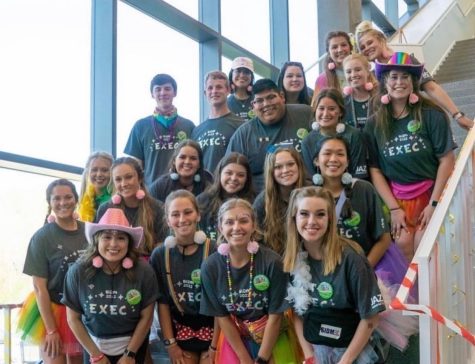 Although campus will be saddened by his time at the university coming to an end, Rivas' legacy will always be remembered for the huge impact he has had on campus and within the Evansville community. 
"USI has been lucky to have Hairo during his undergraduate years," said Kaylee Johnson, media relations specialist for the university. "As a student alongside Hairo during the first half of his college career, every time I would see him on campus, it would make my day. As an employee on campus now, I feel the exact same way. He's a bright light to everyone he comes into contact with, and if you've worked directly with Hairo on a project, at a fraternity event or on another student organization assignment, you know he embodies what it means to be a Screaming Eagle, and it's likely he's probably made your day a time or two, too.
"From Greek Life, to SIDM, to simply going to basketball games and cheering on the Screagles with him, there's no doubt that he has been a devoted and involved USI student," said Brittney Roos, senior marketing and accounting major. "Hum screags forever." 
"I definitely just want to hopefully make this world better and help give back in some way because USI changed my life and made me happier, better, brighter, smarter in many ways," Rivas said. "I'm very grateful for my time here, and it's getting hard to say bye in a few weeks, but it was probably the best four years of my life. College has been a dream, and I don't want to wake up. USI has been a dream these past four years, and I'm so very grateful."
Rivas has certainly lived up to the title of "Mr. USI," and encourages students on campus to make their mark as well.
 "There are over 150 organizations on this campus. There is one to fit you. If there isn't, make it. Do it yourself, change campus. Get involved and leave your mark in some way. Whatever you want to be passionate about, be passionate about it, do it and be happy."