Campus community celebrates first David L. Rice Day
Students and the campus community honored David L. Rice, the university's first president, at the first David L. Rice Day Friday. The event began around 11 a.m. and ended around 1 p.m. in the Rice Plaza. 
The celebration consisted of a cookout, David L. Rice trivia and informational displays about David L. Rice. The Student Government Association organized the celebration with funding from the USI Foundation and David L. Rice Library. 
Campus dining provided a cookout with hot dogs, burgers, chips and "Rice Krispies" treats. The David L. Rice Library set up a display with artifacts that belonged to Rice and presented information about the first president. 
"David and Betty were all about food and cooking for the community," said Jennifer Greene, university archivist. "They would really appreciate the cookout and just to see students gathering, talking. This is what they envisioned college life at its fullest."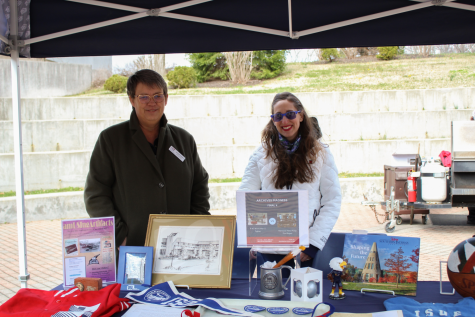 Greene was working at the library's table at the event. She brought artifacts and historical items relating to David L. Rice. She said she'd like students "to know the importance David and Betty played in our university's history." 
Anna Ardelean, president of SGA, spoke on the importance of the Rice Library as well as Rice's impact on USI.
"The Rice Library has so many great artifacts about what represents USI's past and that's super exciting to celebrate our past and celebrate our future," Ardelean said. "Starting new traditions is part of our future as well. I hope this becomes a new tradition."
SGA passed a resolution on March 17 to make April 1 David L. Rice Day. Rice was born April 1, 1929. He pushed for independence from Indiana State University and was president for 27 years.
"He fought for years to make USI independent from ISU, and he succeeded," Ardelean said. "He is a trailblazer, and in his bio, I wrote, 'We should all be like David Rice.'" 
Tommy Kautzman, SGA commuter student representative, had the idea for David L. Rice Day. 
"I am a native of Southwest Indiana, and David L. Rice has had such an impact on everyone at this university and in this area," Kautzman said. "I thought it would be so amazing with him passing recently to do something that we carry on for years to honor his legacy and dedication to the university." 
Josi Barscz, SGA chief of staff, said after the resolution was passed, SGA planned the event in around two weeks. Barscz said, "I'm very impressed with everybody's hard work, that we got it going this fast."
"He really cared about the Evansville area, and he brought this institution to Evansville because he cared so much about higher education. We have USI to thank for his hard work," they said. "So, I just hope people appreciate him a little bit more and maybe know a little bit more about him than they did earlier today."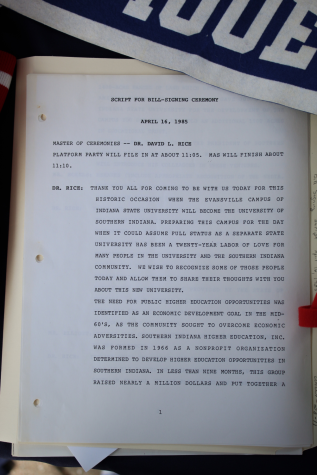 Ivys Quintana, freshman English teaching major, received a free T-shirt from the trivia booth and learned more about David L. Rice.
"I didn't participate in the trivia, but I listened to the questions people were answering," Quintana said. "I think it was good."
"I think it's important to learn about your history from all angles. We talk a lot about the amazing people at USI," Barscz said. "I think it's really important to remember the people that helped shape the culture of USI and just how influential he was in this area."