Local Ukrainian joins students in protest against the Russian invasion of Ukraine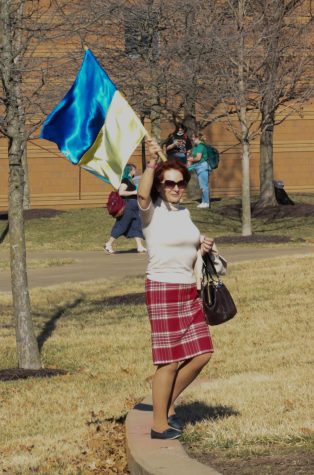 A woman arrived in Evansville after visiting her children and grandson in Ukraine one week before the first bomb hit Ukraine. On Wednesday, she walked up the stairs outside of the David L. Rice Library waving a Ukrainian flag to join students in a protest against the Russian invasion of Ukraine. 
"My name is Luba," she said. "I am from Ukraine." 
Luba Piechn has lived in Evansville, Indiana for six years. She is from Ukraine and her relatives and family, including her children and six-year old grandson, live in Kyiv, the capital of Ukraine that has been under Russian attack. 
"My relatives and friends in Kyiv, they don't know when they go outside, when it will be quiet, when there will be no bomb," Piechn said. "Nobody, nobody, nobody knows. Nobody." 
Piechn was told by her friend Ilfa Zhulamanova, assistant professor of education, that students would be protesting Wednesday afternoon against Russia's invasion of Ukraine and decided to join. 
"This is a very dangerous time," Piechn said as a tear rolled down her cheek under her sunglasses. "This is very painful for me because all of my friends there and my relatives and people are in Ukraine all the time." 
Russian troops under the command of Russia's president, Vladimir Putin, invaded its neighboring country, Ukraine, on Feb. 24. Piechn said it will be difficult to stop Putin, but NATO and people in the world need to help "because this is a very, very dangerous situation." 
Piechn said there are Russian troops along the hospitals where there are babies and schools where there are kindergartners. People are living in basements, and there is not enough food or water, Piechn said. 
Mayson Vanmeter, a sophomore Spanish education major, organized the student protest to show support for Ukraine. Vanmeter's fiancé's sister is in Kyiv, Ukraine. 
"They're fine right now," Vanmeter said. "But it could get worse, that's what I'm worried about." 
Around 15 students joined Vanmeter to protest. The group originally gathered around 2:30 p.m. at the Free Speech Zone on the corner between the David L. Rice Library and the Art Center, but they collectively decided to move to the stairs outside the David L. Rice Library. 
They stood with signs saying "No War," "I stand with Ukraine" and "Peace in Ukraine" until around 4 p.m. Wednesday.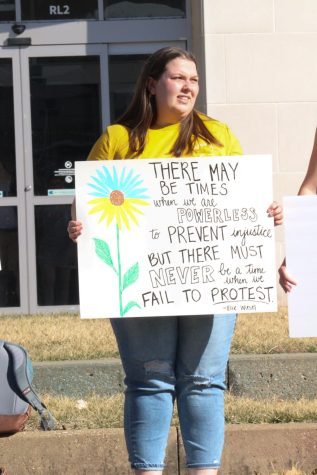 Anna Ardelean, president of the Student Government Association, participated in the protest along with two other SGA members.
"Students have historically been agents of social change, specifically college students, and it's our responsibility to continue that legacy and fight for people," Ardelean said. "We all have the privilege of learning about these things, not experiencing them, and it's important to take some time to do anything about it and raise awareness." 
Ardelan said people have been asking why students would want to do this protest at USI. She said, "Because Vladimir Putin is not going to stop, but it's important to educate other students that this issue goes on, and it shows other students that if you're passionate, you should take a stand for it." 
Erika Uebelhor, SGA attorney general, stood in protest Wednesday. She said, "I think it's just really important that people are out here and protesting because it shows this expands beyond the borders of Russia and Ukraine, and you should still be educated about what's going on." 
Josi Barscz, SGA chief justice, participated in the protest and said it is important for USI students to join in with the other groups and countries that are standing with Ukraine. 
"Russia has definitely broken several international laws, and they're attacking civilians and innocent people that shouldn't be attacked in their home land in sovereign borders," Barscz said. "I think that we should stand up for peace and stand up against people that are trying to be oppressive and harmful."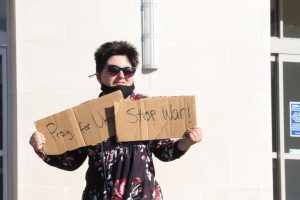 Aaryn Palermo, a freshman psychology major, said participating in the protest was important for her because it shows that students at USI are "open minded, and we want a peaceful world." 
Sisters Faith Lloyd, a junior psychology major, and Hannah Lloyd, a freshman undecided major, walked by the protest and stopped to take pictures.
"It's kind of amazing to see people here who are comfortable and don't have to deal with those things speak up about it and say something about it," Faith said. 
"On campus, it's a normal day, but then we forget that in other countries and other places, it's not just a normal day for them," Hannah said. "We're very blessed to be where we are and God has blessed us, but seeing a stand like that just reminds people to say a prayer or just to have them in your thoughts." 
Drake Cunningham, a sophomore nursing major, said he was not sure of the protest's effectiveness because he said he didn't think anyone at the university supported the Russian invasion.
"I think that they're trying to raise awareness, which is a great thing," Cunningham said. "I really just don't know exactly how much good it's actually doing."
Julia Adams, a freshman creative writing major, was watching the protest under the trees on The Quad. She said, "Honestly, there's pretty much no one to protest at because everyone kind of agrees, at least I hope at least here in Evansville." 
"It's kind of like a feeble comfort to be like 'I'm gonna hold a sign on the grass and nobody's gonna see it, who cares, but it's just gonna be what we do to help comfort us,'" Adams said. "That's human nature, and I kind of like it." 
Ariona King, a freshman elementary education major, agreed with Adams. She said, "I think it's good, and it's important that USI has stuff like that because we have so many students from different places in the world, and I think it's just nice to make them feel included and that we are accepting and open."