Steve Wozniak, co-founder of Apple, speaks on campus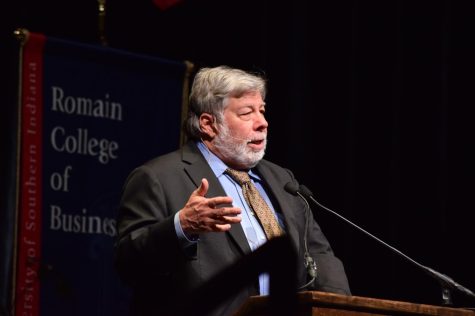 Amidst storm sirens and severe thunderstorm warnings students, faculty and the Evansville community gather in the Screaming Eagles Arena Wednesday night to listen to Steve Wozniak, the co-founder of Apple, tell his story.
Wozniak spoke as a part of the innovative speaker series hosted by the Romain College of Business and the USI Foundation. The event was held in the Screaming Eagles Arena on Wednesday around 7 p.m.
The event started with Ronald Romain, chair on the Board of Trustees, introducing Wozniak. Romain said he was standing in for President Ronald Rochon who was out of town for a funeral and could not attend the event.
Wozniak spent the first hour of the event sharing his life story. He started with the technology of the time and his early involvement with it.
"I was a master at winning awards in the eighth grade that covered all the way up to the twelfth grade for best electronics projects," Wozniak said.
Devin Emmons, a sophomore electrical engineering major, said, "Just to hear his life story was very fascinating and powerful to see his come up and where he came from, and he shared a lot of knowledge based on it." 
Wozniak continued his story with his introduction of Steve Jobs, the other co-founder of Apple. He said Jobs always talked about the "great men of history" and wanted to be just like them and "move the world forward."
"Our differences were very slight, and we were good friends," Wozniak said. "I was so shy and had no friends, and it was nice to hear someone that understood my value about designing computers."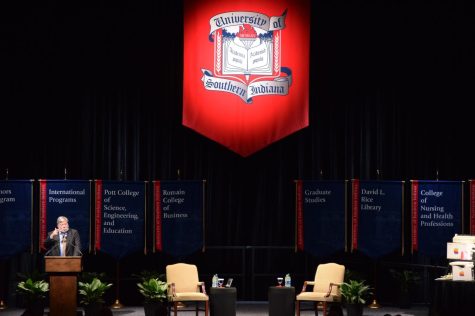 Wozniak then went into the first production of personal computers with Jobs. He said he proposed the personal computer to the top people of his division at Hewlett Packard (HP).
"They turned me down five times," he said. "The big computer company said that these little things will never be able to do what is needed."
Wozniak said he didn't want to leave HP but made the decision to leave because he wanted to be an engineer "for life."
"I'm good at engineering. I didn't want to be one of those people where their values are touched by money. I called up Steve Jobs and let everyone at my work know I was leaving."
Larry Manson, an Evansville resident and University of Evansville Class of '77 alumni, said he heard about Wozniak speaking at USI on LinkedIn and decided to attend. 
Manson said he has been playing with computers since 1968. He said he remembers when Apple products first came out and thought they were too expensive. "I still think they're too expensive." 
Manson said when the first personal computer came out, he had more powerful computers at work. Manson had a career in electronics design and management for appliances, primarily for Whirlpool, he said.
"STEM is something I consider a very important item. I've done a lot of work with it over the years," Manson said. "It was very interesting hearing how he got started in computers and how it is linked to education."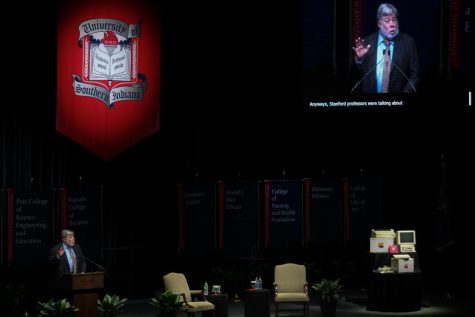 Preston Coots, a sophomore computer information system major, said, "I was really impressed that USI got Steve Wozniak. It was really interesting to see someone who has been so influential to our contemporary world in person." 
Coots is also a Romain College of Business representative in the Student Government Association. He said as a business representative, it made him "proud to be here."
Wozniak went into the production and success of the Apple II. He said he did all the "hardware and software" himself.
"I did every bit of the design myself, and we were showing it off with color. This was the first time it was in color, not black and white," he said. "That's why our first logo was the six colors."
Uvonne Maxwell, a senior business administration major, said, "I thought it was very insightful and cool to see the interest in underlying aspects of somebody who, you know, made it from the ground up and then flourished." 
Wozniak finished his story with his plane crash. He said he couldn't "form any memories" for five weeks.
"It was a very strange type of amnesia. The last thing I remember was reaching for the throttle, but I can't remember pushing it and that's where my memory stalled."
Wozniak said he went back to school for a psychology major. He said he learned about "childhood autobiographical memories," which compared memories to "losing teeth," and he said it was "BS."
"If strong enough memories can be made, memories aren't teeth."
Sarah Jones Jr., a junior marketing major, said Wozniak was a positive speaker. 
"I think that it was an awesome opportunity for not only the business school but all of USI to get to hear him talk because he is such a prominent figure in our society," Jones said. "I think it's great to be able to hear what he has to say about Apple considering I've used their products and loved them for the majority of my life."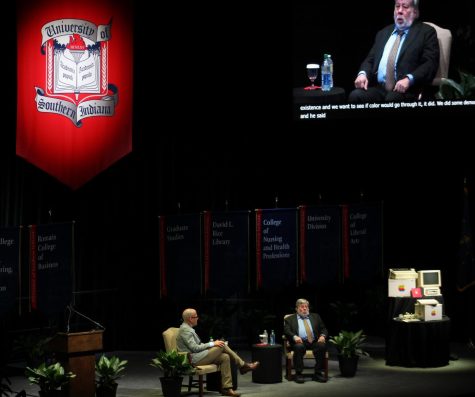 After Wozniak finished telling his story, he was joined by Curt Gilstrap, associate professor of business communication, to answer audience questions.
As an answer to one of the questions, he said, "Elon Musk and Tesla has told so many lies."
After he answered all of the questions, he signed multiple Apple products, which were donated to the USI Foundation. He also signed multiple items from audience members on stage.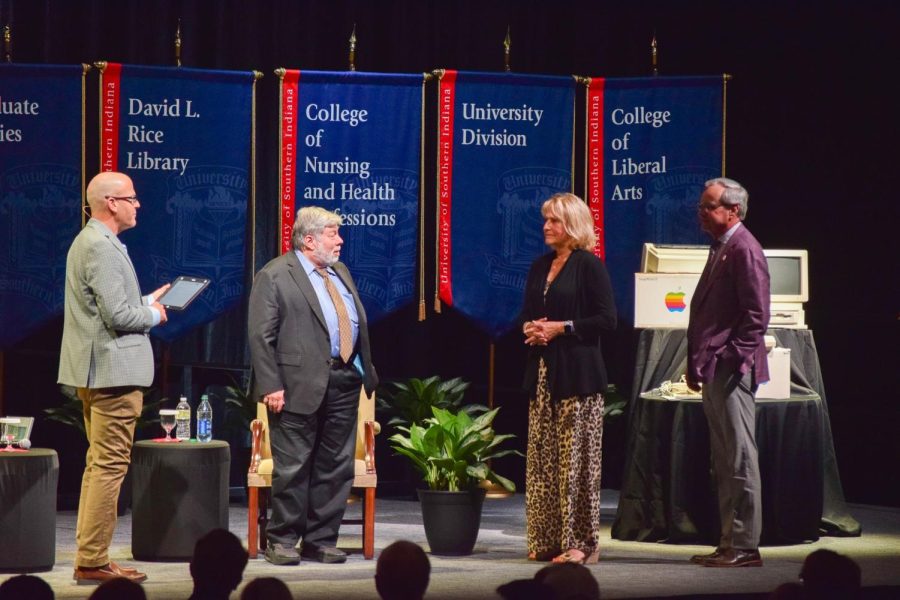 Evansville mayor Lloyd Winneke said he hoped the weather did not scare people away from attending. 
"I hope people from beyond the USI community see the opportunity to be here tonight," Winneke said. "This is one of the reasons why USI is so important to our region because it has the ability to host events like this that are meaningful beyond campus." 
David Bradley, vice president of SGA, said, "USI being able to highlight someone like this coming is good for USI and it will attract more students here, so I think it was a good event." 
Liam Collins, a junior nursing major and student trustee, attended the event and got to meet Wozniak at Ron Romain's home. 
"He definitely represents the values of USI in terms of being future engaged," Collins said. "I think it's just fantastic that we have the opportunity to have people like that here."