Former EICs taco about their love story
Megan Thorne, Opinion Editor, and Sarah Loesch, Editor-in-Chief, were at the gym in 2016 when they realized Loesch was behind to interview an applicant for The Shield. Dripping wet from the gym showers, Thorne ran back with Loesch and accidentally ended up sitting in on Riley Guerzini's interview.
"She was sitting in the corner. Her hair was all wet. We said hi and introduced ourselves but didn't really see each other again until the first day of classes," Guerzini said.
In 2016, when Guerzini and Thorne's paths crossed for the first time in The Shield newsroom, they were strangers. Now, four years and many taco nights later, they are engaged to be married in fall of 2023.
Megan Thorne, former Editor-in-Chief of The Shield, graduated in 2019 and now is a staff photographer for Shoe Carnival. Riley Guerzini, former Editor-in-Chief of The Shield, graduated in 2020 and writes for Tucker Publishing Group. 
In 2018, Thorne became Editor-in-Chief and appointed Guerzini to Managing Editor. In 2019, they switched roles.
After meeting at the interview, Thorne and Guerzini saw each other again in their journalism class. "Oh cool," she said she thought to herself. "The new guy is in my class. Maybe we'll sit together in class and become friends. He didn't sit next to me the whole semester." 
They eventually became friends, but it wasn't until the fall of 2017 the two began officially dating. The two happily remember the phase before their romantic relationship when Thorne would invite Guerzini over to help make and eat tacos because she knew he liked them. 
"I didn't know that," Guerzini said. He said he assumed Thorne just happened to be making tacos.
After one of their taco nights, Guerzini asked Thorne to drive him back to campus, so he could get his car and commute home. Guerzini said, "And as I was about to get out, I think we kind of…ha, we made out" 
Thorne said it was a "relationship founded on tacos." 
Thorne and Guerzini made many memories together while students at USI. One time, Thorne made Guerzini take a nap in the newsroom, so she could photograph him waking up for an obscure class assignment. 
Another time, the two were up until 5 a.m. helping one another with classwork and keeping each other awake. They would keep one another company when the other was swamped with work.
Thorne said these memories "show how committed we are to each other, that we're not willing to let each other fail, and we have each other's backs…I think that's because of how much we truly love each other."
The couple quarantined together through the height of the COVID-19 pandemic. By Oct. 2021, they were ready to travel for the first time since the start of the pandemic. They planned a trip to Gatlinburg, TN, and Guerzini saw an opportunity. 
Guerzini had a ring hiding in his dresser since the spring and thought the scenic Great Smoky Mountains would be a great place to propose. 
After a mile trek up the mountain, they reached a waterfall and set up a tripod for a scenic picture. "I got down on one knee and asked her to marry me … it was the perfect moment … and we got a nice round of applause for that too," Guerzini said.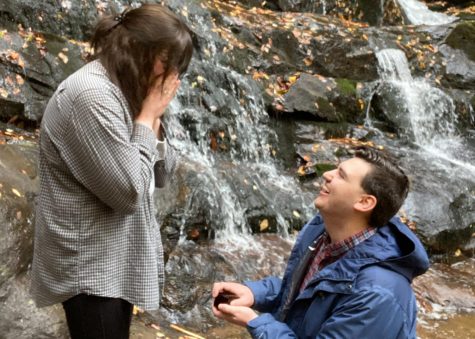 The two of them look forward to their marriage in fall of 2023, and they look forward to a future together. Thorne said, "There isn't anybody else that I would want to make me laugh every day." 
Thorne said Guerzini is her "rock." "Guerzini has always been such a huge supporter for me … I definitely have some anxious moments, and I feel like no matter how bad my day is, we'll do something together … and it'll change the whole directory of your day." 
Guerzini said Thorne's personality is infectious. "The most random person meets her once, and all of a sudden they're best friends … she's just such an inviting and lovable person." 
He said Thorne is the kind of the person he's always wanted to be with. 
"We've always had this funny phrase that we say … we're stronger together," Thorne said. "And I think it's just that, just keep continuing being there for each other, making each other laugh, dancing in the kitchen."
The two are grateful to USI for bringing them together. "I sometimes do wonder if maybe we wouldn't have met if it wasn't for The Shield," Throne said. "I don't think I would trade any of that, even those stressful times, for anything else because I think that we got something truly, truly beautiful out of there."