Fraternity helps students destress with puppies
Sigma Tau Gamma helped students destress on The Quad Wednesday by providing puppies from the Humane Society of Henderson County.
The Sigma Tau Gamma brothers set up a play pen for the puppies Wednesday morning. Students could pay $3 for a 30-minute session or $6 for a full day pass to play with the puppies. Around 200 to 300 students participated.  
Abby Kerkhoff, a freshman engineering major, attended the event. "I love dogs," Kerkhoff said. "It's really helped the stress level go down." 
Alayna Daniels, a junior social work major, also said the event helped relieve college stress. "I feel like when you take a little bit of time to decompress, it's really relaxing." 
Alex Clark, a junior computer information systems major, helped organize the event as director of community engagement for Sigma Tau Gamma. Clark said not only can students pet a puppy in between classes to relieve stress, but students can adopt the puppies they meet at the event. 
Clark said Pet-A-Pup aligns with Sigma Tau Gamma's values of citizenship and brotherhood. 
"Not only does it bring us closer together, but as far as citizenship goes, it helps us be better and be better people in the community as well," Clark said. 
Pet-A-Pup is one of Sigma Tau Gamma's biggest philanthropy events of the year raising $1,375 for the Humane Society of Henderson County. 
Clark said because COVID-19 restrictions made the fraternity's philanthropy work difficult during the 2020-2021 academic year, hosting a philanthropy event was extra exciting in Fall 2021. 
"Seeing campus life coming back to normal and being able to have events like these is very, very special to us and special to other people," Clark said. 
Hairo Rivas, a senior international business and Spanish major and president of Sigma Tau Gamma, said being able to have events outside like Pet-A-Pup is giving the chapter more flexibility to host events. Even with strict COVID-19 guidelines last year, he said the chapter was able to reach "new heights." 
The university's Sigma Tau Gamma chapter won the Edward H. McCune Distinguished Chapter award in their size category for the 2020-2021 academic year.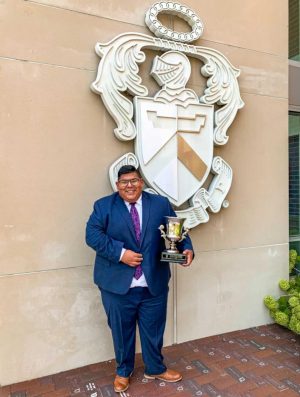 The award is given to the highest performing chapters in three predetermined size categories who demonstrate excellence in operations including academics, education, programming, finance, administration, recruitment, retention, service and philanthropy. 
"That trophy was a reflecting moment of everything we've been through. It's very exciting to see this chapter keep going," Rivas said. "It was a whirlwind of emotions."
The university Sigma Tau Gamma chapter has won the award four times since its founding in 1973. 
"When you're a leader, it's not just one person," Rivas said. "When you're a leader, you're a community." 
Sigma Tau Gamma plans to have another Pet-A-Pup in Spring 2021.