University mourns recent loss of life
Students, faculty and staff are mourning the loss of their own this week. 
Tyler Hagen, senior biology student, died on campus Tuesday night. 
Hagen, 22, of Plainfield, Indiana, died from suicide, according to Steven Lockyear, Vanderburgh County chief deputy coroner. 
He was a friend to his classmates and staff and a member of the university cheer team for two years. He was passionate about cheer, baking and biology. 
He was born Oct. 12, 1998. When he was two years old, Hagen was adopted by his mother Cathy J. (Daum) Hagen in Kazakhstan.
He was expressive about his love towards his family and friends in Facebook posts. Inspired by photos of his mother and family friends, he hand-painted reproductions of them at the end of 2020. 
Hagen graduated from Plainfield High School in 2017. He was a member of his high school cheer team.
Anna Ardelean, president of the Student Government Association, went to the same high school with Hagen.
Ardelean said he was the star cheerleader and the only male member on the team in high school. She said she loved to watch him cheer because the flips he could do were "insane."
She said he would do six to seven front flips in a row and finish with a black flip twist. "He was just objectively gifted."
Twice a year their high school would make them all gather for a pep rally. She said "But this man would do all these flips in a row from one end of this gymnasium to the other without stopping, and everyone would lose their mind over it." 
Ardelean said he lit up the pep rallies that people weren't thrilled to be at to the point that people would say "We're going to this for Tyler Hagen."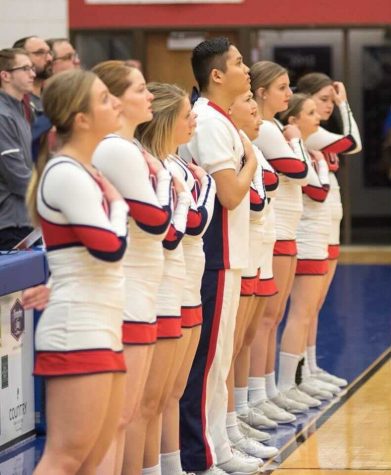 Hagen tore his ACL in January 2018 and re-tore his ACL in November 2018, but that did not stop Hagen's cheer career. Hagen was able to do full throws eight and half months after his second ACL reconstruction surgery. 
"I have big goals I need to reach before I turn in my cheer shoes for good," Hagen said on Facebook.
He started coaching the competition cheer team at Cascade High School in summer 2021. On Facebook he said he started tumbling again for the first time since he was 12 years old in May 2021. 
Hagen openly expressed his "passion for science" in his social media posts.
According to his own Facebook posts, Hagen was preparing to graduate from the university in December, and his long-term goal was to become a podiatrist. 
When Julie Whorl met Tyler Hagen, she was an administrative assistant for the university biology department. 
Tyler Hagen and Julie Whorl began their friendship when Hagen was a freshman. Over the years, Hagen thought of Whorl as a second mom. 
Whorl said Hagen would stop by to talk with her about his biology coursework. She said she would watch him cheer at the university basketball games and tell him how well he was doing.  
Hagen made Whorl his "famous lemon cake with American buttercream" flowers iced around the cake in her favorite colors, blue and white, for her 60th birthday in February.
"She's been like a mother to me and every other Bio student here at USI for the past 4 years," Hagen said on Facebook.
Hagen loved to bake. He won a university baking competition in April with a homemade vanilla cake with buttercream icing.
Hagen had a great friend group inside and outside the biology department who hung out and studied together, said Whorl.
Whorl remembered just how generous Hagen could be. She thought back to how frequently he would bring her and his classmate's drinks from Starbucks or something he made. 
When Whorl moved from administrative assistant for the biology department to senior administrative assistant for the kinesiology and sport department, Whorl said he found her as soon as the school year started and had already brought her coffee twice this school year. 
Like many students at the university, Hagen was a full-time student and also had a job off-campus. Hagen was a cashier at Arby's. 
"He was excited to finish the school year and to be a graduate in the fall," said Whorl. "I was very proud of him." 
The university community learned of a student death on Tuesday night when an email was sent out by President Ronald Rochon.
Rochon said in his email, "I send my sincerest condolences to the family, friends, classmates, faculty and staff of this student."
Every life is valued on campus, said Ardelean. "We always say 'Screagles fly together,' and you know, Screagles also mourn together." 
SGA opened their general assembly Thursday night with a moment of silence for the student who was unknown at the time. 
SGA said in an official statement, "It is in times like this when we are reminded to support and cherish each other. We must all help each other through this hard time."
A memorial gathering will be held for Hagen from 1 p.m. to 5 p.m. Oct. 10, 2021 at the Hendricks County FOP Lodge, 5518 S CR 750E, Plainfield, IN, according to Hampton Gentry Funeral Home. 
Students who need support can contact the Dean of Students Office at 812-464-1862 or the Counseling and Psychological Service at 812-464-1867 or use the online form to schedule an appointment.  
"He was a hard worker and a very generous person. He will be missed," said Whorl. "He will be missed."