Students feel the frustration of quick move out turnaround
Students must leave housing by Sunday, a quick turnaround causing many frustration and confusion.
The move-out went into effect to facilitate social distancing, according to a university statement.
Students who leave housing will have their accounts credited for the unoccupied days from March 22 to May 6. After the credits are applied, refunds will be received at a later date.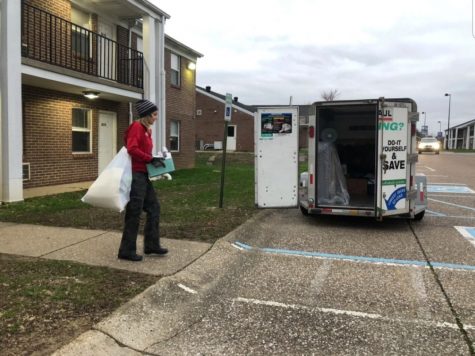 All meal plans will be converted to Munch Money, which students will have until the end of the fall semester to use.
USI Dining said on a Facebook post to the USI Class of 2023 group, they are working on refunding meal plans accordingly for graduate students. For non-returning students, who aren't graduating, refunds will be processed once the fall semester begins.
"Personally I was not very enthusiastic about it," Trent Thompson, a sophomore marketing major, said. "I like being here on campus."
He said his dorm is like a second home. 
"My house at home, we don't have super great internet and it's not an environment to really be able to do things like homework," he said. "At home when everyone's there and you're having to kind of deal with crappy internet and people talking to you, it's just kind of not a great environment to do stuff like that."
Thompson said he had plans for the rest of the semester as soon as he got back from spring break and now it's ruined.
"All those little plans I had, anything I was looking forward to is basically shot to hell, so I wasn't super happy," he said.
He said he tried to apply to stay on campus, but he doesn't know yet if he will get approved.
Thompson said he doesn't believe staying on campus while the campus is closed would be any different than if it was open because he doesn't eat on campus.
There will be limited exceptions made, only for students who don't have permanent residents or can't return to their homes. This includes some international students. 
Alexia Willard, a sophomore English major, applied to stay on campus, but wasn't eligible.
"I moved onto campus to get away from my family, as they are very toxic and "ground" me from doing my homework," she commented on a Facebook post. "I've been home for about (two) weeks now and I'm already getting ready to move into a group home. I can't do any of my work with objects flying at me and screaming going on."
She wrote her old room was turned into a storage closet.
"I desperately didn't want to come back home," Willard wrote. "It's so bad here that my therapist and case manager are both getting me set up with a group home."
She wrote she hopes to be able to get into a group home before the end of next month.