Trustees approve budget request, increases to housing, meal plans
Costs for student housing and meal plans will increase for the second year in a row.
The university's Board of Trustees voted unanimously Thursday to raise the cost of student housing and meal plans for next year.
An increase to overall student fees was also approved by the Board for this year at its first meeting of the academic school year.
Rate hikes to all apartments and residence halls will increase by 3 percent. The rate increase is the same for each housing option no matter how many bedrooms or how many students per bedroom there are.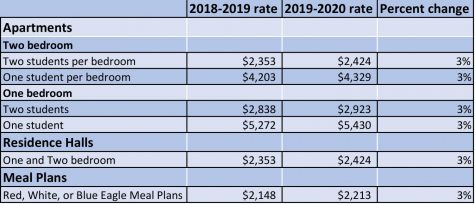 "We take it pretty serious anytime we increase a fee," Vice President for Finance and Administration Steve Bridges said. "It is a balance between the needs of operating a facility people would be interested in, whether that's our food service or our housing."
Bridges said the university is trying to reinvest the money received back into the programs so its "beneficial for students."
The university will add $50 in Munch Money in the increased rates to housing residents to use at any venue on campus. The Red, White and Blue eagle meal plans also received a 3 percent increase for 2019-2020 in order to "allow for normal increases in food and labor costs," according to the Board's agenda. The rate will jump by $65, which averages out to about $4 more per week.
Bridges said from a housing perspective there is always operating costs to maintain.
"We are really unique in university housing because every year all of our people move in and all of them move out," he said. "So there's always a lot of repair and rehabilitation, where if you were in a traditional apartment complex, people may stay for two or three years, and some of the painting and things you do are deferred to the end of the lease, but in our case, it's a yearly event."
Student trustee Anjali Patel said that although housing and meal plan rates are expected to increase, it will not have a large impact on the affordability aspect of USI.
"If you look at other schools who are in our population size, it's still well under the price range of those schools in terms of what their housing costs and also what their meal plans are," she said. "I think it's a little bit necessary for the prices to increase just because we have more students coming in and we have to maintain those buildings and make sure students are being fed and workers are being paid."
Patel also said she believes the increases to student fees are appropriate and doesn't think it will affect enrollment.
"Once students come and see what our facilities look like, I think it convinces them to come here," she said. "I'm a student ambassador and when I take people on housing tours they are always so surprised by how spacious the dorms are and how much they get out of what they are paying. I don't think the quality will decrease at all, and I think it's just going to help improve those facilities more and more."

The Trustees also unanimously approved the 2019-2021 operating and capital budget improvement request that will be submitted to the Indiana Commission for Higher Education (ICHE).
The budget was developed using performance funding metrics created by the ICHE. If the metrics are funded at the recommended levels, the university would receive more than $4 million for improved performance.
Components of the budget request include an increase in funding for Historic New Harmony, continued funding for campus security enhancements, STEM Innovation and Expansion Initiative, Strong Start Summer Bridge Program and funding for general repair and rehabilitation of campus facilities.
Bridges said when deciding whether or not to increase costs, many factors are looked at including how much debt service is on each building.
"So what is our mortgage payment may be if you will, and how much we might increase in terms of utilities, maybe if it's not electrical, it could be water or sewer, and what type of increases might you may have in terms of maintenance costs and just inflation, and potentially even increases with costs to salary, or staff or benefit costs," Bridges said.
He said he tries to look at the costs from a longer-term perspective.
"I don't want to have a year that costs are extremely high, and one group of students are bearing the costs on that," Bridges said. "So I try to equate the increases over a period of time so no one group is having a minimal increase, and one group gets a large increase."
Bridges said he wants to remain consistent with pricing.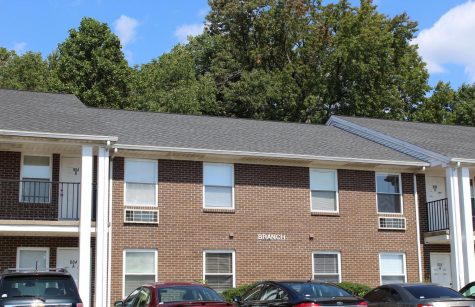 "If we can it would be to go down and I would love to do that but we will have to continue to monitor that against the quality and serving our students," he said. "We are always looking at ways to reduce costs, so I don't have anything specific related to housing and meals plans, for this particular year there are no new initiatives."
Although the Trustees have approved the budget proposal, changes must still be approved by the Indiana Commission of Higher Education.
Construction updates:
The 2017-2019 Capital Improvement Budget Request received board approval to expand the Health Professions Center with a proposed $48 million project. The funds will help improve classrooms, labs and other student study space along with infrastructure on all three levels of the building.  
The Student Health Center would move to a new facility for University Health Services, Counseling and Wellness.
Patel said she believes the inclusion of more buildings is beneficial to current and prospective students.
She said most of the admissions offices will be housed there and student ambassadors will have a new office in the Welcome Center.
"I know all the ambassadors are pumped to get it going and have all of our new prospective students come and see it," Patel said.
Posthumous degree awarded to former student:
Alex Hurt, a former senior psychology major at the university was awarded a posthumous degree for a bachelor of science in psychology. Hurt died in early April but was not enrolled in the university at the time of her death. The degree was recommended to the Board by the dean of the College of Liberal Arts along with the undergraduate faculty of the psychology department. The vote to award Hurt the degree was unanimous.