Café Arazu: Mediterranean cuisine, Persian grill, delicious flatbread
I never really know what to say whenever someone asks me one of my most dreaded questions: "What's your favorite restaurant in Evansville?" So many choices pop into my head from all the different types of restaurants available in and around Evansville. It's hard to formulate a single absolute answer to that question. When push comes to shove, however, I always say my favorite restaurant is Café Arazu. 
This may be a cop-out answer, as Café Arazu is not exactly in Evansville, but this absolute gem is nestled along the streets leading up to the riverfront in Newburgh.
Serving Mediterranean cuisine and options from their Persian grill, Café Arazu dazzles in every aspect, from the seasoned flatbread starter to any of their decadent desserts. 
If asked, I could write a novel about their seasoned flatbread, served with pesto, chili and olive oils. It is by far the best free carbohydrate starter I've ever had anywhere. If the flatbread were the only thing on the menu, I would be completely fine with it. It's that good.
Café Arazu's menu is relatively short without feeling limited. I would recommend any of the signature entrees or kebabs from the Persian grill. Options from both have been excellent time and time again, with entrees always being well cooked with a pleasant complexity of flavor that's not overreaching.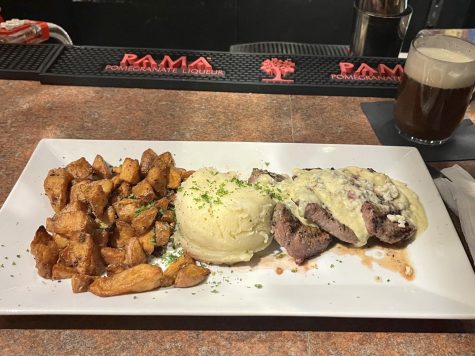 When given a choice of a side or having vegetables as a side, I always choose or substitute in the seasoned potato wedges with chipotle sauce. They're amazing and pair nicely with just about every entree. Of the dessert options I've tried, the lemon blueberry mascarpone cake impresses me the most in its light and airy texture and mix of refreshing citrus and blueberry.
The ambiance of Café Arazu is decidedly pleasant. It gives a nicer restaurant feel, with low lighting and somewhat intimate seating, without ever being stuffy or trying too hard. The dress for most patrons is usually a nicer casual, though you probably wouldn't get kicked out for wearing sweatpants. I don't know personally, but you could try. 
A couple tips I have for anyone wanting to go are to: 
Skip the appetizers. You'll be more than full on everything else, and they don't pack the same punch as Cafe Arazu's other offerings.

Go after 4:30 p.m. They serve a limited number of entree options for their lunch service, and most of the heavy hitters are absent. Also, the flatbread is not available during lunch. Enough said.
Café Arazu is one of the best restaurant options in the Evansville area. Every time I go back, it feels worth it, which is alarmingly often due to the cravings I get for their seasoned flatbread. Have I talked about their flatbread enough? Seriously, you have to try it!