Hidden treasures in the David L. Rice Library: What students need to know
The David L. Rice Library elegantly overlooks campus, its front entrance beckoning to those on The Quad. Though not as eye-catching or iconic as The Cone, the Rice Library stands out as one of the more notable buildings on campus. The Rice Library is so fundamental to campus life that it takes up a significant chunk of the background image on the MyUSI login screen, where  every student and faculty member has to look at it on a daily basis.
For newer students, or for those returning, some of the Rice Library's benefits, tools and resources may not be obvious. Let this be a guided tour where you can learn about the countless resources that are at every student's disposal. There may be an essential tool or service that you have been missing out on.
The lower basement level of the library houses a wide selection of classrooms. The main lobby is located above this level, and acts as a breezeway between the library itself, Starbucks and The Jazz Lounge. The Jazz Lounge is a popular spot for students to enjoy refreshments from Starbucks or spend some time between daily obligations.
Once you enter the library through its automatic doors, it is as if you have entered an entirely different building.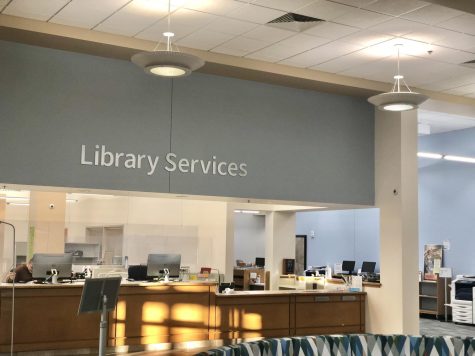 The first story is the main area. Visitors are greeted by the reception desk to the left of the entrance. "Check in at the library services, which is right inside the front entrance to the library." said Marna Hostetler, Director of Library. "If you are a student working specifically on an assignment, then I would highlight the research consultations that are available, either in person or virtually."
At the reception desk, you can check out books and electronic resources, such as tablets, computers, chargers, apple pencils, headphones and more. The most popular item to check out are sets of markers to be used on the whiteboards located on every floor. 
You can also pick up Interlibrary Loan books here, one of the many hidden gems of the library. Students can go online to access the The Interlibrary Loan program, which allows you to request a book or journal the library might not have available. Libraries from across the country will loan USI those resources physically and digitally so you can continue reading without paying a penny.
Students are also able to check into library services here and schedule appointments with research librarians who can help with researching assignments, finding those pesky references for your paper or project. Shane White, librarian for Romain College of Business and Pott College of Science, Engineering and Education, Kate Sherrill, librarian for the College of Liberal Arts, and Laura Bernhardt, librarian for College of Nursing and Health professions, are librarians who students can receive help from. 
"Shane, Kate and Laura are just more than happy to have one-on-one research consultations with any student who needs one," said Becca Neel, assistant director for Resource Management and User Experience. "We do instructions and go to full classes and teach students how to do things, but a lot of people benefit from that one-on-one interaction."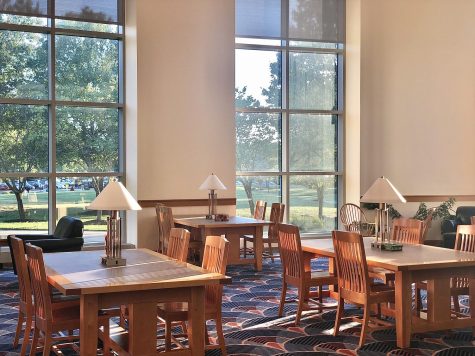 The first floor also hosts an area where one can print and make physical or electronic copies. A "highlight" wall on the opposite side changes with different themes that will recommend a selection of books or films pertaining to that theme. 
On the left side of this expansive room past the reception desk, is the DVD collection. When trying to find films that are not available online, the library is your best bet. The collection includes a multitude of classics and a sizable collection of documentaries that were only released on DVD. You can also find CDs and children's literature available for loan. In the very back are multiple computer labs, great for groups or classes of any size to use.
The right side of the main room contains lounging spaces and computer areas for students to study or spend downtime in between classes. It also has a varied collection of fiction books and graphic novels for anyone's reading pleasure. There is even a table with a community jigsaw puzzle, perfect for study breaks.
For a more studious option on the first level, there is a space in the middle of the room for group projects. Whiteboards and TVs are also available for brainstorming ideas and presentation practice runs. 
While the first floor is a general lounge with a decent collection of selected reading material, the second story is where the library takes things to the next level, pun intended.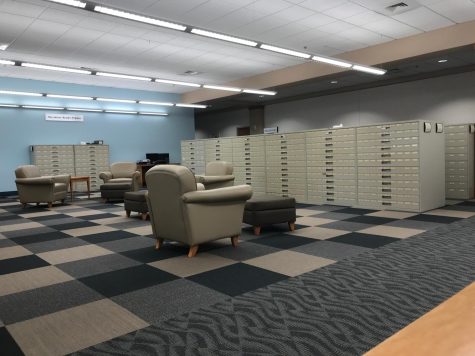 Located in the center of the second floor is a space dedicated to microform. The Microform Section is a huge collection of archived newspapers from decades of publications. It comes with an easy-to-use scanner that lets you manually search through reels of old newspaper columns.
If you have some spare time, I would highly suggest giving The Microform Section a shot for fun.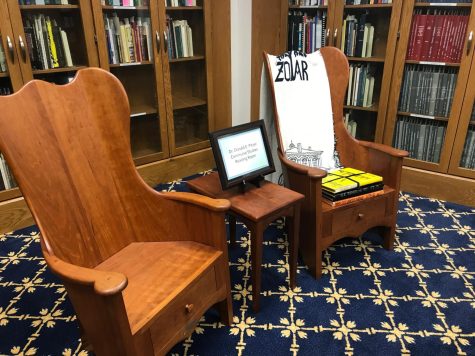 The third level's most notable feature is the University Archives. The Archives room holds works of cultural and local significance that cannot leave the section. Despite not being able to rent anything out, the archivists welcome any exploration into its sacred tomes of knowledge. 
"So people think of librarians as like introverts right?" Neel said. "Our archives folks are like the extroverts of the library. They have all sorts of really great information to share, lots of unique items." 
The Archives includes a special selection titled "Please Touch!" The selection includes books from authors who reside or once resided in southern Indiana and books that have been banned for radical ideas. 
The Archives also have a communal studies reading room where small groups can come and have readings of a more obscure nature. There are multiple displays in the main section of The Archives that look straight out of a museum. The items change around often, and many of the items display significance about the history of Evansville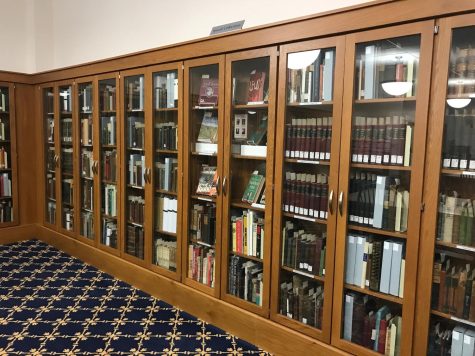 The second and fourth floors feature unique two-story reading rooms within the rotunda, where students can find a strictly silent and very spacious study area.
Every floor has study rooms that can be reserved or simply used upon walk-in. The study rooms vary based on your specific needs. Some have computers, others have large conference style tables. A first floor study room even has a keyboard for practicing your piano skills. Almost all study rooms have white boards and provide a quieter, more private study area. 
All floors have printers and loanable reading materials, from popular new releases, to textbooks, to magazines, to nonfiction texts in every subject. Stop by the front desk for help finding what you need.
Many of the library's best resources, however, are accessible online.
On the library's web page, you can find over 20,000 documents and images that catalog the history of USI, articles pertaining to Evansville and historic aspects of the midwest area. It is an impressive and important assembly of information that is all preserved in one convenient location for you to access.
As well as the digital archives, the Rice Library's website contains a wide selection of tools and benefits which can bring even more information to students. This includes a massive electronic database that holds countless resources including journals, articles, books or any other kind of information that you can use for research. If the library does not have something you need, you can recommend they purchase it.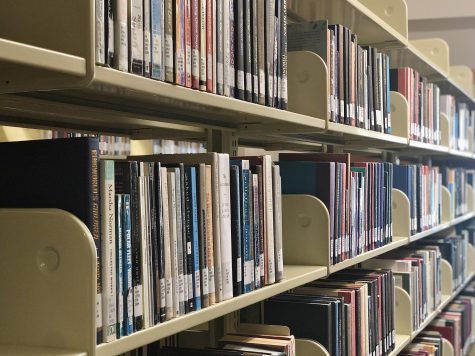 "Information is changing," Neel said. "How we adapt information. How we access information. Things like that are changing, and so we put a lot of focus on our technology checkouts. Books don't circulate as much as they used to, but we get lots of usage on things like laptops that can circulate and hotspots because that is the form of information and of access to information people need at the time." 
"I encourage everyone to get an Interlibrary Loan account," Neel said. "That is going to allow us to request electronic articles. So if you're in a database, or if you're out in the wild Internet, and there's something that you want to access that you can't access, then we can get that for you for free from another university. That usually takes 24 to 48 business hours, sometimes quicker, and we can just give you an electronic version."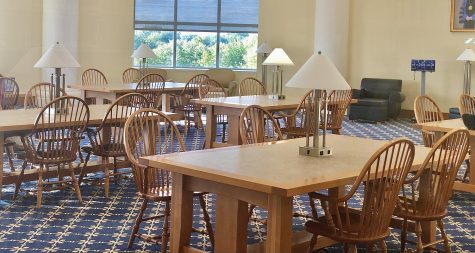 Whether you need resources for class, personal entertainment, a space to study or even a place to clear your head and hang out, the Rice Library is the perfect stop for anyone on campus. Don't be afraid to ask for help from the librarians or assistants. They are always more than excited to answer any question you might have. 
"That's our greatest resource, the people and the librarians that work with students," Hostetler said.
Just bring your student ID and enjoy this monumental building to the fullest.