Campus weighs in on Biden's student loan forgiveness plan
Students and faculty have mixed feelings about President Joe Biden's national student loan forgiveness plan. 
The Biden administration announced the Department of Education's three-part student loan forgiveness plan Aug. 24. The White House released a fact sheet the same day explaining the three-part plan for student loan forgiveness.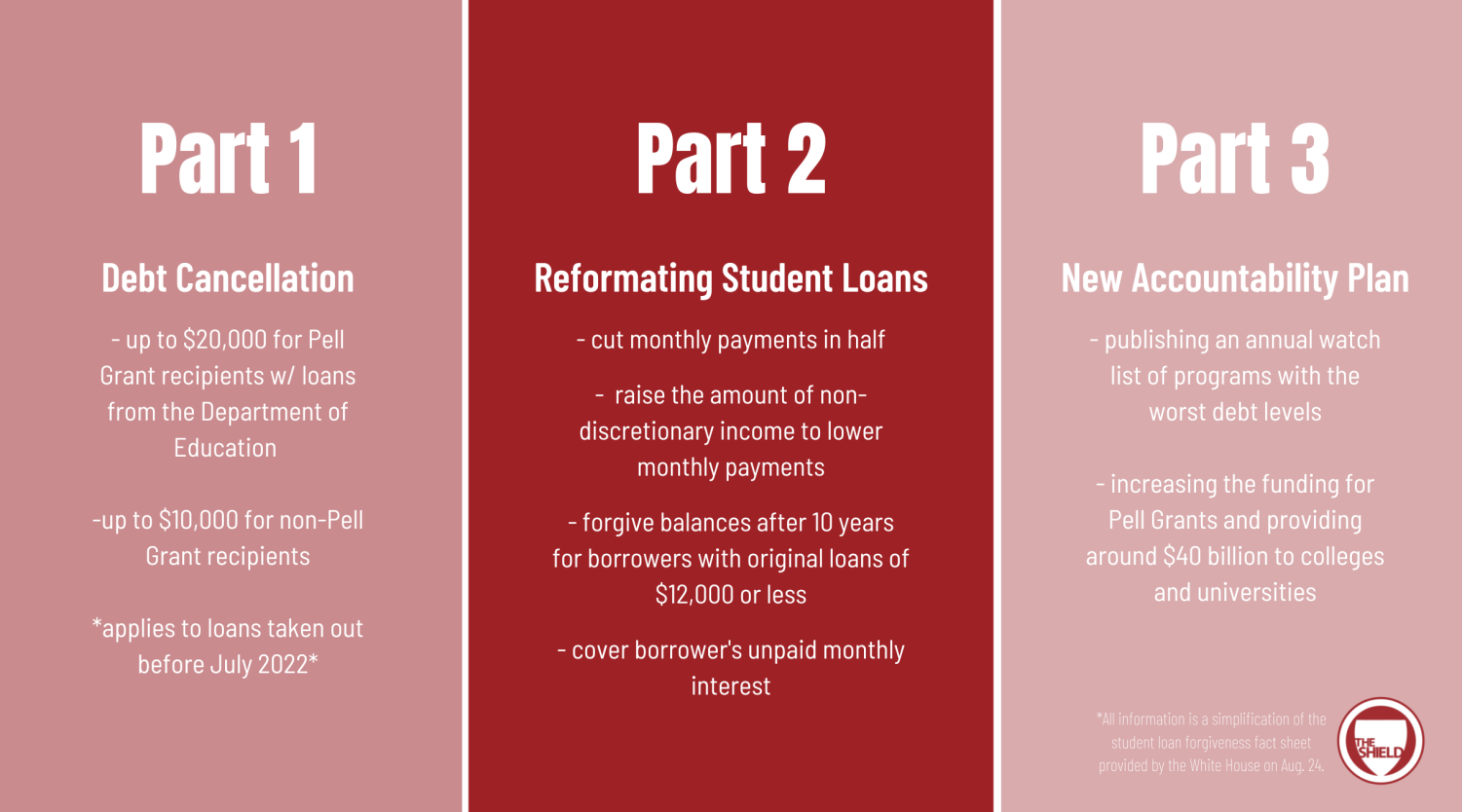 "I think we have underfunded education in the United States for many decades," said Bartell Berg, associate professor of German. "That's a big reason why a lot of students nowadays have heavier student loans."
Berg attended Valparaiso University and came out with $18,000 in debt. 
"I paid my way through undergraduate school," he said. "My parents did not help me. I could easily be one of those people who could be like, 'Damn it I paid for it, why not you?' I'm not the one to be jealous because other people get some things that I didn't."
The Pell Grant program is one of the country's biggest financial aid programs. Pell Grant recipients are more than 60% of the borrower population. The Department of Education estimates that roughly 27 million borrowers will be eligible to receive up to $20,000 in relief. 
"Our National Debt is just increasing," said Chandler Weeks, senior mechanical engineering major. "We keep spending money rather than try and fix the deficit."
Weeks said he has not had to take out any loans, but for those who do have to, it "sucks." 
"I know we are in a time where it is hard to pay off college," he said. "I just don't know how it will affect us in the long run."
"Student loans appear on the asset side of the Federal Government's balance sheet because individuals are making payments," said Cathy Carey, professor of economics. "Those loans that are forgiven will no longer be assets. What changes now is how and who pays the loans. They don't go away. The government will pay these loans in one of three ways: higher taxes, cuts in government spending or debt financing."
Carey said college is an investment and compared the student debt average, $30,000, to the price of a new car. 
"Those who made the investment will have a higher lifetime income, are less likely to become unemployed and are more likely to become happier and enjoy what they do," she said. "If the government was going to spend this kind of money on college education, my preference would have been to find ways to increase college attendance. This program does nothing to help or to increase the number of those who go to college in the future."
President Biden signed the largest increase to the maximum Pell Grant in over a decade, providing nearly $40 billion to colleges and universities through the American Rescue Plan, according to whitehouse.gov. 
"I think it's helpful in the face of COVID-19," said Alexa Haines, junior creative writing major. "A lot of people went through financial difficulties during that time, so it makes sense to me that it caps in July 2022."
Haines said she has not taken out loans and is instead on campus through scholarships and grants. 
"It would seem to be more beneficial for more people if it continued past that July 2022 time," she said. "I also don't know how far back they are going to go. That would be something I'd be interested in looking more into."
More information on claiming relief will be available to borrowers in the coming weeks. Borrowers can sign up to be notified when this information is available here.
Additional information on Biden's student loan plan: 
The first step of the plan is intended by the Biden administration to provide targeted debt relief to address the financial harms of the COVID-19 pandemic. It involves the Department of Education providing up to $20,000 in debt cancellation for Pell Grant recipients with loans held by the Department of Education, and up to $10,000 in debt cancellation for non-Pell Grant recipients.
Individual borrowers are eligible for this debt cancellation if their income is less than $125,000. If the recipients are in a married relationship, their relief is raised to $250,000. Current students with loans are also eligible for this debt relief. Borrowers who are dependent students will be eligible for relief based on parental income. The loan must have been taken out before July 2022.
According to whitehouse.gov, the second step of the plan involves re-formatting student loan repayment plans so both current and future low and middle-income borrowers will have smaller and more manageable monthly payments, according to the Biden administration.
The Department of Education has the authority to create income-driven repayment plans, which cap what borrowers pay each month based on a percentage of their discretionary income. Most of these plans cancel a borrower's remaining debt once they make twenty years of monthly payments.
According to whitehouse.gov, the Department of Education is proposing a rule to do the following:
"For undergraduate loans, cut in half the amount borrowers have to pay each month in half  from 10% to 5% of discretionary income.

Raise the amount of income that is considered non-discretionary income and therefore is protected from repayment, guaranteeing that no borrower earning under 225% of the federal poverty level—about the annual equivalent of a $15 minimum wage for a single borrower—will have to make a monthly payment.

Forgive loan balances after 10 years of payments, instead of 20 years, for borrowers with original loan balances of $12,000 or less. The Department of Education estimates that this reform will allow nearly all community college borrowers to be debt-free within 10 years.

Cover the borrower's unpaid monthly interest, so that unlike other existing income-driven repayment plans, no borrower's loan balance will grow as long as they make their monthly payments—even when that monthly payment is $0 because their income is low."
The third step protects future students and taxpayers by reducing the cost of college and holding schools accountable when they hike up prices.
The Department of Education is announcing new actions to hold college students who contributed to the student debt crisis accountable. This includes publishing an annual watch list of the programs with the worst debt levels in the country and requesting institutional improvement plans from the colleges with the most concerning debt outcomes, according to whitehouse.gov.