Campus dining options dwindle — fewer customers, smaller staff to blame
With classes the next day, student Sodexo employees clock-out thirty minutes to over an hour late each night due to low staffing. 
On a good night, after serving up to 240 students, six Sodexo employees have from 7 p.m. when the loft closes until 8 p.m. to do the dishes, clean up all the stations, clean tables, sweep the dining area, sanitize the Loft and dining area and take out the trash. 
Matthew Deputy, a sophomore business management major and student supervisor in the Loft,  said since the pandemic, the first time he got off on time was because three Chick-fil-A employees came to help him one night this semester.
"First of all, it was the first time in forever that we got off on time. It feels so nice to know we got out when we were supposed to get out," Deputy said. 
Chick-fil-A being closed in the evening means additional help to Sodexo employees in the Loft. 
Due to low staffing, campus dining has had to make adjustments during the Fall 2020 and Spring 2021 semester, including the closure of Fiesta Fuego on March 1.
Lamar Patterson, director of dining services, said in the six years he has been in his position he has never been fully staffed. 
"One of the things we take pride in here is that we have opened up this campus more than probably anywhere in the nation," Patterson said. 
Even with the low staffing and COVID-19 protocols, Patterson said they have been able to open dining seating and give students customization options. 
"From a dining perspective, we, other than health care, take the most risk of any other business. People say 'why would you say that?' Because we're the business where people come in and where people unmask," Patterson said. 
The closing of Fiesta Fuego this semester was more of a move from the east to the west of the University Center, Patterson said. 
Because only five percent of the campus dining transactions came from Fiesta Fuego, and foot traffic is down on campus compared to years before COVID-19, Patterson said they made the decision to incorporate Fiesta Feugo into the Loft Tuesdays and Thursdays for lunch and dinner. 
Patterson said the meal plan is designed to give students balanced meals through the Loft. 
"The heartbeat of our operation is the Loft," Patterson said.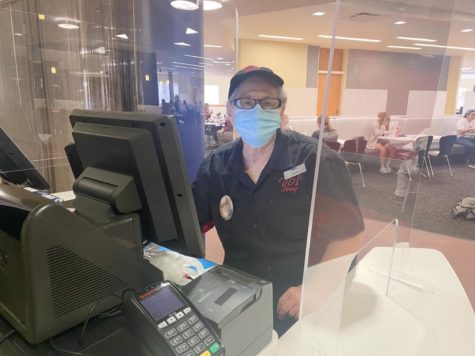 As the university opens in fall 2021, campus dining options are planning to open again. This includes Fiesta Fuego and Cyclone Salads but not Red Mango or the Simply To Go in the Liberal Arts building, Patterson said. 
Patterson said Chick-fil-A, Starbucks and SubConnection are in no danger of closing. 
To fill the Steak n' Shake location with something the students are interested in, Sodexo will be conducting surveys and focus groups, Patterson said. He said Sodexo takes pride in offering students variety in food. 
"I know the focus on this campus from the president and administrators is to provide a high-level college experience for the students here at USI and that goes hand in hand with us," Patterson said. 
Allannah Brenner, a freshman occupational therapy assistant major, said the amount of campus dining options stood out to her when she was touring campus. 
Brenner said she was sad when Fiesta Fuego was closed and does not like how crowded the Loft is as a result. 
"I feel like it was already crowded enough and so just adding something like that it's just going to be even more crowded," Brenner said. 
Hayden Walters, a junior political science major, said he is happy the sushi was moved up to the Loft and is hoping a different burger place will be put where Steak 'n Shake once was. 
"Generally, there is a decent amount of variety on any given day, that's good," Walters said.