Rochon addresses alleged sexual assault incidents
University officials are responding to multiple alleged incidents of sexual assault and domestic violence over the past month on campus.
"If I deem that there is a potential danger to our campus community, I am going to act," President Ron Rochon said at a Student Government Association meeting Feb. 28.
Rochon said the university is always looking at ways they can enhance safety initiatives on campus.
The university agreed to a partnership with the Vanderburgh County Sheriff's Office in August that will employ five full-time sheriff's deputies to patrol campus.
"It is our responsibility collectively as a community to make sure we protect students," he said. "We take it seriously, we act immediately and we will not close our eyes to it."
A student was removed and banned from campus last month and banned after multiple sexual assault allegations.
The alleged victim did not file a criminal complaint with law enforcement and the alleged perpetrator will remain a student through online classes.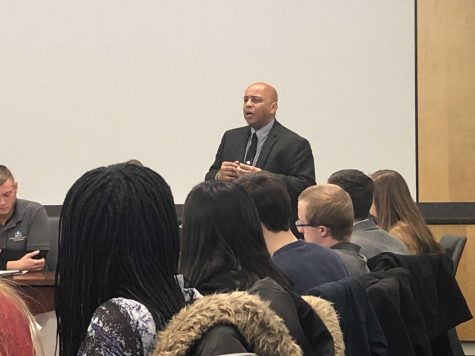 "The one thing that I have learned and have come to respect is the needs and the wishes of a student who has brought forward an alleged incident," Rochon said. "That student has the right to come forward with whatever information they want to come forward with at that moment."
He said he does not want to disclose any information that a student does not want to be disclosed. 
"When we provide you with a rave alert and if doesn't have a name or all these specifics about time, location, victim or assailant, it's because we have to hold that close to the chest," Rochon said. "It's not because we are hiding that from you. It's not because we don't want to disclose anything and it's not because we are brushing it under the rug."
SGA president Brad Flittner said he "wholeheartedly" supports the administration's decisions and believes it is critical that everyone involved has a choice in how the situation plays out.
"A lot of people forget we are dealing with human beings and that everyone has rights and some people have had choices taken from them," he said. "Its critical for everyone who has had choices taken from them to have choices given to them."
He said the situation is very complex and when people are upset, they want to simplify things.
Victims may choose not to release certain information in these situations and Flittner said information is not released to protect the individual.
"We are always about safety and we're always about transparency and supporting one another," he said. "It's important for everyone to know when to stop asking for information, because it's critical that some people get to stay anonymous for their own safety."
Flittner said the reason for the rave alert is not to scare people or make them feel unsafe but to make sure everyone on campus is aware and stay vigilant.
Another rave alert was sent out Feb. 25 after an Indianapolis man was charged with multiple accounts of battery as well as intimidation and criminal mischief.
"Right now we are being very reactive, I don't think we should be as reactive as some people think we should be," he said. "I think we should be significantly more proactive about how we can make sure that this person is taken care of."
Flittner said one student came to him with concerns over security cameras on campus.
Vice President for Finance and Administration Steve Bridges said the university is working to put more cameras on campus.
"This is a big place and it's really hard to have coverage on everything," he said. "One of the biggest problems we have had is simply storage of camera data."
He said they put new cameras in the Welcome Center and plan on putting more in the new Screaming Eagles Arena.
"Several years ago, people didn't want cameras," he said. "They considered it an invasion of their privacy so this is quite a turn from where we are today."