Fingerprints found at USI help solve burglary case
The man arrested for leaving sexually explicit notes on vehicles belonging to USI students last fall has been arrested in connection to another crime.
Aaron Otto, 32, of Newburgh, was arrested Dec. 22 after investigators said his fingerprints matched evidence linked to a cold case burglary in 2014.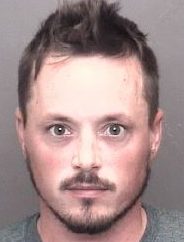 Following Otto's first arrest in September, his fingerprints were collected from those notes and taken to forensic investigators at chemical processing chamber in Vanderburgh County.
Otto is believed responsible for the burglary case where an unknown suspect broke into a young woman's home and stole more than 30 pairs of underwear.
Based on the confirmatory forensic information gathered by the VCSO, a warrant was issued for his arrest according to a press release.
Authorities in Washington, Ind. took Otto into custody where he denied any involvement in the 2014 crime.
Otto is being held in the Vanderburgh County Jail on charges of burglary and theft. His bond has been set at $5,000.