Man arrested for USI parking lot explicit messages
A Newburgh man has been arrested for allegedly writing sexually explicit messages on vehicles belonging to female students on the university's campus.

The Vanderburgh County Sheriff's office obtained an arrest warrant and took Aaron Douglas Otto, 31, into custody as he was leaving his home in Newburgh on Thursday.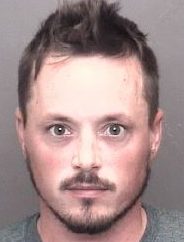 Otto is accused of writing obscene notes on the windshields of vehicles that were graphic, sexually explicit in nature and reportedly referred specifically to each victim.

After several female students reported the incidents to Public Safety on Sept. 4, the USI VCSO Patrol Division opened an investigation. Notes left on vehicles suggested the offender had been watching the victims prior to the incident.

Three women reported the incidents, but authorities believe more victims have yet to come forward. Detectives were able to trace the origin of the note back to Otto's finger and palm prints.
Director of Public Safety Steve Bequette said extra patrols were stepped up in the parking lot following the incident, however, the extra patrols are not ongoing.
"We are well aware of the impact that this could have out there, and the fear factor," he said. "Would most police agencies on some misdemeanors take the time to forensically examine those, which they did, and found the palmprints and fingerprints and got a hit."
He said the Public Safety office took the initial call.

"The sheriff's office responded also and they took a report, collected evidence, and we kept in constant contact," Bequette said. "We were able to reassure them of the resources they may need on campus and let them know that everyone is still working on it."
He said this was a perfect example of collaboration between USI VCSO division and Public Safety.

"We hope there are no other victims, but we realize that Mr. Otto's activities may not have been confined to the campus. By publishing the details of his arrest, we hope that other victims might come forward with additional information," Vanderburgh County Sheriff Dave Wedding said in a news release."I'd like to thank Dr. Ronald Rochon and his team at USI Public Safety for their assistance and continued support of our campus security partnership."

According to the university's crime log stalking and harassment were reported in residence hall Parking Lot E on Sept. 4 at both 9 a.m. and 3:04 p.m.

Otto was terminated from his job at Boyd Electric in Evansville last month according to owner Kathy Boyd. He had been employed as an apprentice at the Local 16 chapter of International Brotherhood of Electrical Workers (IBEW) in Evansville, however, the labor union would not confirm whether he was still employed.
Public Safety Sgt. Keith Mosby confirmed the office had been investigating the incident and the sheriff's office made an arrest in connection to the case but forwarded further comment to the VCSO.
Otto is facing three charges of harassment by telegraph, mail, or other written communication and three intimidation charges according to court documents. He has been ordered by court not to go on or about any property belonging to the university.
A probable cause affidavit has been filed with the prosecutor but has been kept confidential under Indiana's administrative rule 9, also known as the "Green Paper Rule."
Otto was previously charged in Vanderburgh County Superior Court 6 on misdemeanor charges of driving while suspended in early 2013.
Otto was booked at 8:03 p.m. Thursday, and was booked in Vanderburgh County Jail on $3,000 cash bond. His next counsel court hearing is set for 8:30 a.m. Oct. 17.
Email [email protected] if you have been affected or have any further information.

This story will be updated.