The beauty of relationships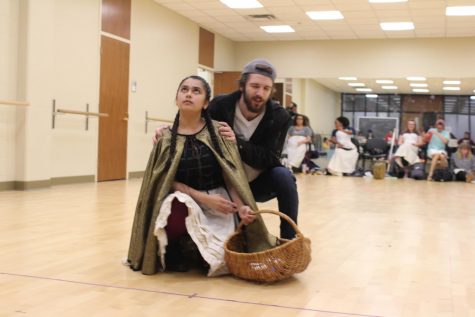 Bev Jones
Hadin Hart said that many of the motivations in fairy tales can be black and white.
"This play it is gray," the freshman theatre major said  "Everything is not what we are used to. It relates more to everyday life and to college students."
USI Theatre will be ending the season with the Tony Award-winning musical "Into the Woods." The musical, written by James Lapine and Stephen Sondheim, won best book and best original score in 1988.
Directed by Eric Altheide, "Into the Woods" is a musical twist on classic popular fairy tales. It is a story of loss and love.
Hart began acting his sophomore year of high school. After injuring himself playing football he wanted to find something that would fill the time, so he began acting.
"Managing school and rehearsals can be tricky," Hart said. "Sometimes you have to make sure you are on top of your class work. But it is a super rewarding experience if you can manage it."
Hart will be playing the baker who wants to fix all the problems around him.
"I never get too nervous performing because it has always felt natural to me," Hart said."But I always feel a slight rush before every performance."
Maggie Browne said auditioning for this show was unique for her.
"I have been in this show before and it is my all-time favorite musical," the senior theatre arts major said.
Browne said she has been acting since she was a child and her first play was in the fourth grade.
Browne will play the role of the baker's wife.
"The baker's wife is my dream role," she said. "I was nervous, but I knew that I could control myself. Everything else was out of my control."
The cast has been working on this play since February. The first week was spent learning music and choreography, and they began rehearsing their lines after Spring Break. Rehearsals were from 6-11 p.m., but most students got there early to begin warming up.
"Even though I am a senior, I have enjoyed getting to know people who are going to continue the spirit of this program when my class graduates," Browne said.
Browne said that after learning the show, the cast then focuses on finding the special moments throughout the play. If there is a scene with a partner it is about finding the special moments of chemistry and connection. If a student has a solo, then they focus on trying to make it more heartfelt and honest to the audience.
"In this play, relationships will form and relationships will end," Browne said. "That is the beauty about this play."