University renovates campus
Portions of Clarke Lane to be repaved
Potholes flanked portions of Clarke Lane until the road was temporarily resurfaced over Spring Break. Now the section of campus roadway will be repaved starting in May.
"All were doing right now is buying ourselves time to keep the road intact until May after commencement," said Miles Mann, assistant director of facility operations. "We can make the correct repairs and permanent repairs to that road over the summer."
Mann said an underground spring exists below the asphalt on Clarke Lane, with bedrock between the spring and roadway.
"Water gets in between there in the winter and expands," Mann said. "That's why the road is broken up and unless you can find a way to get that water out it will continue degrading."
Additional underground drainage will be added to the road, carrying excess water to the low points.
"You look at the north and south side of the road and you see low points where there are some ditches that are going to run the water out from under the ground," Mann said. "We will make the repairs to roads putting new rock in, base, and a top coat of asphalt so that these problems are corrected."
Roadways encompass a total of roughly 90,000 square yards of the university including 59,000 square yards of strictly public streets.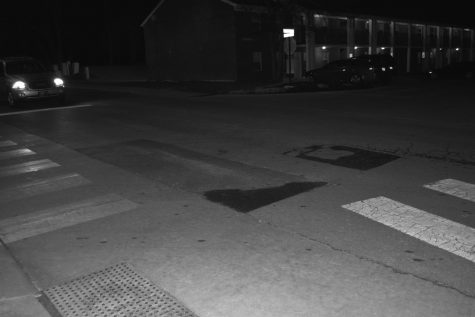 Mann said that the most dangerous part of campus roadways is the S curve just west of the Religious Life Building on Clarke Lane.
"That road is degrading," he said. "The chief cause for that is the buses that are on it."
Construction equipment typically uses the four-lane University Boulevard and very rarely take Clarke Lane to campus.
Mann said the road from O'Daniel Lane at the four-way stop at Clarke Lane to parking lot A will be completely taken out and repaved. He said this will add a permanent replacement to the most dangerous part of the road, the S curve.  
No other roads will be upgraded or improved over the summer with the exception portions of Bennett Lane and some work on the east side of the PAC.
"I'm sure they are going to rework Bennett Lane after construction is completed on the PAC Arena Phase I but that fix is already part of the construction."
Mann said the east side of the PAC parking lot would have already been fixed but construction would have torn up the lot. It's expected to be completed towards the end of Phase I construction in December.
A portion of gravel road along University Boulevard where a tunnel was cut for PAC construction has since been repaved over Spring Break.
Mann said reports about potholes or other road work never go unnoticed.
"We follow up on all those reports," he said. "Public safety is on campus every day so they report things. All the people who are paid to do this miss some things, that is why students are the best when it comes to reporting."
Campus roads are state property but the university is steward of the land, meaning they are responsible for any damage sustained to vehicles on campus roads. Funds or repairs typically come out of the Facilities budget.
"The risk management office would help the students get it repaired," Mann said.  "I'm not aware of other than a few times, of any damage to cars from road conditions."
Mann said despite the temporary road patches along Clarke Lane, road conditions around campus are suitable.
"Right now I'd the road conditions an A," he said. "Let me get to commencement and let me get the road fixed at Clarke Lane at the S curve, and I'd give us an A-plus."
Door Locks Updated
Updated door locks began installation across campus over the summer after requests were made to Facilities Operations from the Faculty Senate,
"The faculty wanted a way to make sure they could lock their doors and classrooms in case of an emergency," Mann said. "You read the news and see what's happening in the world, and we are not going to say it would never happen here. Some of those places never thought it would happen there. You can never say it won't happen here but it does."
Mann said faculty was concerned about future safety, especially in the climate of today's world.
"I understand where they are coming from," he said. "In case of emergency, they want to lock their classrooms, labs and offices in a moments notice and that's what has led to this."
USI Public Safety and the Vanderburgh County Sheriff's Office regularly patrol campus, but the added measure will aid in the university's overall security.
"We have an excellent security department, but this is a big campus," Mann said. "We have 200 million square feet, 303 acres, and all the people can not see everything all the time."
Evansville-based construction company Danco Construction Inc. is tasked with overseeing the installation of locks.
"They do really good work," he said. "But some of the times the equipment needs a minor adjustment, and you have to use it a while until you figure out you have problems. As we change these locks the hardware sometimes does not cooperate with us and is part of the growing pains we have with the project."
Mann said replacing thousands of locks on campus will inevitably have some that just do not work through the process.
"As the equipment fails we will replace that hardware and make sure they are working," he said.
"If something happens now you can lock the door. That's the way it should be, people should be safe. Especially if you know trouble is coming."
Contractors from Danco Construction are told not to let students into the areas they work.
"The thing is with our contractors you'll be surprised how creative some of our students can be and some faculty probably too can be wanting in areas they are not supposed to be," he said. "So our contractors are told not to let people in, because our contractor is responsible if you come into an area and do not belong there, and come in and cause some harm or damage that contractor is responsible."
Mann said the university wants all contractors to protect campus and remain very vigilant or "we do not want them working here."
"We have had some contractors not take care of that situation and they are no longer working," he said. "And once you're taken off our bidding list, you never get back on."