Quad display ignites 'good and bad' talk
Pink banners and a field of crosses greeted students walking by the Quad Wednesday and brought about confusion and controversy.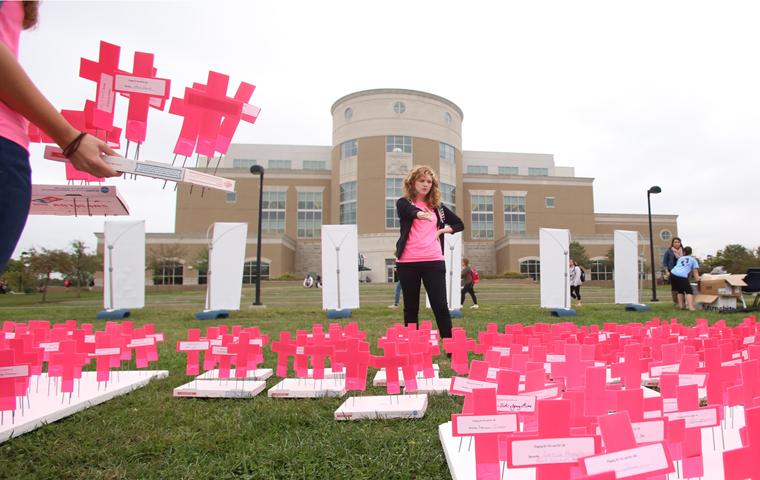 "The color for standing with Planned Parenthood is pink," freshman radio and television major Mariah Winne said, "so that's what (the display) made it look like."
The display, set up by the university's Students for Life group, intended to expose the lies Planned Parenthood tells concerning abortions and using them for profit, said Students for Life regional coordinator Anna Held.
Known as the Planned Parenthood Project, this display travels the nation to different college campuses.
"Planned Parenthood doesn't want to own up," Held said. "They say they're a women's health clinic, but they perform 897 abortions every day. They're making their money and profiting from women in crisis."
The pink crosses reflect those 897 daily abortions, calculated from the Planned Parenthood annual report for 2013.
"I feel like moms should have the right to pick if they want to have their babies," freshman radiology major Tamara Mayberry said as she was walking by, "but I'm just going to mind my business."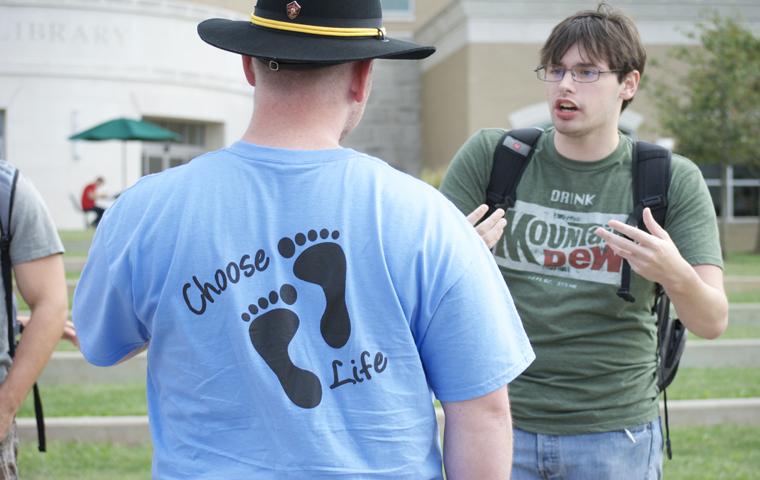 The Quad is often the center of attention on campus, and some students said that the location of the display was inappropriate.
"I think they should find another place," freshman nursing major Rachel Taylor said. "It makes students feel uncomfortable."
Nationally, Planned Parenthood and the subject of its abortions and alleged fetus harvesting are under the media's microscope through videos and statistics.
The information in the videos as well as the numbers sparked debate over their validity.
Freshman finance major Brandon Parker said he wholly disagreed with the Planned Parenthood Project.
"I don't think any of this is accurate," he said. "The numbers (they pulled from Planned Parenthood's website) are right, but the way they're throwing it out is misleading."
Students for Life of America is a national organization and while the bigger organization doesn't control the group at the university, student president and junior Laura Schwindel said they were the ones that reached out to her.
"They offer all of these free things," Schwindel, an elementary education major, said. "I was contacted by Students for Life of America."
Schwindel said the university scheduling services pushed for the event to be held in the Free Speech Zone.
The designated Free Speech Zone is the area between the University Center East and the Orr Center.
"I said, 'No. I want it on the Quad,'" she said. "I fought for it."
Schwindel said she was glad she was adamant about the location and deemed it a success. "Look at all the publicity we're getting, good and bad," she said. "At least people are talking about it."
About the Writer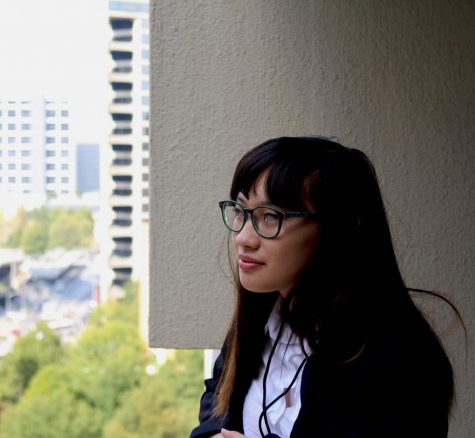 Gabi Wy, Editor-in-Chief
Gabi Wy is a junior majoring in journalism and criminal justice.