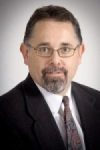 Riley Guerzini, News Editor

November 1, 2017
Graduation will never be the same. Associate Professor of Management Dane Partridge died Saturday, Oct. 28 from a heart attack. Partridge was a frequent voice at graduation, reading students' names as they crossed the aisle to obtain their degree. "He had the most perfect voice," Associate Professor...
Riley Guerzini, News Editor

March 1, 2017
A retired university librarian died Sunday night following a car accident near Mount Carmel, IL in Wabash County. Philip Orr, 67, retired last semester after working at the university full-time since 2001. "He was a workaholic," Serials Technical Services Librarian Peter Whiting said. "He was ...