Professor remembered for passion, mentorship
Graduation will never be the same.
Associate Professor of Management Dane Partridge died Saturday, Oct. 28 from a heart attack.
Partridge was a frequent voice at graduation, reading students' names as they crossed the aisle to obtain their degree.
"He had the most perfect voice," Associate Professor of Management Jason Fertig said. "He was brilliant and easy to talk to. There was no doubting how much he cared about the students."
Partridge was on the committee that hired Fertig in 2009. He said most of his conversations with him were about baseball.
"He was a Tigers fan and I am a Yankees fan," Fertig said. "He was just a wonderful colleague and really easy to talk to."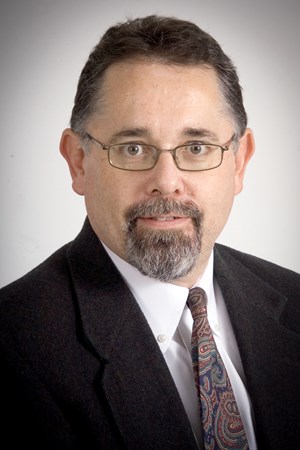 Alongside teaching in the Romain College of Business, Partridge served as a representative on the Faculty Senate.
"I was surprised to hear the news," Faculty Senate chair Peter Whiting said. "He was very generous and a good mentor to other faculty. This is a big loss for USI."
The Faculty Senate meeting was canceled for Nov. 3 in light of Partridge's death. This was the first term he served on the Senate.
"He always asked good questions and had a good curiosity," Whiting said.
Partridge taught at the university for 23 years and served on numerous committees during that time.
"We were saddened to hear of the passing of Dane Partridge over the weekend," the Advising Center said in a Facebook post Sunday. "Dane was a wonderful mentor, professor, and human being and he leaves an amazing legacy here at the University of Southern Indiana."
Dean of the College of Business Mohammed Khayum said Partridge was always ready to assist other and created a climate for dialogue and learning.
"Dane Partridge was an educator in the truest sense of the word – someone who sought to inspire students to take advantage of their talents and did all he could to enable their success," he said. "He saw what he did not as a job but a calling and in many ways. He exhibited the traits we seek to develop in ourselves and in others as lifelong learners."
Khayum, who worked with Partridge for more than 20 years, said he kept everyone in the college updated on what was going on in the business world.
"Above all, he believed in his profession and lived it in ways that will be unforgettable for all of us in the university community who had the opportunity to know him," Khayum said. "For us in the Romain College of Business, even though we won't see Dane any longer he will be an enduring influence."
A memorial service will be held at 6:00 p.m. Thursday, Nov. 9 at St. Matthew Catholic Church in Mt. Vernon. The service will be followed by a bereavement dinner in the St. Matthew gymnasium.
Visitation will be held from 4:00 p.m. until 6:00 p.m. Thursday at the church.