Eagles prepare to soar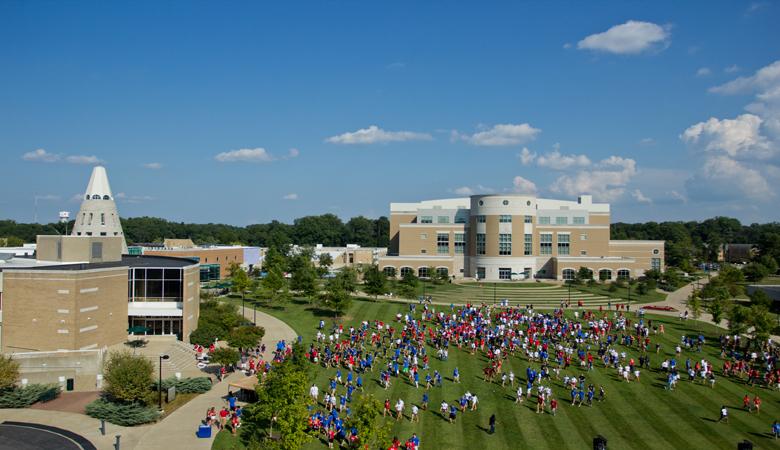 Incoming freshmen and transfer students filled the stands inside USI's Physical Activities Center Friday afternoon during the New-Student Convocation.
Psychology major Tasha Resenbeck said she heard convocation would be fun and couldn't wait for it to start. "I'm really pumped for the convocation," Resenbeck said as students took their seats within their college's section.
"I'm ready for an all-around new start." Resenbeck came to USI from French Lick, Ind. because she liked the smaller campus size. "It wasn't going to be as much of a culture shock as some other colleges," she said.
Student Government Association (SGA) President Zack Mathis spoke to the crowd of new faces.
"Everyone – look around you. These are the faces that are going to shape the future," Mathis said. "Look at your hands. These are the hands that will shape the future."
He then asked each student to remove a pin from their program, place it on the person next to them and take a moment to introduce themselves to one another.
"Four years from now, you will be seated in an audience dressed in your graduation robes – yes you will," President Linda Bennett said. "You will be surprised how quickly that day will come."
She urged students to stay open to the possibility of change.
"You will find a major that excites you about learning, and you might be surprised that it may be a different major than you're thinking about today," Bennett said.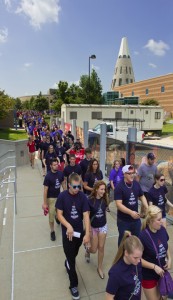 She spoke about developing lasting friendships. "If you're kind and offer mutual respect to each other, these may be the friends you'll stay connected to for the rest of your life," Bennett said.
She spoke on behalf of the entire faculty.
"We'll be here to guide you, we'll be here to cheer you on and we'll be here to applaud you as we file into your graduation ceremony," Bennett said. "It all begins today."
Undecided major Abbey Short said the event was "really cool."
"I didn't really know what to expect going into it, but it was really interesting," Short said.
Short said being undecided didn't make her feel any less included in the convocation.
"Really no matter what path I go down, everything will turn out well," she said.
Short moved three hours away from her hometown of Indianapolis, and she said she's glad she did.
Following convocation, students proceeded to the university quad for a Class of 2017 group photo.
Biology major Kelsy Cullison, who is originally from Albion, Ill., said she and her roommates are getting along well.
"We met during the summer before coming here, so it hasn't been too awkward," she said.
Cullison really likes the university so far, she said.
"I ended up getting a bigger scholarship for here," she said. "Then I got into the pre-med program, so everything worked out."