The unique artists of the 2023 Senior Seminar Exhibition
If you were to walk into the Pace Gallery any time between March 27 and April 28, you would be faced with crumbling woodwork, abnormal furniture, uncanny imagery, your favorite film characters, mossy creatures and posters you can't view anywhere else in the world. 
No, you haven't entered some strange but delightful alternate dimension – you've entered the minds of the 29 artists of the 2023 Senior Seminar Exhibition.
Each senior was allowed to select their best pieces for the show, with about 5-7 pieces each depending on the size in order to make room. 
After years of hard work toward their degrees and development as artists, this exhibition serves as an accumulation of the students' success and growth in their artistry.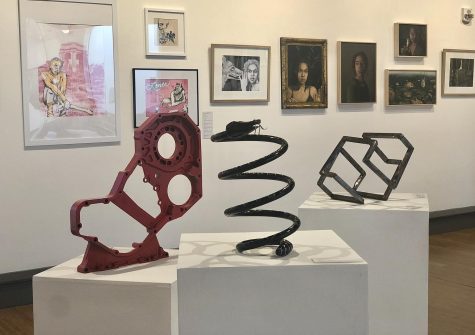 Conner Perry, senior studio art and communication studies major, has worked in the auto body business since he was around 15 years old. He now owns his own auto business and uses those materials to create his artwork.
 "Seeing the car parts in a way that maybe other people don't, bridging the gap between car people and art people is something I really like to do," Perry said. 
Like Perry, other seniors are making art out of unusual mediums. Rachel Kercher, senior art major with a studio emphasis, is working on a series of paintings on musical instruments. Her piece "Phantom" in the exhibit is part of this series, which uses a cello in place of a canvas. 
Kercher said her time at USI has helped her grow not just as an artist, but also as a person. 
"It changed my life," Kercher said. "It changed my outlook on a lot of things. I hope that I can help others with that too."
Candice Beck, senior art major with a studio emphasis, also finds her interests reflected in her work. 
Beck, who worked in labor support, said, "In general, in my work, I address what's going on in the world, often sex and gender." 
One of her pieces in the exhibit, "Woebegone," is designed to decay over time. Every time it's displayed, Beck hits it with a hammer and chisel, knowing that one day it will collapse and fall apart. Other pieces in Beck's portfolio are made of old or broken artwork Beck created in the past. 
All the art seniors shared the sentiment that the art department is like a family. They have formed bonds with one another and their professors that have shaped not only their artistic lives, but their personal lives as well.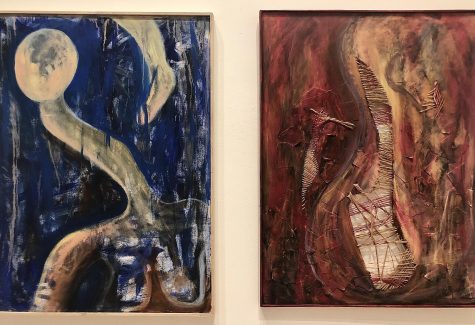 Hope Burdette, senior art major with a graphic design emphasis, said they appreciate the willingness of their peers to help one another. 
"We had a lot of really cool people in that classroom," Burdette said. "Everybody was just willing to help each other. It was really fun to bounce ideas off of each other. I really like that collaborative effort.
Elizabeth Sinning, senior art major, said the art department is "like having your own family all around you."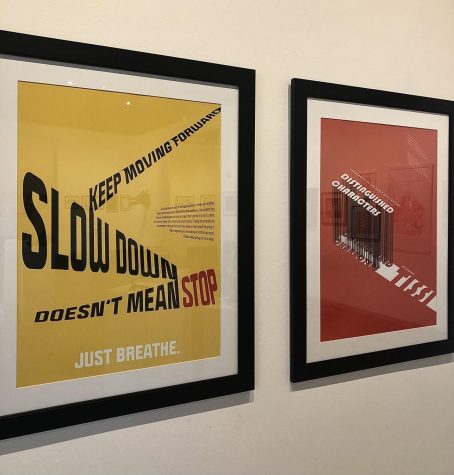 "Your best friends are with you," Sinning said."It's a lot more personal."  
Many senior art students expressed finding inspiration in one another's work. 
Bralyn Shripka, senior art major with a graphic design emphasis, said her current bright, colorful art style can be attributed to former USI art student Hannah Jones. 
Shripka has several pieces in the show, but her favorite is "JUDITH." 
"I wanted to have a really strong 'empowering women' piece," Shripka said. 
While many professors and faculty members were named, a common source of appreciation was for Sarah Christiansen-Blair, chair of the art department.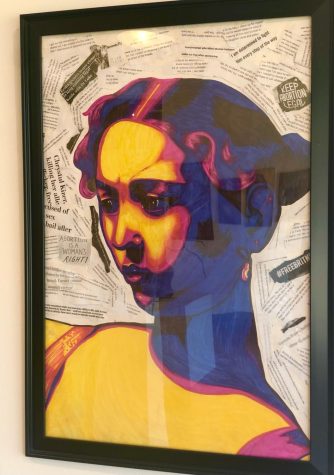 Hannah Weesner, senior art major with a concentration in graphic design, said she learned from Blair that, "We all have to work together and use this collective, creative mind that we can all be a part of. The whole department just really pushes a unique, united front."
While they have a close bond, no two seniors were alike. They all have backgrounds and experiences that make their artistic journey unique.
Sinning goes nowhere without her service dog. Sinning said it wasn't challenging to implement a system for her service dog with each class, and she learned as she went. 
"I learned my lesson with my past service dog," Sinning said. "Never put them next to the throwing wheels because they will hit the pedals. Threw my piece across the room." 
Sinning said her favorite piece was her mantlet, a table that can be converted into a siege shield to be used at LARPing events.
Viktoriia Mayatska, art major with an emphasis in graphic design and interactive media design, moved to the U.S. from Ukraine six years ago. Her experiences in life, especially her loving family and strong faith, have influenced her art. 
Mayatska said the joy she experiences in her life translates to clean, peaceful, straightforward art.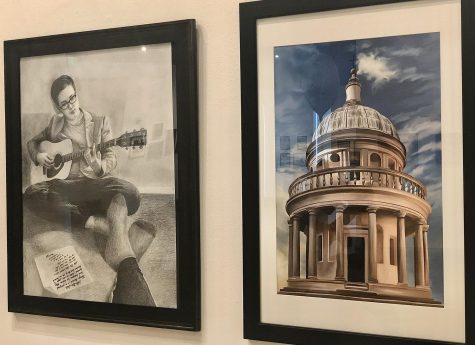 "I love details," Mayatska said. "I love beautiful art. Coming from a Ukrainian background, I think that helps my art not be plain." 
Emily Geisler, studio art major with a painting emphasis, said she has always "loved colors," which shows in her fun, bright works. Geisler is Inspired by Care Bears and Lisa Frank, as well as 20th-century art movements. 
Geisler also has cerebral palsy. While this can make creating art physically taxing for her, she expressed the importance of doing what you're passionate about in spite of the challenges.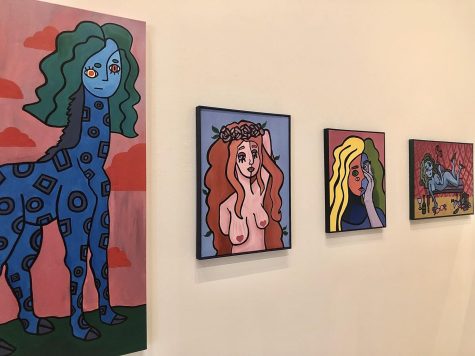 As soon-to-be graduates, many of the senior artists have considered diverse paths they can take in their future. 
Some seniors would like to work to create art privately for companies, while others are more interested in freelance and commission work. Some, like Sinning, are pursuing non-artistic careers and plan to keep their art more personal.
Paris Fithian, studio art major with an illustration emphasis, is taking a creative writing class, as she is interested in a future involving book illustration and the production of independent works. Fithian said she felt "nauseous" about graduating.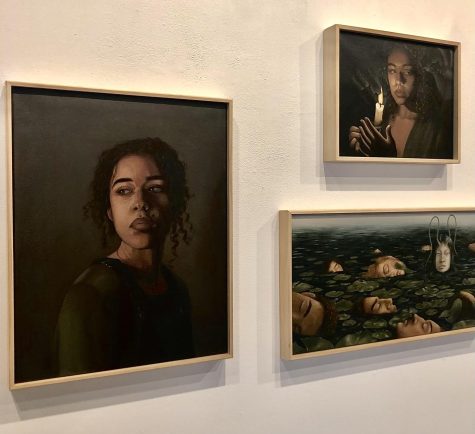 "To not be a student artist, and just be an artist, feels really interesting and terrifying at the same time," Fithian said. 
Fithian is graduating alongside her brother, Matthew, who is also featured in the exhibit. She said she couldn't see herself or her siblings doing anything else.
Kercher is interested in creating a podcast in which she and a friend make and discuss art.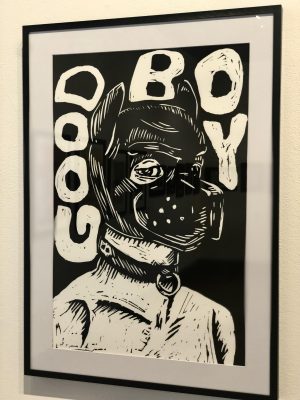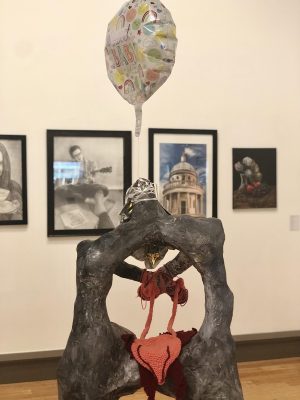 Many students, like art major William Rodenberg, are interested in starting their own brands and developing their own characters. 
These student artworks are currently on display in the exhibit, which is open for viewing from 10 a.m. to 4  p.m. until April 28th. A reception for the show will be held from 1 p.m. to 3 p.m. April 16 at the McCutchan and Pace Galleries. This reception is open to the public.
"This whole exhibition was entirely student-run. As a class, we worked so hard. The actual gallery workers were amazing. They worked so hard," Weesner said. "I'm really proud of everybody."