Nursing students share opinions on the program
Nursing students shared mixed experiences from busy schedules, to helpful faculty about the university's nursing program.
Nursing students attend classes together as a cohort, or a class of students, who take their nursing classes and go through the nursing program together. The program not only requires class attendance, but hundreds of hours of unpaid clinical work in local hospitals. 
Students discuss what it is like to be in a program with long hours of classes, clinicals and labs with only small breaks in between.
"We have to learn what it's like to be on the job," said Lydia Moesner, senior nursing major. "You very well may not get a lunch break in your 12-hour shift working at the hospital. I think it definitely prepares people for what it's like to really be out in the field being a nurse."
"
I know there's a lot of other schools around here that do have nursing programs, but I have had patients in the hospital tell me that they can tell the difference between the USI nursing students and other nursing students from other training programs around here.
— Lydia Moesner, junior nursing major
Hailey Reas, junior nursing major, said the schedule of nursing students depends on the class and clinical times for each student. Reas said she has two classes Mondays and Tuesdays for 2 hours each, a lab after her classes and tutoring last.
Nursing students said the workload is not hard, but it takes a lot of time.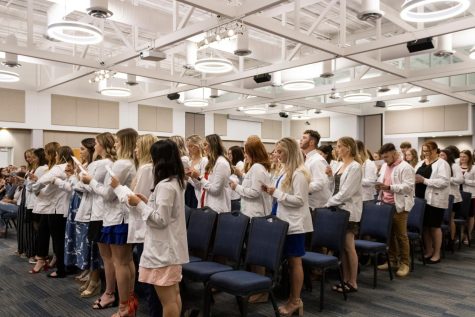 "It wasn't always like, 'This is really hard, can you learn it?'" Moesner said. "It's more like you're on a time crunch. Can you get all this information in your head and learn it fast enough to be able to take a test and get a good grade? And, it's almost more of a time management game, rather than a hard, challenging academic game."
Kylie Hicks, junior nursing major, said the work is not hard, but she does not have much to study because she always has a lot of homework.
"It's like I'm just cramming it in to pass the test and then I completely forget it," Hicks said.
"
You don't really get any breaks.
— Lydia Moesnerm junior nursing major
Hicks also said the program has a lot of busy work. 
"I feel like they don't really help you learn anything," Hicks said. "I feel like it would make more sense to just give us time to study for the test and learn stuff that way." 
Nursing students said the time the program requires for them to study has impacted their social lives and mental health.
Moesner said she had to put her social life on hold to focus on her workload. She said she has had to leave family events early, and she has to be disciplined with her free time to study. 
"I've just been studying every night, studying on the weekends, no days off pretty much is what I like to tell people," Moesner said. "You don't really get any breaks."
She said taking a weekend off of studying or working can mean the difference between passing and failing a class.
"
It's hard to not compare yourself to other people.
— Kylie Hicks, junior nursing major
"I wouldn't necessarily say it's terrible, but it's definitely a lot on your mental health too because everyone's trying to be perfect and pass," Hicks said. "It's hard to not compare yourself to other people."
Hicks said it is hard to have a job while being in the nursing program. 
Hicks said her clinicals are in Jasper, IN, and she wakes up at 3 a.m. to get to her clinicals. She said it is difficult to maintain a job, clinicals and homework while the gas to Jasper is expensive and the clinicals are unpaid. 
The students said the program's professors are helpful.
"Overall, I have really been appreciative of the faculty," Moesner said. "They work really, really hard to make this program as good as it is. I think that definitely shows in their overall reputation, as well as in the schools, pass rates overall and just our statistics and our numbers that come out of the nursing program."
Reas said the university has a really good nursing program. She said around 96% of students pass the NCLEX-RN the first time. 
According to the university's website, the NCLEX-RN first-time pass rates have ranged from 93% to 100% for the past 5 years. 
"If they don't, it's guaranteed like 100% of people pass on the second time, and I really truly feel that our instructors have hammered so much information in our heads where we just get it," Reas said. "We know what to expect."
Moesner said the university does the best they can do with the time they have, and she would recommend the university's program to others who are interested. 
She said, "I know there's a lot of other schools around here that do have nursing programs, but I have had patients in the hospital tell me that they can tell the difference between the USI nursing students and other nursing students from other training programs around here."