Olivia Supper's "From Here She Grows" exhibit creates commentary on women, nature
The "From Here She Grows" art exhibition, created entirely by USI graduate Olivia Supper, opened to the public in the McCutchen Art Center and Pace Galleries Jan. 9. The exhibit will be showcased until Feb. 5.
The gallery was supported by The Efroymson Bridge Year Fellowship which was awarded to Supper in 2022. The fellowship provides $10,000 and access to USI facilities to a postgraduate USI student to help build their portfolio for graduate school. 
A reception for the gallery was held Sunday to celebrate the opening and Supper's achievements. The event allowed students, faculty, community members and those close to the artist to view the works on display, snack on catered food and hear Supper speak.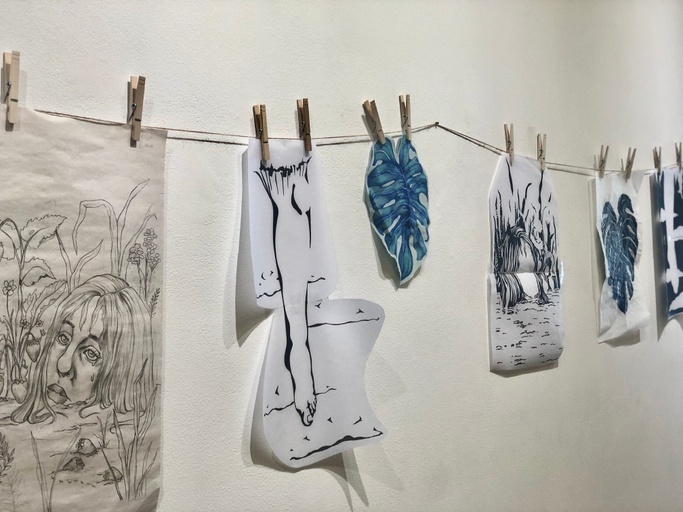 "I'm so thankful for this experience," Supper said. "This has been the biggest, best thing I've ever done."
She thanked her family, professors, administration and partner for their support in her artistic endeavors. She and the audience let out some tears as she expressed her gratitude for her mother.
"You've been the greatest supporter of my life, whether it's been artwork or anything I've ever done," Supper said to her mother. "You've never told me I wouldn't be good enough for it, I wouldn't be able to succeed — that was never a question or concern for you. A lot of people don't have that support in the art world."
According to her artist's statement, Supper created her pieces with the intention of building a commentary on women and nature. In her statement, she said, "These transitional spaces, where human intrusion and neglect overlap, are a fitting visual metaphor to process my current concerns about environmentalism and feminine body politics."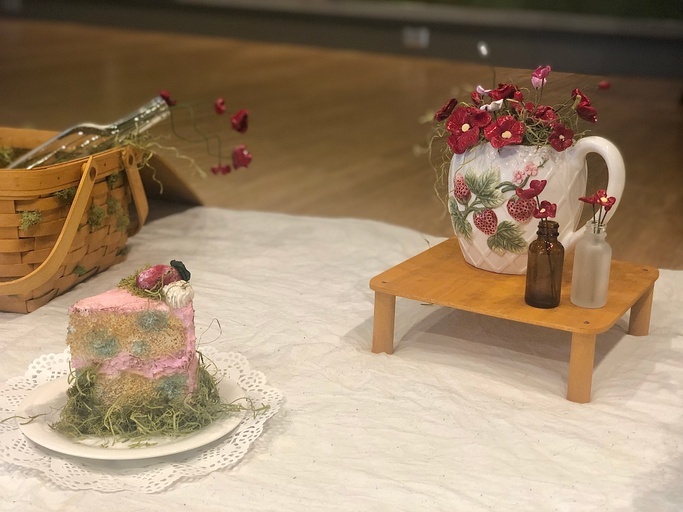 Supper represented this concept in multiple mediums such as polymer sculptures, plate lithographs and screen print, watercolor, charcoal and paints on thrifted clothing. Supper also displayed her drafts and stencils, her sketchbook and even a smock with pins and paint stains to show her artistic process. 
My personal favorite piece, "Lost Picnic," lies on the floor of Gallery One. It consists of a blanket atop fake foliage, which hosts eight pieces made of found objects, acrylics and polymer clay. All together, the pieces create a scene of a forgotten picnic. Pretty platters of cake and cups of tea have been overtaken by flora, grass and mold. 
Other prominent pieces include "Contained," a series of eight polymer sculptures of flowers and fungi under glass jars, and "The Fruitful One," a series of screen prints depicting decomposing body parts surrounded or buried by plants and earth.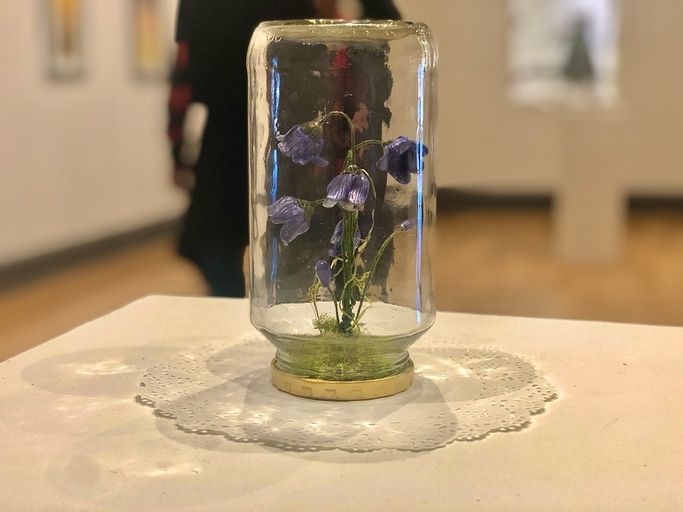 Friends, professors and family of the artist expressed their pride in Supper and her works. 
Supper's aunt, Katie Caldwell, said she came all the way from Hawaii to see her niece's exhibition. 
"I just admire her bravery," Caldwell said. "She's always unafraid to just really push herself out of her comfort zone."
Caldwell was with Supper when she received the news she had received the fellowship. She said she was "stoked, but not really surprised."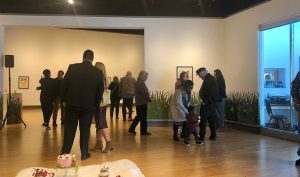 Barry Young, Supper's grandfather, said, "Watching her progress with her art, I'm seeing a lot of change in her artwork…this is a big boost for a 24-year-old." 
Young described the gallery viewing as an educational experience. 
"I would like to thank the Efroymson family for their continued support and donations to make this possible. I think we're really fortunate as an art department to have something like this, and I'm thrilled to be a part of it as well," Supper said.
The gallery is located in the basement of the Liberal Arts Building and will be open until Feb. 5. Click here to see pictures from last year's Efroymson exhibit.