'It is a therapy for me'—Meet the artists of the 53rd Annual Juried Art Gallery
The 53rd Annual Juried Art Gallery opened Nov. 7. The exhibit features art made by students of various backgrounds, judged by an outside juror. This year's juror was Brian Harper, associate professor of fine art at Indiana University Southeast. Over 200 pieces were submitted, and about half were accepted into the show.
But behind every amazing work of art is an equally amazing artist with a love for their craft and tales of how art came into their lives. Whether their art is created for leisure, activism or therapy, each student has a unique relationship with their artistic identity.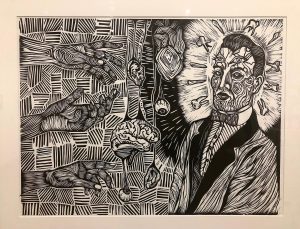 Cheyenne Miller 
Cheyenne Miller, senior art history and world languages and culture major, studio art minor, is featured in the show. She has several pieces in the gallery, including "An Illusion, A Mistake" and "Every Young Woman Should Aspire To Be Like My Mother."
Miller said her high school art teacher introduced her to printmaking, and she instantly fell in love. She expressed her love for printmaking and its history of making information accessible. Her first printmaking piece in high school, influenced by "American Horror Story," inspired her award-winning piece "An Illusion, A Mistake."
"Being an artist, you always have this weird sense of imposter syndrome. Like no matter what you do, it's never enough. I was struggling to call myself an artist, so I wanted to recreate that piece, make it bigger, see how I could change it to make it more dynamic and conceptually appealing," Miller said. The university purchased this piece for $100.
"Every Young Woman Should Aspire to Be Like My Mother" is a piece consisting of multiple prints. Miller said it represents generational trauma and the fear of becoming the woman who raised you. The rightmost panel in the piece had the strongest conceptual influence. All the children in the panel have one touch on their cheek, which is "a nod to generational trauma and being raised by a parent who has their own trauma, and whether it's intentional or not, getting a touch of that yourself as you grow up."
Miller said she plans to continue creating art after she graduates this December and applies for her Master's of Fine Arts.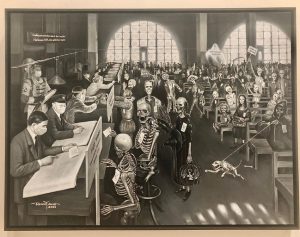 Rong Yang
Rong Yang, a non-degree-seeking student, takes one art class a semester at USI. He has worked full-time as a surgeon for 23 years and is currently employed at Good Samaritan Hospital in Vincennes. At 60 years old with his kids out of the house, Yang said he turned to art to pass his time. 
"I wanted to take art classes as an enrichment kind of thing," he said. "I was always interested in art but never got a chance to do it. It is therapy for me. I find I'm so much happier with artwork, it's almost a meditation."
Yang has four pieces in the art show, including "Halloween 2021: Health Control at the Entry into the Living World" and "Odds." He said his pieces reflect observations in his everyday life, as well as contemporary issues in the world. 
Yang said he leans towards realism but likes to add a spark of creativity or hidden meaning in his artwork. Among the surgical equipment in "Odds," for example, Yang added dice to represent the element of risk involved in surgical procedures.
Yang said he is motivated to create due to the meaningfulness of art. 
"I want to create when something has touched me or something has moved me, whether it is beauty or some kind of feeling. I use painting to express myself," he said. 
Yang said he plans to hold onto most of his art for now and hopes to host art shows of his own collection in the future.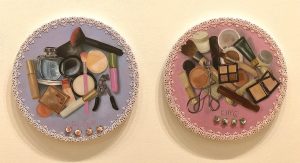 Payton Broshears
Payton Broshears, senior art major, said she was inspired to pursue art by her grandmothers, who were both artists. Broshears won Best of Show with her piece "Queen and King." The circular paintings depict Payton and her friend Will's makeup collections. With this piece, Broshears said she intended to draw attention to gendered marketing, how even makeup is no longer a purely feminine product. 
Gender is a consistent theme in art for Broshears, who is also pursuing a minor in gender studies. She said she is highly inspired by Mary Beth Edelson, a pioneer of the feminist art movement in the 1970s. 
Broshears is currently working on a project called "Solicited," which includes pretty paintings of male anatomy to match the trend of female anatomy art on social media. 
"This idea came to me after something Dr. McKibban said in class," Broshears said. "We were discussing male and female anatomy, and she began talking about how when female genitalia are shown on the screen, there really is no reaction to it. When she is about to show male genitalia, she always gives a warning because students tend to have this reaction of disgust."
"This will be my last show as a student at USI, so to be able to come out with the Best of Show award in my 4.5 years at USI is a great accomplishment." 
She said she plans to continue making art for Wesselman Woods Nature Preserve after she graduates.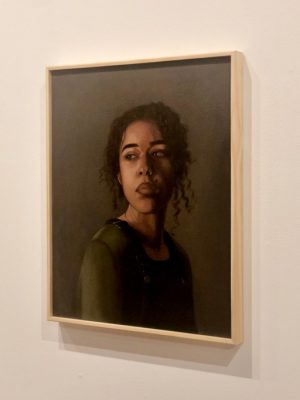 Paris Fithian
Paris Fithian, senior illustration major, has three pieces in the show, including "Hidey Hole" and "The Riverman's Wife." Her third piece, "A Face of The Midwest," won second place overall and an award of $600. She currently has an associate's degree in graphic design from Vincennes University. 
Fithian said "A Face of the Midwest" was the most challenging piece. She said "Hidey Hole" represents her struggle to share her artwork.
"When you're an artist, you have to share your work," Fithian said. "That's kind of the point of it. So I just kind of want to hide in a hole." Fithian said she is still trying to figure out her motivation for making art.
"I was always the art kid growing up," she said "It's just something I've always done. I don't really think about it. If my art does mean anything personal to me, it's kind of retrospective., I understand it after the art is done. I like the idea of making something out of nothing, completely making an image from myself."
In the future, Fithian said she wishes to pursue book illustration, but she's open to "wherever my little hands take me."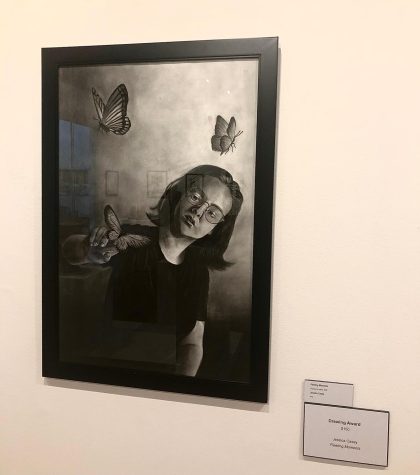 Jess Casey
Jess Casey, senior illustration and graphic design major, has two pieces in the exhibit, both of which won awards. Their piece "Leisurely Stroll" won the Illustration Award, and they received the Drawing Award for "Fleeting Moments."
"I wanted to capture the sort of innocence and fleeting memories of childhood. Especially now, at our age and during times like this, sometimes you want to go back to childhood innocence when you didn't have a lot of responsibilities," she said. Casey said her artwork is a means of having fun and making a statement.
Casey said they are interested in creating concept art and illustration for video games in the future. 
Ella Dornburg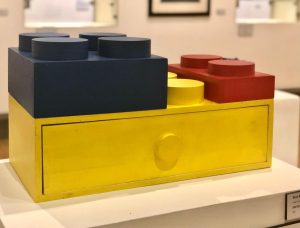 Ella Dornburg, sophomore art major, was awarded $500 dollars for her woodworking piece, "Block Building." Ella said she really loves puzzles and legos and came up with the idea to make a drawer of stackable lego-esque blocks. She said she was shocked to receive an award. 
"Art really allows me to express myself. I do it for the process, especially in woodworking, because I just fell in love with it. It creates experiences for me that I can look back on and be excited and proud of myself about," Dornburg said.
She said she wanted to create a fun and nostalgic piece and show that art doesn't always have to be taken so seriously. 
In the future, Dornburg said she is considering being an elementary art teacher or creating pieces and paintings for homes. She wants to try her hand at creating murals, macroscopic and microscopic painting pieces.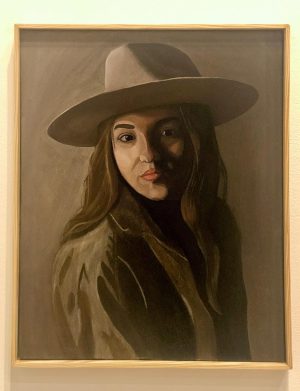 Mollie Myers
Mollie Myers, junior studio art major, has two pieces in the show titled "To Steal a Kiss" and "Girl in a Suede Hat." "Girl in a Suede Hat" won the Junior Award and is the piece Myers said she is most proud of. Myers said that her outlook on life and her art go hand in hand. She said she typically has a realistic view of life, and that is reflected in her love for realism and portraiture. 
"I definitely do see my art as a reflection of myself," Myers said. "No matter where I go in life, I always come back to art. It has always been a constant for me."
Myers has recently started doing event portraiture for weddings, in which she attends the event and paints the setting and the most important subjects. She wishes to continue being a live event painter. 
---
The art exhibit is open in the McCutchen and Pace Art Gallery through Dec. 9. 
"It's really important to let people go in and see everything that we have achieved as art students because I feel like a lot of the time people have their doubts," Dornburg said. "But it is really important to appreciate people in that major, to show people that it's not pointless."