Art Club travels to Cincinnati for annual trip
The Art Club visited Cincinnati, Ohio for their annual fall trip from Friday until Sunday. This was the Art Club's first trip to Cincinnati. 
Gregory Blair, Art Club faculty adviser, said Art Club takes an annual art-related trip in the fall semester. He said the Art Club has gone to Chicago for previous trips, but this year, they voted to travel to Cincinnati.
Blair said the Art Club funded the trip through profits made at their booth at the 101st annual Fall Festival. 
"We do a few other things throughout the year, but we wouldn't be able to do this trip without the Art Club booth at Fall Fest," Blair said. "We subsidize about 80% of the student trip, and then they have to pay for a little bit on their own, but it's nowhere near what it would cost them if they just went without our club."
Jade Young, Art Club president and junior graphic design major, said the trip was a good way for students to get inspiration for their own art.
"On every Art Club trip, we have a few organized museum visits where we get to just roam free in a museum that's paid for and just look at all types of art," Young said. "There's paintings, different types of sculptures, ceramics. I think it's just a really good way to get inspiration to make your own art. The rest of the time, we just kind of get free time. Just roam around the city. Do whatever you want."
One of the exhibitions the Art Club visited was Van Gogh: The Immersive Experience. 
"It tells, like, the life story of Van Gogh, and it had a lot of projected prints, and then it tells where he's from, and it's just, like, a lot of information about him," said Hannah Rasche, sophomore studio art major. "They have, like, a whole room that's projected where they have all of his artwork, and it's moving and kind of interactive. So that was very cool."
She said they also went to the Contemporary Arts Center that featured art representing feminism and global warming.
The Art Club also chose to go to Cincinnati to stop in Louisville, Kentucky on the way there and back.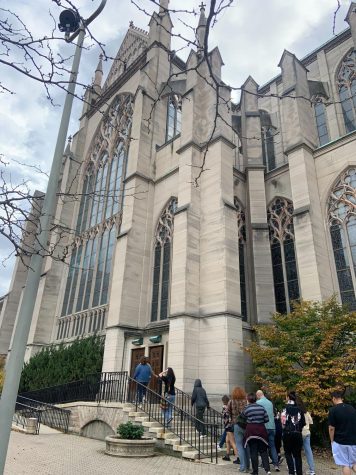 "I think one of the things that appealed to them, though, about going to Cincinnati, if you've ever driven there, you have to go right through Louisville, and that's kind of like halfway to Cincinnati," Blair said. "So it's just sort of like a natural place to take a break, stop for a minute, and if we wanted to stop for a little bit longer, you can actually go do some stuff. So that's what we ended up doing on each end of the trip, but our main destination was Cincinnati."
"I thought it was cool to go to Louisville and Cincinnati and then back to Louisville," said Breanna Bailey, junior biology major. "Based on the other options like Indianapolis and St. Louis, I've been there numerous times, but feel like I haven't been in Cincinnati as much as the others."
"Louisville was just more museum stuff," Young said. "They had smaller museums that we went to, but they were also really cool. Then we also stopped at, like, the children's Science Center and had fun there."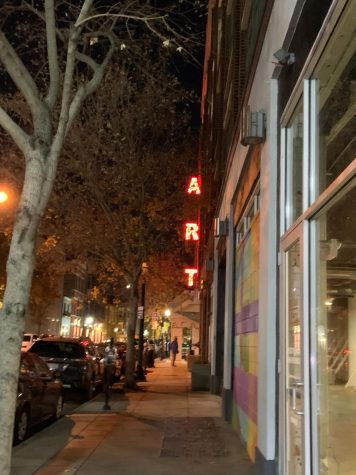 The Art Club's 2021 trip to Chicago, Illinois was their first trip since the COVID-19 pandemic. 
"Chicago was still in the middle of the mask mandate," Blair said. "So pretty much everywhere we went, we were wearing masks, almost all of the museums and pretty much everywhere."
Students said they preferred the trip to Chicago over the Cincinnati trip.
"I enjoyed Chicago a lot more just because it's a big city. I'd never been, and that was a really cool opportunity to go for less money than it would cost you to just, like, go by yourself," Young said.
Bailey said she enjoyed Chicago more because of the museum they visited there. She said she would like the Art Club to return to Chicago next year.
Rasche said she liked the Cincinnati trip more than the Chicago trip. She said Chicago was overwhelming, and in Cincinnati, she was able to "slow down and take it all in."
She said the Art Club is fun and she encouraged others to join.
"It's definitely, like, a lot of fun if you're into the arts, and even if you're barely into it, it's an experience, and it's more to learn and see," Rasche said.