Campus organizations feature booths at Evansville annual Fall Festival
Several campus organizations set up booths with various foods and treats at Evansville's 101st annual Fall Festival. 
These organizations have been setting up booths annually on Franklin Street for many years; some even decades. Fall Festival is an annual festival hosted by the West Side Nut Club on Franklin Street. Around 200,000 people attend, making it one of the nation's largest street festivals.  
Several of the USI student organizations have spent months preparing the food their booths now feature. The festival began Monday and ends Saturday. 
Hanna Baker, junior elementary education major, is working at the Alpha Sigma Alpha Booth for the Fall Festival. Alpha Sigma Alpha's booth offers Chicago hot dogs, fruit haystacks, chocolate-dipped strawberries and oreo cookie balls. 
Baker said the sorority began making food for the booth in August. She said they made 6,000 regular oreo balls and 1,200 of their special oreo balls.
Chloe Betz, senior psychology major and vice president of Delta Zeta, is working at the Delta Zeta booth. 
She said Delta Zeta's booth offers fried pickles, jalapeño poppers, mozzarella sticks, fried ravioli and peanut butter cookie pies. 
Betz said preparing food for the booth was a long process.
She said Delta Zeta's fundraising chair is elected in December of each year, and from then on, the elected chair will start to prepare the event.
"I feel like once Fall Fest ends, we get like a month break, and then planning and preparation start again," she said.
She said the food from the booth has been so successful they have run out of a few menu items. She said by Monday evening, they ran out of fried pickles and jalapeño poppers. 
"I love that people love what we sell. I love running out of food, but I also hate it," Betz said.
She said Delta Zeta places orders and receives food daily. She said they have to estimate how much food to order, and if they run out, they have someone working the booth or in the organization go to a store and find replacements.
Betz said Delta Zeta focuses on sisterhood and working to help those in need. Betz said Delta Zeta does blood drives for the Red Cross, cooks meals for the Ronald McDonald House and makes blankets for the Easter Seals. She said the majority of the proceeds earned at their Fall Festival booth will be donated to the Ronald McDonald House, Riley Children's Hospital and the Easter Seals. She said the rest will go toward paying for the supplies they purchased to make the food.
Baker said the Alpha Sigma Alpha booth also had positive reactions from customers. "We have fruit haystacks, and there's not a lot of healthy foods, so a lot of people came over, and it's so exciting," said Baker.
She said Alpha Sigma Alpha has set up a booth at the Fall Festival annually since the '70s, but this was her first time working the booth.
Baker said she has enjoyed getting to work with her Alpha Sigma Alpha sisters. "I'm a big teamwork person. I love working with people," she said.
"It's fun chaos," Betz said. "I think it's definitely a lot of hard work, having to make the food, prepare it and get it ready. But it is so much fun getting to not only spend time with my sisters, but also getting the chance to talk to different people from Evansville."
She said, "We have gotten the chance to meet so many alumni and so many people who are interested in what we do. It's one of my favorite weeks of the year."
She said Delta Zeta will make chants for anyone who donates to their booth.
Charity Pflederer, president of Young Life, said the Young Life booth has been at the Fall Festival annually for 20 years. 
She said Young Life was started in 1941 by Jim Rayburn. She said the mission "is the same mission as it was back in the day, and that's basically to share life with high school students and to show them Jesus, and to kind of give them hope for life."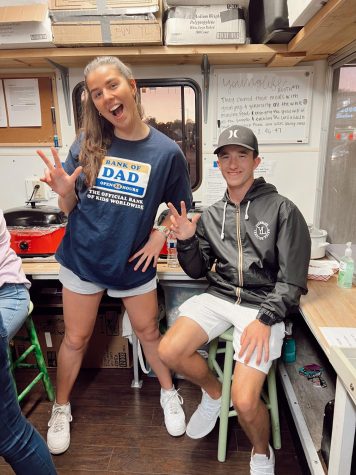 Pflederer said Young Life's booth received second place in the 2022 "Best of the Festival" by the West Side Nutclub.
She said their booth serves white chicken chili, Aloha Balls, Donut Bank sundaes, puppy chow and ice cream. She said they have the planning process for preparing the food "down to a science."
Pflederer said while all the food was prepared in advance for the event, the puppy chow was the main food to focus on preparing. She said around 30 people prepared 1,800 bags of puppy chow in one day in the kitchen of a local church. 
She said they also prepare puppy chow with younger children. "The heart behind puppy chow is that we get to invite our high school kids and students in the organization to volunteer to make it," Pflederer said. "So, it's like bonding with the high school students as well as fueling our food for the Fall Fest."
Breanna Bailey, junior biology major, has been working at the Art Club booth. "Art Club is a place where people who like art can come together. It's not a requirement that you have to do art and be good at it, it's just kind of everybody," she said. 
Bailey said the Art Club decorated the Fall Festival booth. She said the members painted and drilled letters onto the booth. 
She said the Art Club's booth served Mexican Street Corn, elotes, for the first time. She said in previous years, they served sweet corn, but their suppliers did not have any this year.
Bailey said she has liked working for the Art Club booth. "I had a good time," she said. "I think it's better if you really know the people you're working with, and you're really close with them." 
All booth's run by USI student organizations include: 
 

Booth #27: Sig Tau Gamma Booth 

 Brownie sundae, cheesecake, ice cream floats, ice cream, puppy chow, barbecue pork sandwich, stromboli, Moonlite burgoo, kid's meal, Capri Sun, soft drinks, water

Booth #38: USI Art Club Booth 

Street corn bowls, soft drinks

Booth #61: Lambda Chi Alpha Booth 

 Philly cheese steak, Pepsi products

Booth #63: Tau Kappa Epsilon 

Strombolis, Grippo strombolis

Booth #70: Delta Zeta 

Cake balls, jalapeno poppers, pickles, soft drinks, water

Booth #77: USI Young Life 

Cookie dough, Belgian waffle and donut ball sundaes, deep-fried cheesecake, cheesecake bites, caramel apple crisp, ice cream, puppy chow, chicken and waffles, white chicken chili, hog jowls with syrup, gator bites, water

Booth #104: Alpha Sigma Alpha

Booth #107: USI Varsity Club 

Ribeye steak sandwich, pork chop sandwich