Students react to Activity Programming Board's annual Fall Bash
The Activities Programming Board hosted their annual Fall Bash on Thursday. The event was free for all students and faculty on campus and included inflatables, games and food.  
Kyler Kennett, special events chair of APB, said the organization was created to get students more involved on campus.
"We run most of the events on campus," Kennett said. "I like it because when I joined APB, I was looking for friends, and that's what I got exactly out of it."
Nathan Payne, adviser of the APB, said they hold a Fall Bash annually, but they have different events for it each year.
Kennett said he wanted to do something similar to some of the events from SpringFest 2022 for this year's event.
"This year, I wanted to bring inflatables," Kennett said. "I did a SpringFest type thing where I brought in a bunch of inflatables and a bunch of food so people can kind of just come to hang out and meet new people."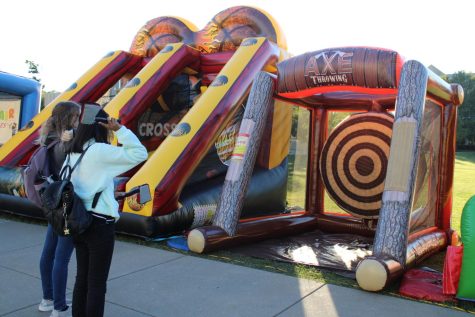 Gkwa Sturgell,  junior special education major, said she enjoyed the events at the Fall Bash despite being blind. 
"I really think that it's a good way to get people involved in meeting each other," Sturgell said. "For me, the games are doable. I'm able to play them like everybody else."
Sturgell said she would like to see more events like this because it brings people together and helps people make friends.
Other students said they thought the event was going to be bigger and have more things to do. 
"I thought it would be more like a fair type thing," said Wanjiru Theuri, sophomore psychology major. "Not like giant, but like a little more stuff to do." 
Pluto Huggins, sophomore history major, said they attended the Wellness Fair and thought it had much more for students to do than the Fall Bash.
"The Wellness Fair had a lot of stuff," Huggins said. "It had a bunch of booths there. There was just a lot more there than here."
Blake Baumgart, freshman business administration major, said he and his friend had no idea the Fall Bash was going on until they showed up. 
"We actually had no clue what was happening," Baumgart said. "We came down here to talk to one of the people who are hosting it in the group, and he told us what it was, and pretty much we just joined and started playing the games and eating stuff."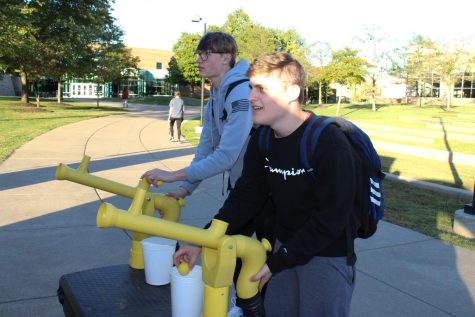 Theuri said she would like to see more events like this in the future if it was bigger and took up more time. 
Sturgell said this was her first time attending an event on campus, and she is trying to get out and meet new people.
"Last year, I was really just in my own shell," Sturgell said. "So I'm really trying to get out and let my guard down and meet new people."