Freshman fears meet upperclassmen's advice
Tegan Ruhl, Asisstant Lifestyle Editor
August 27, 2022
The first year of college can be challenging, especially for students who have never been away from home. To all the freshmen who have questions or fears about their first year of college, here is some advice from your friendly neighborhood upperclassmen in response to your peers' worries. 
---
Aubrey Ward, freshman pre-nursing major, asked, "Was it hard trying to figure out the best way to study for your classes?" 
"I would say yes," said Maddy Shields, sophomore occupational therapy assistant and health administration major. "I'm still trying to figure things out and how to study because it kind of depends in various classes. But, technically, if I was a freshman, I would go to academic skills, and I would ask them how to study, and they will gladly help you. But I never actually did that. I just kind of figured it out on my own because everybody's different."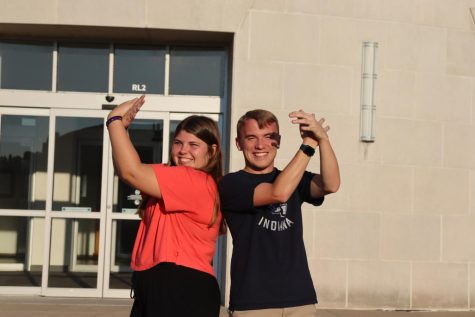 Annie Tenbarge, freshman nursing major, asked, "How did you decide your majors?" 
"I've always known that I've wanted to do something in the medical field," said Marcus Robinson, sophomore pre-nursing major. "I chose nursing because I feel like nurses leave more of an impact on their patients." 
Shields said, "I changed my major three times, but I eventually chose occupational therapy because I wanted to help people in the medical field. My family is all working in medical fields, so I thought it's something I wanted to do too. But nursing just didn't feel like my thing. So I'm hoping therapy and helping people regain their daily functions back will help me." 
Ward also asked, "What's the best advice you have for someone on making friends?" 
"Getting involved on campus helps you meet a lot of new people," Robinson said. 
"I agree with Marcus," Shields said. "We both joined Emerging Leaders, an organization only for freshmen, and that's how we met and how we met all of our other friends. And then that's how we joined other organizations on campus. That just taught us how to be leaders and prepared us to be RAs." 
Shields also said being an orientation leader was a great opportunity to make friends. 
"We did that after Emerging Leaders, and it's probably the best thing we've both ever done," she said. "It got us really close to everyone right away, so it's like the biggest family we have on campus."
Robinson said being a student ambassador is a great organization for making friends as well.
"It helps you meet a lot of upperclassmen, and so it's a great way to network," he said.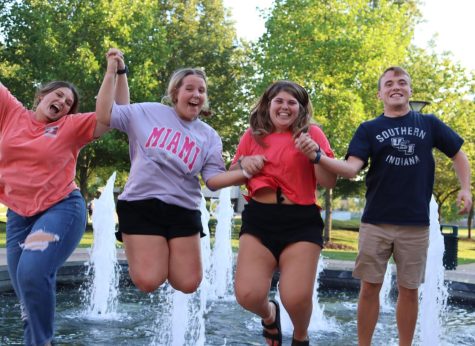 Tenbarge also asked, "Where's your favorite place to study?" 
"Mine personally would be in the cone or outside of the cone," Shields said. "I'm usually inside of it though because I can't see my screen outside, and I can still hear the fountain." 
"I like to study in the library and book a study room where it's quieter," Robinson said. "More productive." 
Ward also asked, "What's your favorite way to get involved on campus?" 
"The involvement fair is a great way to get involved. It's coming up on the 31st," Robinson said. 
"Table to table, you get all the free stuff, and they'll tell you about their organization. That's how we learned about emerging leaders," Shields said. 
Robinson said he was putting together a board about homesickness for his residents, a freshman fear he himself was familiar with and wanted to give advice on. 
"Try to get involved not only on USI's campus, but in the Evansville area and make this your home away from home," Robinson said. 
"I would encourage them not to push their families away," Shields said. "I feel like most freshmen, they're like, 'Oh, I'm in college now. I don't need you.' I feel like that's where we start to struggle the most. So really just keeping in touch with your family and your friends at home. As well as making new ones here."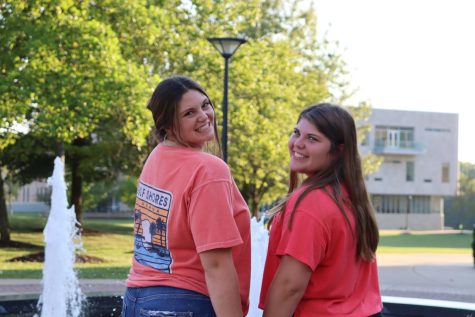 ---
Although the first year of college may seem nerve-racking and unpredictable, you are not alone. There are students on campus who understand what you are going through and want to help. 
"I felt like COVID was definitely a hard transition for all of us because we didn't have orientation," Shields said. "We didn't get to meet people, and we just didn't really get to hang out with that many people. So it was a struggle for us. That's why we joined organizations later on in the spring, but it took us a while to transition. So we just want to be there for them." 
Robinson said, "I just want to help them navigate challenges that they have and help them overcome it, and not make the same mistakes I did," Robinson said.