The Quint Take: What you missed this year
USI is going to Division I. The 2021-22 season is almost in the books, and the 43-year Great Lakes Valley Conference run is coming to an end. USI has been a big player in the GLVC throughout the years. 
I feel the news of the transition has overshadowed a few notable moments this past year and maybe even added more pressure on teams. The fact of the matter is USI still competes at a top level. The recruitment, the coaching, the plays and some outstanding achievements have been swept under the rug. 
The 2022-23 athletic seasons are going to be some of the most exciting in USI history. Let's not forget the moments defining this year as USI's relationship with the GLVC comes to a close with a fashionable, good-game handshake.
Women's Basketball Coach Rick Stein's 400th win: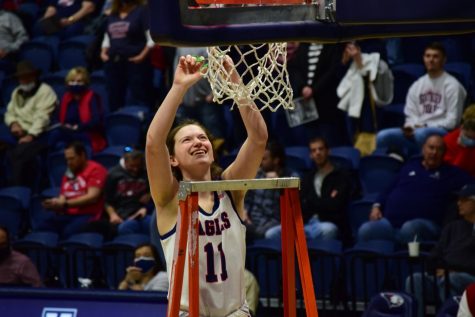 At the time of Coach Rick Stein's win, USI was ranked No. 25 in NCAA Division II women's basketball. Being undefeated in the GLVC with a record of 11-2 in the regular season, Stein claimed his 400th win against the University of Illinois-Springfield. The team rallied back after being down in the first half and won in a 6-0 run in the last 20 seconds. After the win, the girls swarmed Stein with love. Who doesn't love a great sports story like that?  Stein has had a legendary career here at USI, and I guarantee he'll continue to do great things with the team in the Ohio Valley Conference.
Softball Coach Sue Kunkle's 600th win: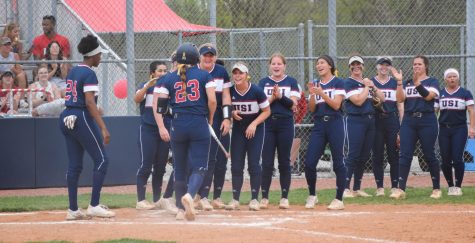 Sue Kunkle, women's head softball coach, is a legend. That's about all I have to say. In her 21st year coaching USI softball, Kunkle became the only coach in USI history to hit 600 wins. Kunkle has led the softball team to a  No. 3 ranking while so far posting a 36-10 record in the regular season and 22-2 in the GLVC. The women have four more games this weekend before the GLVC tournament. I highly expect them to do well. You can't end a season like that without a title. All I can say is this team will do some damage in the coming year. Kunkle is the glue to this softball team's success.
Induction of eight members for the 2022 Hall of Fame Class: 
The USI 2022 Hall of Fame Class was announced on Dec. 22, 2021, with the induction ceremony on Feb. 4. I don't know about anyone else, but I didn't hear a thing about this announcement. A Hall of Fame Class is usually a big deal in the world of sports. I think this event was overshadowed by COVID-19, and of course, the excitement behind the Division I announcement on Feb. 7. The hall of fame symbolizes success, dedication, sacrifice and loyalty to a sport.
Abby Boberg '06: Boberg became the university's first All-American in a field event, specifically for the women's high jump. Boberg currently holds the school high jump records and was a three-time GLVC champion.
Danielle LaGrange '12: LaGrange was a volleyball powerhouse holding almost every accolade you can think of. She is second in attacking percentage; seventh in block assists; eighth in kills; and tenth in total blocks. LaGrange earned the AVCA All-American Honors, which was the highest in the program to the date. She was also the third USI volleyball player to receive GLVC Player of the Year in 2011.
Trevor Leach 2007-11: Leach is probably the best pitcher USI has come across. He holds the USI records with 33 wins, 86 appearances, 357 innings pitched and 246 strikeouts. He was All-American in 2010; first-team All-Region for three straight years; and first-team All-GLVC twice. He currently holds USI's win record at 12-1 in a season.
Sara Loete '11: Loete is currently at the six spot in USI Softball's RBI list. She was named All-American in 2008 after having a .405 batting average, 10 homes runs and USI record 54 RBIs.
Jamar Smith 2008-10: Smith holds the PAC record of 40 points in a game, and USI's scoring record of 20.2 points per game. Smith was named NCAA Division II Player of the Year in the 2009-10 season. He also holds the USI records of most threes in a game with 10 and most threes in a season with 108. Smith and Loete were both known for the work they did after the tragic death of Jeron Lewis.
Kathy Wood Vossmer '11: Vossmer played softball from 2005 to 2008. She finished fourth all time in runs scored with 126, sixth in batting average with .362, and sixth in triples with seven. In the same year she tore an ACL, Wood returned after a month to hit .429. 
Dave Schenk '78: Schenk holds USI baseball's batting average record at .421. He was also one of two players to have a .400 batting average over two seasons.
2010 Baseball Team: The 2010 baseball team is the 2010 Division II National Champions, holding the win record with a season going 52-14. The team had seven All-GLVC honors, three All-Region players and two All-Americans.
Basketball's big recruits for upcoming season: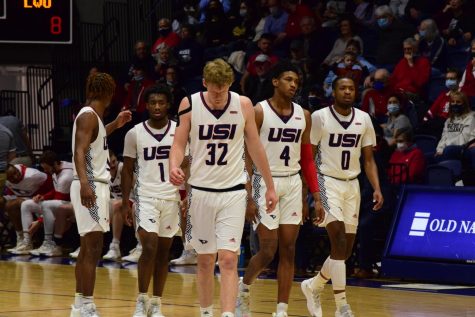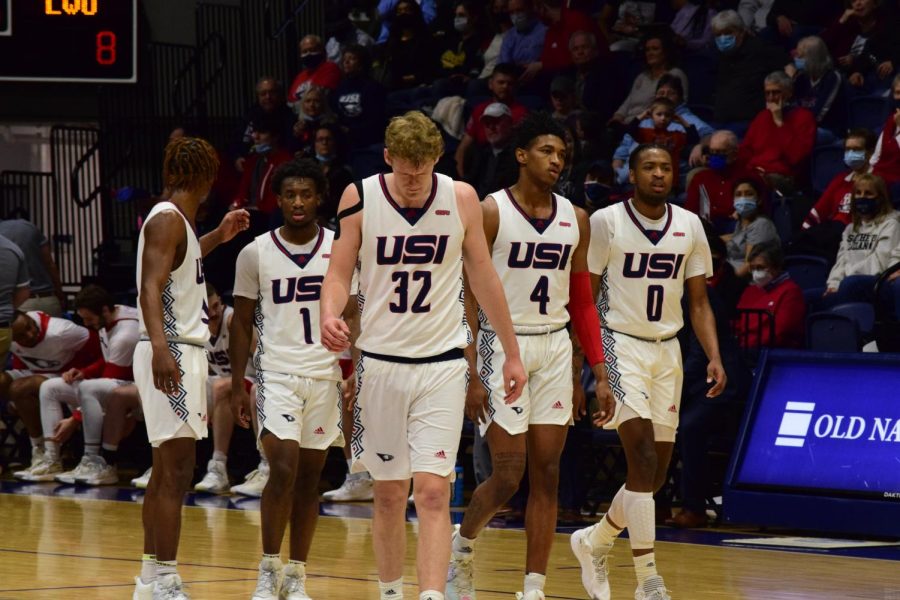 If you're a fan of USI sports, it's no secret Coach Stan Gouard and the rest of the basketball staff have been making moves during the transfer period. USI has seemed to raise some eyebrows with some big names that haven't gotten as much attention at their respective schools. The team has added freshman AJ Smith, sophomores Nick Hittle and Ryan Hall, and seniors Kejuan Clements and Trevor Lakes. 
After a few years at a prep school, Smith finished his senior season at Metro-East Lutheran in Illinois averaging 22.1 points and 9.2 rebounds. The 6-foot-6-inch guard will bring some explosiveness and excitement to the OVC for the foreseeable future with four years of eligibility.
USI was looking to add more sharpshooters, and 6-foot-5-inch guard Hall fits that category. Coming from JUCO school, Iowa Lakes, Hall brings with him an average of 13.1 points. Hall has shot 34% from the deep line, and his first year had an impressive 41%.
In the same class, we can discuss Hittle. Standing at 6-foot-10-inch, Hittle can shoot from downtown. Also hitting 41% from the three, he averaged 2.9 points and 1.1 rebounds. I'm hoping to see this guy get more minutes to see what he can really do. Jacob Polakovich, senior forward, might have lost one big guy this year, but he has gained another new and respected one.
Lakes will also be in the lineup. Lakes is transferring from Big 10's Nebraska. Lakes was originally recruited by Gouard at the University of Indianapolis. The man who started his college career gets to finish it out as well. Lakes also played alongside Polakovich at UIndy. Lakes is described as a sharpshooter, roughly shooting 40% from the three. 
The last of the latest moves is Clements. Clements is coming from a familiar face of the OVC, Eastern Illinois. Clements left Eastern Illinois being fourth in assists in the OVC and averaged 4.5 points per game.
There is no doubt these new recruits will fit with the guys we already know. I think they'll be sleepers going into their first year of the OVC, especially with all of the OVC moves in the last year.
Swimming and diving, men's soccer still looking for homes: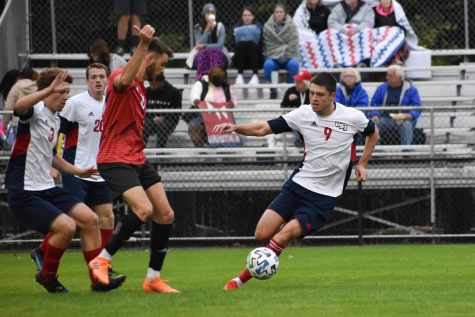 The swimming and diving teams, as well as the men's soccer team, are still searching for their Division I home. The OVC doesn't have either of these respective sports. After the announcement to the OVC on Feb. 9, there was already some speculation as to where the teams would land. They're still in negotiations, and there has been no new information released about the fate of the teams at the time of publishing. Will they land in one of the conferences that was also being considered alongside the OVC. Maybe the Horizon League of the Atlantic Suns Conference? Who can say at this point. Coaches were not available for comment at this time, but I'm curious to know how Cameron Kainer, head coach of the men's and women's swimming and diving program, is recruiting now. After spending the year putting together a team for Division II, he now has to rethink the whole process to recruit for Division I. I'm very interested to see how these teams debut next year.
The 2021-22 seasons have been meaningful, impactful and a year to remember.
This was the first year to have normal sports back after COVID-19. USI is in for a treat going into the OVC as this is an exciting time in USI history, and we get to experience that. This year, we got to see Polakovich dunks, Winders winning two national titles and outstanding coaching achievements. Attendance is starting to return to normal after the long season without fans. The excitement from summer can only grow into Fall 2022 seasons. Overall, I think this year was full of excitement and next year will only be the start to something big.