Chase-ing Spain: COVID Catastrophe
¡Hola! These past few weeks have been anything but smooth sailing here in Madrid. To start, I have to clear up that I was not able to go to Milan, but I will explain that a bit more later on. Here in Madrid, I was able to visit a few more museums and cultural events. I even had the chance to experience a peculiar storm in the city. 
During my mother's stay in Madrid, not only did I give her and her friend a cultural tour, but I also took the opportunity to explore a bit for myself. Together we had lunch, took a quick tour of the city center, bought groceries and called it a night after eating a bocadillo de calamares*. 
Next, we visited the Prado Museum and took a tour through an old slaughter house that was converted into a culture center. The following day, we woke up early and headed a little further from the city center to a park called Quinta de los Molinos. The park is full of almond trees that were just entering into full bloom. We spent that night going out to a market for dinner and then topped it off with a drag show. 
After giving my mom a significant dose of culture shock, we then calmed things down with a walk through Retiro Park followed by a flamenco* show. During the walk, someone secretly took our picture with an old style camera and printed it onto a vintage looking newspaper. He then gave it to us for free and wished us a good day. 
The flamenco show was one of the most surprising things that I found I enjoyed. I typically don't care for shows of this type, but the experience was emotional, dramatic and very impressive. With the combination of the singing, dancing and guitar, the show was incomparable to what you can see of it online.  
Now, let's move on to my justification for not traveling to Milan, Italy. The day before my flight and the same day as my mom's flight back home, we went to go get her a COVID test. Thinking everything would be fine, we headed to Retiro Park for a walk until an hour later, when she checked her email to find positive results.
We freaked out and  quickly separated, putting on our masks and heading our separate ways until we figured out what to do. My mom had come with a friend and they had promised to stay with one another until the end of their trip, but we realized that was not possible and she had to go home. Therefore, my mom was stuck in Madrid for an extra seven days without a place to stay and not really knowing what to do. 
All of my resources flocked in at once. I had so many people to help me with housing her, feeding her and giving me a place to stay in the meantime so that I wouldn't be constantly around her. In the end it all turned out okay. She was able to go home after the seven day quarantine and I was able to return home to my host family.
However, before she left, we saw an odd sight of nature that I had never experienced before. One morning I woke up, looked outside and thought that I was standing in an arid country. Everything looked hazy and the street was an odd shade of reddish orange. This was from the lluvia de sangre,* a storm in Madrid that literally rains mud brought in from northern Africa. After about three or four days, most of the dust had cleared and it was back to normal again.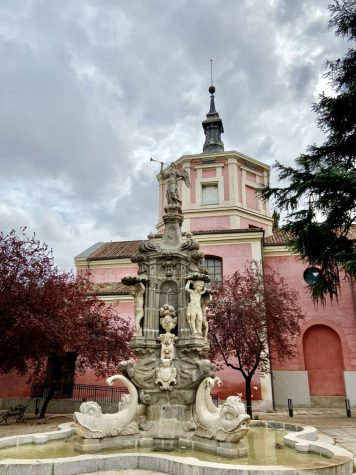 Apart from all of the strange things that have been happening, I have found some normalcy in museum visits. I recently visited the History Museum of Madrid, a great tool to see how the city landscape and ideologies in Madrid have changed; the National Archaeological Museum, which gave a well defined picture of times in Spain before and after the Romans; and the Museum of the Old Chamberi Metro Station, also known as the Ghost Station, an incredibly interesting shut-down metro station that included old posters from the sixties and before. 
This weekend, I will be taking a trip to Seville, a city in southern Spain known for its history, flamenco, gastronomy and much more. Hopefully this trip turns out to be far different than my planned trip to Milan, and I will be able to return with great stories for you from the city. ¡Hasta luego!
bocadillo de calamares = Calamari sandwich
Flamenco = typical dance invented by the Andalucian Roma in southern Spain
lluvia de sangre = blood rain