Humorous characters steal the show in USI Theatre's "Twelfth Night"
USI Theatre has concluded its final show of the season, "The Twelfth Night: or, What You Will." I have loved all of USI Theatre's performances to date, so I was looking forward to a fantastic show and a break from the stress of finals. While I certainly loved seeing this show, I'll admit I was a little lost. 
Here's what I think the show is about. A young girl named Viola arrives in a new country after a shipwreck stranded her and presumably killed her brother. She decides she wants to work for Orsino, a duke, but she must disguise herself as a man by the name of Cesario in order to do so.
Orsino is in love with Lady Olivia, and he sends a disguised Viola to deliver his love to her. Instead, Olivia falls for Cesario (Viola), who falls in love with the Duke. While their love triangle grows messier, the land's' fools and Olivia's Lady-in-waiting Maria come together to set an elaborate prank on Malvolio, who is another man in love with Olivia.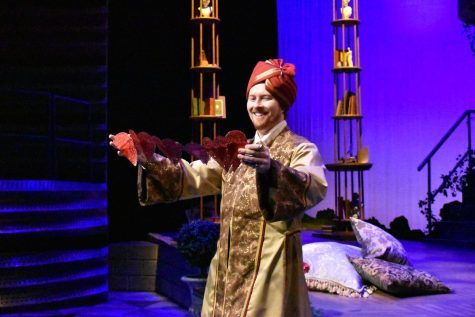 While I was able to piece together the overall plot, I did not pick up on much of the detail because of the spoken word. My ability to interpret Shakespeare is more than a bit rusty, so I can't complain about that. However, beyond just the language, I really struggled to make out what half of the cast was saying. I am not sure if it was a need for microphones, projection, enunciation or a combination of all of those things. 
I do want to applaud them for being able to remember every line of such an unfamiliar means of speech in the first place. It certainly isn't something I could ever do, especially as naturally as they did. I could still understand what was happening overall because the cast did a great job with putting emotion into their roles and managing their expressions and movement on stage, 
The lands' fools and Maria were some of the characters I didn't struggle to understand. Their characters' scenes were one of my favorite parts of the show. Their silly antics kept the audience engaged, and it was fun to watch them interact with one another and the set. A scene in which they spy on Malvolio hiding behind plants and posing as garden statues had the crowd roaring. 
For this production, USI brought in outside professional actors from the Actor's Equity Association to work alongside USI theatre students.
I was wondering how the USI company would work together with Ronald Keaton of the Equity company. I found that there was great chemistry and no awkwardness between student actors and the professional actors. While Keaton's professionalism is clear, he didn't run over the student actors or juxtapose them. Nonetheless, Keaton really did shine on stage and it was a treat to see him perform. 
My personal favorite character of the play was a clown named Feste, who was played by Easton Crisp.
I was grinning ear to ear each time he came on stage. His voice and cadence were both amusing and engaging. Despite the high lilt to his voice, I could still make out what he was saying. His expressions were spot on, and they really added a punch to his humor. No matter what was happening on stage, I was always drawn towards him.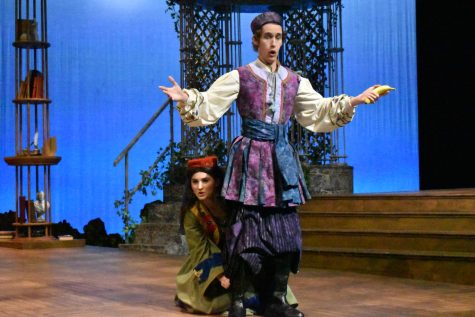 Crisp also played Scrooge in "A Christmas Carol." I never would have known he had played Scrooge had I not gone back and looked at the cast list, which speaks to his range and acting capability. He has an ability to really captivate the audience, no matter what role he's in.
Nate Jenkins' role as Andrew Aguecheek was hilarious and kept the audience entertained. Jenkins has always brought such a strong presence to the stage regardless of what part he's playing. He brings a sort of authenticity to his characters.
Alex Seifert brings a sort of pomp to their voice and characters when they act. I noticed this with their role as a sort of narrator in "A Christmas Carol." It was exciting to see them again in "The Twelfth Night." Their voice is really engaging and almost boastful without the cockiness. I look forward to seeing how they grow in further performances.  
I was excited to see Amelia Schmitz in a leading speaking role as Viola. I've noticed her more minor roles in every show I've gone to because of her strong expressions. She acts with her entire body, and her expressions are so dynamic and pronounced. Even when I had a hard time hearing her, I was able to gauge her meaning and emotion by her expressions.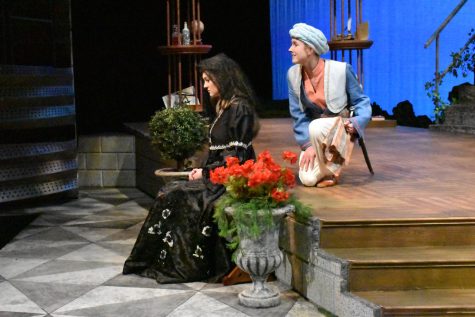 I have to mention the set and costuming. I loved the multi-level feature of the stage. A scene where Jenkins holds on for dear life and falls into a pit using the multiple levels of the stage got a big laugh from the audience. Maybe it's just my personal aesthetic, but I loved the gazebo set piece. The lighting backdrop changed with the time and the mood of the characters, which helped to set the tone and convey the setting.
The costuming was really great for this show as well. Nothing looked cheap or tacky, and I was impressed that some of the head pieces stayed on so well but easily came off when actors needed them to. I especially loved the costumes for Maria, Feste, Andrew and Olivia. 
Even if it was a bit hard to hear and follow, the beauty of theater is an actor's ability to bring life to words. This cast certainly did. Even if I couldn't tell what exactly was said, I still felt every emotion, followed every shift in tone and setting and had a lot of good laughs. Overall, this was definitely a great performance.