Students rally for sexual violence awareness
It's a cold and rainy Wednesday evening as 20 students march around The Quad. Despite the small group, voices echo loudly across campus, advocating for sexual violence awareness.
The students gathered for Take Back the Night, an event organized by Students for Gender Violence Awareness (SFGVA) and Alpha Sigma Tau as a part of Sexual Assault Awareness Month. The event began with a rally in Carter Hall and concluded with a march.
Macie Martin, president of SFGVA, was first to speak at the rally.
"Education is the first step with everything," Martin said. "Educating everyone about how prevalent sexual assault and domestic violence is, and how it affects our community as well." 
During her speech, Katie Vinci, vice president of SFGVA, said she wanted students to know SFGVA is "here" for them. "I want students to know that if something happens to them, there are places on this campus that will be there to support them."
"If you're a survivor of something like this, you're showing to the rest of the campus community that you don't want anyone to ever feel like you felt," Vinci said. "If you're a supporter or just an ally, you're showing to the rest of the campus community that you're now a safe person, and they can trust and confide in you."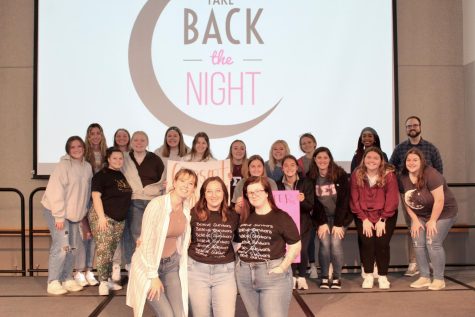 Alyson Riddle, junior geology major, also spoke on education and awareness for male victims. "It's on us, all of us, to do our part to break the silence that surrounds this issue and take the active role in preventing it," she said.
Alli Wilsbacher, president of Alpha Sigma Alpha, said she feels that it was especially important for greek life to be involved with this event as sororities and fraternities are such a big part of the campus community. 
Once the speakers finished their presentations, Brianna Stone, president of Active Minds, prepared the marchers with chants. The group then left Carter Hall to circle around The Quad with a megaphone and signs.
Many speakers and some attending students at the event expressed the need for better education on sexual violence. Isabelle Hardebeck, junior business administration major, spoke about this issue. 
"There's a lot of undereducated students on campus when it comes to consent or even any sexual activity," Hardebeck said. "So knowing what's right and what's wrong is a big part." 
Hardebeck also brought attention to the discomfort surrounding maintenance men's ability to come into living spaces without permission or warning. She feels it should be "taken a lot more seriously by the school."
The organization hopes to host the event again in the future with better promotion and a greater turnout.
"I just think at the end of the day, college is a big part of everyone's life, and if you're setting us up to leave this organization and go out into the world, then you need to be teaching us as well how to be educated and better humans,"Riddle said.